Korua Cafe' Racer 2020-2023 Snowboard Review
| | |
| --- | --- |
| Riding Style | Snowsurf |
| Riding Level | Advanced - Expert |
| Fits Boot size (US) | < 8, 8-10, 10-12, > 12 |
| Manufactured in | Poland |
| Shape | Tapered Directional |
| Camber Profile | Mostly Camber |
| Stance | Setback -20mm |
| Approx. Weight | Feels Normal |
| Split | No |
| | |
| --- | --- |
| On Snow Feel | |
| Turn Initiation | |
| Skidded Turns | |
Where To Buy
80% of outdoor sports products are not listed or sold online.
Our team has relationships with hundreds of local snowboarding and outdoor sports shops.
We'll call the shops and email you a list of stores along with pricing and availability.
---
Not sure what to buy?
Get custom advice from Good Ride editors James and Steph.

Get Advice
Korua Cafe' Racer 2023 - 2020 Review by The Good Ride
Korua Cafe' Racer 2020-2023 Snowboard Video and Written Review
You have arrived at the Korua Cafe' Racer Snowboard Review from an average riders who celebrate snowboard gear polyamory to the fullest!
Update 2023: The Korua Cafe Racer has not changed since 2020 so this review still stands. The 2020 I own is exactly the same as the 2023 in every way. 
The Korua Cafe' Racer kind of sit's in between the Dart and Pencil in terms of how it rides but adds a little more mustard into your hard carving turn turn. It provides a really satisfying powerful turn and also floats really well in powder. It's very similar to the now-discontinued and really well liked Puzzle.
Ethics Statement: We don't get paid by the manufacturer to write these reviews.  We do make money from the "Where To Buy" links, but this is our best attempt at an honest and objective review from an average riders' perspective.
A Break Down of How it rides and who its for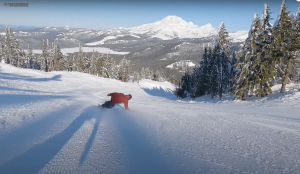 How This Review Happened:  We borrowed this for an extended demo and then returned it.
Size: 159
Days: 10+
Conditions: Some pretty firm to hard snow, some good groomers, less than a foot of powder and good waist deep powder with some early morning slackountry runs on the Drift Boards.
Riders: Only Peter and I are in the review but almost all of the crew got on it.  James (Size 9, 5'10" 185-190lbs), Peter (Size 8, 5'11" 185lbs),Grant (Size 11 6' 160lbs), Zobel (Size 11.5, 6' 180lbs), Nick (Size 10, 160lbs, 5'8"), Jimbo (Size 11, 5'11" 160lbs)
Boots: Adidas Tactical ADV, Adidas Tatical Lexicon ADV, Adidas Acerra 3ST
Insoles: Sandsole Custom Insoles,  Footprint Insole Technology Gameghangers Low Profile
Bindings: Union Atlas, Union Strata, Flux XF
Similar Boards (but not the same): Gentemstick Mantaray 156, Korua Dart, Korua Pencil, Weston Backwoods, Jones Hovercraft
Set-Up: 21 to 21.75" Wide. 27 front +9 back. Close to Reference and Set all the way back.
Approximate Weight
Feels normal to a touch on the heavy side.
Sizing
So 10-11 is probably the sweet spot for this board but Peter and I didn't notice with our size 8.5-9 boots. The weight felt fine though. Korua is one of those brands that makes all their boards  feel like it works for all of our boot sizes and specs from a size 8-12. That usually isn't the case and the Korua Cafe' Racer is no exception here.
Camber/On Snow Feel/Ability Level/Skidded Turns
The Korua Cafe Racer has a pretty locked in and not an easy board to skid your turns. It rides pretty far back on the tail but really tracks well and doesn't feel tail light unless you get some decent air. There is a wider feel underfoot than the Pencil even though they have the same width in the tip, waist and tail. It tracks well, one foots well and has a consistent feel underfoot in all conditions.
Flex/Pop/Buttering
The Korua Cafe' Racer is medium stiff bordering on stiff. It isn't easy to butter or ollie but when you pick up speed there is a powerful spring out of the turn.
Speed
Powerful and damp. The base glides well and is on the upper end. It's not as fast as the Plus line or many boards with similar bases but it keeps its speed well. The Korua Cafe' Racer can point it pretty well but where it shines is in higher speed carves. It just feels a little more stable than the Pencil when turning at higher speeds but just a touch. Neither are slouches though.
Uneven Terrain
Very good at powering over bumpy groomers or tracked up powder. It's a chunder buster and doesn't buck much.
Edge Hold
There is no visible disruption in the Korua Cafe' Racer's sidecut but it still grips like a champ.
Turn Initiation
Kind of slow and we found the Dart and Pencil to turn better at slower speeds and to turn quicker. The Korua Cafe' Racer likes to pick up a little speed before it feels receptive to a turn. It was easy enough in powder to turn quickly but not so much on groomers.
Turning Experience/Carving
The Korua Cafe' Racer really loves a wide high speed across the groomer turn. It just builds into each turn and springs you into the next. Korua makes boards that turn well and this is no exception.
Powder
Even with a little more camber the Korua Cafe' Racer floats like a champ and could almost be a dedicated pow board. It has a lot of set back on board (Approximately 7″ from center at a 21.75″ stance width), a ton of taper (about 3cm) and even a little early rise in the nose. That is a lot of directional float and I felt it do it's job in almost waist deep powder.
If this review helped, we'd appreciate if you:
Korua Cafe' Racer User Reviews
If you can't buy through the links above, you can support the site with: