Jones Lone Wolf 2018-2021 Snowboard Review
| | |
| --- | --- |
| Riding Style | Alternative Freeride |
| Riding Level | Advanced - Expert |
| Fits Boot size (US) | 8-10 |
| Manufactured in | Dubai by SWS |
| Shape | Tapered Directional |
| Camber Profile | Directional Camber |
| Stance | Setback over 20mm |
| Approx. Weight | Feels Normal |
| Split | No |
| | |
| --- | --- |
| On Snow Feel | |
| Turn Initiation | |
| Skidded Turns | |
Where To Buy
80% of outdoor sports products are not listed or sold online.
Our team has relationships with hundreds of local snowboarding and outdoor sports shops.
We'll call the shops and email you a list of stores along with pricing and availability.
---
Not sure what to buy?
Get custom advice from Good Ride editors James and Steph.

Get Advice
Jones Lone Wolf 2021 - 2018 Review by The Good Ride
Jones Lone Wolf Snowboard Video Review Fast Forward Markers
0:00 – Intro 0:16 – Summary 1:20 – Sizing 1:48 – Shape/Camber/On Snow Feel 2:55 – Flex/Pop/Butterability 3:56 – Speed & Uneven Terrain 4:52 – Edge Hold 5:05 – Turning/Carving 5:58 – Powder 7:34 – Conclusion 8:10 – Outakes 8:18 – About Our Reviews
Turn Ons/Swipe Right: Super Fast Base. Really quick turn initiation in powder/soft snow. Amazing Directional float. Great Pop.
Turn Offs/Swipe Left: Large size not travel friendly. Very niche and not for everyone. Pretty wide stance for a surf inspired ride.
Summary
The Jones Lone Wolf is not for everyone but some riders, like Peter, will absolutely love this fast turning, fun carving, easy floating long nosed ride.
Ethics Statement: We don't get paid by the manufacturer to write these reviews and this is our unfiltered opinion. We do make money from the "Where To Buy" links, but this is our best attempt at an honest and objective review from an average riders' perspective.
Jones Lone Wolf 2021 Snowboard Review- How it rides and who it is for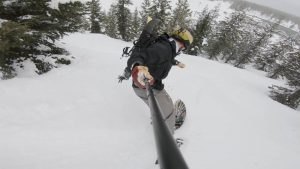 How This Review Happened: We borrowed this for an extended demo and sent it back.
Size: 168
Days: 4+
Conditions: Pretty rough wet late spring powder, wet early spring powder and pretty good early spring powder with the help of our Drift Boards.
Riders: James (Size 9, 5'10" 185-190lbs), Peter (Size 8, 5'11" 185lbs)
Boots: Adidas Tactical ADV, Northwave Decades
Insoles: Sandsole Custom Insoles, F.I.T. Gamechangers
Bindings: Union Atlas, Union Strata
Similar Boards (but not the same): Rossignol XV, Prior Fissle, Lib Tech Lost Retro Ripper
Set-Up: 21.5" Wide. 24 front +3 back & 21 Front -3 back . Close to Reference and Set all the way back.
Approximate Weight:
Feels on the lighter side of normal for a board this length.
(We don't put in the exact weight because with wood cores there is no consistency in a boards weight)
Sizing
Here are some ideal US boot sizes for these boards. You can of course go bigger or smaller but these work best for not turning the board slower than it should be and not having the dreaded Toe & Heel Drag.
162: 8-9
168: 8-9
174- 9-10
Shape/Camber/On Snow Feel/Ability Level


There is some taper here with the Jones Lone Wolf but not a ton but despite the more centered stance on sidecut it places you pretty far back from center of the board. The camber is pretty mellow and begins to rocker up after the bindings. Where the rocker begins, so does the spoon tech and it really makes for an easy turning ride in softer snow to deep powder. It also doesn't change the way the camber feels underfoot and it feels the same long stable ride underfoot in all conditions. Speaking of its length, it feels long but with such a short effective edge for its length it does feel a little shorter than some other 168's out there. It's also pretty forgiving for this size. It takes more work at this length but it is very doable. Especially if you compare this to the old full camber days.
Flex/Pop/Buttering
The nose is long and medium soft. Between the bindings the Jones Lone Wolf is medium stiff and the tail is about the same. It does butter/wheelie up easy on the tail though and that might be because swallow tails are a little easier to leverage. The pop, as Peter says, is explosive and I would mostly agree. It really has a good spring to it for how little camber there is.
Speed
The base of the Jones Lone Wolf is incredibly fast and it just glides so easy. This just kills it on a long traverse as long as there aren't a lot of Whoops. Yes the nose has a little clown shoe effect going on but it doesn't really pass down between the feet. It stays mostly in the nose and is pretty damp. In groomers it isn't quite the bomber but in powder it is faster for sure.
Uneven Terrain
The Jones Lone Wolf has a long length which isn't fun in a bump line or doing a snake run but it can turn through messy snow like a champ. Of all the boards we tested in wet, messy late spring snow this just jammed through it. In harder micro bumpy snow its a little chattery but for sure managable without sending up too much chatter into your joints and fatiguing you.
Edge Hold
Very competent grip that does well in snowment and doesn't grab in wet snow. The Jones Lone Wolf has a nice stable feel there too.
Turn Initiation
So fast edge to edge in softer snow to powder. In harder snow when the Jones Lone Wolf is mainly riding between the camber with the tip/tail off the snow it isn't as fast but it still has a snappy quick turn to it. We had a lot of fun making lots of quick turns with it. Especially Peter.
Turning Experience/Carving
Once you get pas the initial quick turn it doesn't accelerate into a circle carve. This is good though because it would probably feel hooky and weird. The Jones Lone Wolf still has a great turn to it for such a mellow camber between the feet.
Powder
The Jones Lone Wolf is not like most of the trendy shorter/wider surf inspired shapes out there. It seems like they are going for more of a Step Up to more Gun like kind of ride. The swallow tail isn't cut out too much which we actually like. On those medium powder days with hard snow below it doesn't sink as easy and scrape that hard snow like more exaggerated swallow tails can do. You can get- 6.25" back from center of board on the 23.6" reference stance and -7.375" all the way back with about a  22.8 " stance width. That is really far back compared to most freeride boards. Combine that with the huge rockered spoon nose and moderately tapered swallow tail you have a shit ton of directional float. It shows that long, narrow is still super fun in this time of shorter/wider Groveler surf style rides.
Conclusion
So this is a hard board to travel with for most and it isn't quite the every mans daily driver but for those that want a hard carving powder needle this could be a great call. If you ride like Peter, this could be a great addition to your quiver.
If this review helped, we'd appreciate if you:
Jones Lone Wolf Past Reviews

The Jones Lone Wolf is the exact opposite of the mellow short/fat turny snow surfers out there. The board is big, has fangs and wants an aggressive rider on it at all times or it will turn on you. It feels very gunny and really likes powerful driving turns and it's not that slashy super off the tail mellow kind of ride like I thought it was. That's not good or bad but just want to set the expectation level for you, as I did with before marrying my wife.

The 2019 Jones Lone Wolf has some slight tweaks to the core and they added a carbon fiber weave to it.  It's going to have a little more longevity in flex, a little less clown shoe effect in the nose and have a slightly more dynamic feel underfoot. That being said it's still going to be very much like the 2018 review below.

Ethics Statement: We don't get paid by the manufacturer to write these reviews.  We do make money from the "Where To Buy" links, but this is our best attempt at an honest and objective review from an average riders' perspective.

Size: 168
Days:  3
Conditions:  varied spring conditions with some hard snow in the morning going to soft bordering on slushy in the afternoon.
Riders: James (Size 9, 5'10" 185-195lbs)
Boots: Adidas Tactical ADV
Insoles: Footprint Insole Technology Gameghangers Low Profile
Bindings: Union Atlas, Burton Genesis X
Set Up: 22-22.5" Centered 15 front -15 back

Approximate Weight: it's a 168 so it's not the kind of ride that's going to feel light but it feels normal for its height.

Flex:  Pretty stiff from tip to tail on snow and off.

Sizing: The 168 felt pretty good for my specs but I could easily go for the 162 to mellow out the ride a bit.  I think the 162 would change up my take on this board a bit.

On Snow Feel: Unlike most Jones boards there feels like there is more consequence to the Jones Lone Wolf and it feels a little more locked in. It's not the most friendly when skidding a turn and it also feels like the camber runs a little longer past the bindings.

Edge Hold: Grips really well like most Jones boards do and maybe even a touch more than most.

Turn Initiation: I could easily get from edge to edge quickly but once the edge is engaged the board doesn't really get going.  It likes a long S-Turn that's almost a straight line most out of all the turns but it can do others with a bit of work.

Turning Experience: If you like a surfy looking board that likes to point it then the Jones Lone Wolf will do the trick.  It's a fun board to turn but it appeals to a certain type of turner that likes a little more locked in feel. It's a little back foot heavy but not as much as you would think would be needed for 15 mm of taper.

Carving:  Really drives a long speedy carve well and it's not for the kind of rider that wants an easy circle carver

Speed: Other than the somewhat bouncy clown shoe nose the rest of the board was damp and straight line friendly. The base has good glide too.

Uneven Terrain: The Jones Lone Wolf is not really the board I'd like to be on to weave in and out of moguls with but I'd be ok with a perpendicular slam into those cheater traverse tracks on a powder day.

Powder: Normally I'd say this is good in the most bottomless of powder but after riding the Mind Expander and Storm Chaser in the deep deep I see things a different way.  This will float like a champ though and there is a lot of setback on board at 14.5″.  It's going to float really really well.

Buttering: not very doable.

Switch: Super uncomfortable.

Jumps: There is really good pop off the tail and although I don't want to land switch it is better than almost any swallow tail for directional air.

Jibbing: No way!

Pipe: I might consider it but wouldn't want to.

So the Jones Lone Wolf isn't for everyone but some might really like it.
Jones Lone Wolf Images

We try to get as many images of the Jones Lone Wolf, but forgive us if they're not all there.
2021
2020
2019
2018
Jones Lone Wolf User Reviews
If you can't buy through the links above, you can support the site with: