Gnu Nuzoid 2020 Snowboard Reveiw
| | |
| --- | --- |
| Riding Style | Alternative Freeride |
| Riding Level | Beginner - Expert |
| Fits Boot size (US) | 8-10, 10-12 |
| Manufactured in | USA by Mervin |
| Shape | Tapered Directional |
| Camber Profile | Hybrid Rocker |
| Stance | Setback over 20mm |
| Approx. Weight | Feels Normal |
| Split | No |
| | |
| --- | --- |
| On Snow Feel | |
| Turn Initiation | |
| Skidded Turns | |
Where To Buy
80% of outdoor sports products are not listed or sold online.
Our team has relationships with hundreds of local snowboarding and outdoor sports shops.
We'll call the shops and email you a list of stores along with pricing and availability.
---
Not sure what to buy?
Get custom advice from Good Ride editors James and Steph.

Get Advice
Gnu Nuzoid 2020 Review by The Good Ride
Gnu Nuzoid Snowboard Video Review Markers
Summary 0:25, Sizing 0:53, Camber 1:47, Flex 2:30, Speed/Uneven Terrain 3:36, Edge Hold 4:43, Turning 5:56, Powder 6:53, Switch/Park 7:11, Conclusion 7:40
Swipe Right: Buttery and Playful. Excellent Edge Hold. Not a typical more aggressive freeride board. Directional Asymmetrical Shape
Swipe Left: Not a typical aggressive Freeride board. It can feel loose (auto spins) in harder snow when one footing or flat basing in medium to hard snow.  Make sure you buy a board that matches your regular (left foot forward) or goofy (right foot forward) stance set up.
Summary
The Gnu Nuzoid grips well but can feel loose/auto spinny in harder snow. It has a playful mountain freestyle feel in a directional asymmetrical forgiving freeride shape. It's not what you get to go out and take on the mountain like you do with most aggressive freeride boards though.
Ethics Statement: We don't get paid by the manufacturer to write these reviews.  We do make money from the "Where To Buy" links, but this is our best attempt at an honest and objective review from an average riders' perspective.
Gnu Nuziod 2021 Snowboard Review- How it rides and who it is for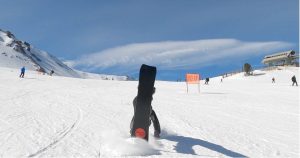 How This Review Happened: We had a few laps at a demo.
Size: 155
Days: 1
Conditions: Pretty hard to pretty good sunny mid-winter snow.
Riders: James (Size 9, 5'10" 185-190lbs), Peter (Size 8, 5'11" 185lbs), Jimbo (Size 11, 5'11" 160lbs), Zobel (Size 11.5, 6' 180lbs)
Boots: Adidas Tactical ADV, Adidas Tactical Lexicon
Insoles: Sandsole Custom Insoles,  Footprint Insole Technology Gameghangers Low Profile
Bindings:Nitro Team
Set-Up: 21.5", 18 front +3 back. Close to Reference.
Approximate Weight
Feels pretty normal for a board this size.
Sizing
155 : 9-11 ish US boots depending on boot footprint size and pretty good with most weights.
Shape/Camber/On Snow Feel/Ability Level
The directional asymmetrical shape of the Gnu Nuzoid is pretty unique and it offers different sidecuts to match the angles of of your boots on the board. One is shorter and deeper and one is longer and shallower. Unlike an Asym Twin, setting it up 18 front and +3 back seemed to match up pretty well. It tracked pretty well and we didn't feel like we were on two sidecuts. That typical hybrid rocker feel comes out that is loose between the feet one footing and flat basing. The way it wanted to auto spin like most C2 boards we tried when the snow is medium to hard. In softer snow it will feel pretty stable. Conversly, it is very forgiving, skids turns really easy, and just about anyone can ride this.
Flex/Pop/Buttering
Gnu makes very poppy boards and there is a lot of energy out of this ride. There is very easily accessible ollie power that we all liked. It also is a very easy board to butter.
Speed
The chatter can come up with the Gnu Nuzoid and flop around a good bit in the tip/tail. It isn't a bomber by any means.
Uneven Terrain
You can ride the Gnu Nuzoid all day and it doesn't pass the chatter up into your joints. That being said it isn't for those that like to power over chunder at super high speeds.
Edge Hold
Really strong edge hold. Other than that loose feeling when not on your edge, The Gnu Nuzoid grips really well in just about any snow you want to ride.
Turn Initiation
For a board this wide the Gnu Nuzoid turns pretty quickly.  For Peter and I with 8.5 and 9 US boots it was medium but for Zobel and Jimbo with 11 to 11.5 boots it was fast.
Turning Experience/Carving
The hybrid rocker of the Gnu Nuzoid is a little lengthened out compared to regular C2 and it's not bad on a carve. It just doesn't give that powerful springy drive from turn to turn like most C3 profiles do. It hurries you up through the best part of the turn. Still with a little more back foot weight on a carve it will not wash in the tail.
Powder
All signs point to the Gnu Nuzoid being a competent powder ride. The taper, a good set back and a nose/tail that stick up off the snow because of the rocker in the middle.
Switch
Even with our pretty directional stance angles the Gnu Nuzoid did well. It was easy to get used to and did way better than we would have thought.
Getting Air/Park
The way the Gnu Nuzoid tracks into the small jumps we hit was nice and easy. It didn't feel too hookey or off for getting air.
Conclusion
All in all, the Gnu Nuzoid is a fun mid-wideish ride that has a playful freestyle feel for such a tapered directional asym ride. It's not for everyone but some will really get off on it.
If you can't buy through the links above, you can support the site with: