Dreamscape Split 500 2023 Snowboard Review
| | |
| --- | --- |
| Riding Style | Freeride |
| Riding Level | Intermediate - Expert |
| Fits Boot size (US) | Women's, 8-10 |
| Manufactured in | |
| Shape | Tapered Directional |
| Camber Profile | Hybrid Camber |
| Stance | Setback over 20mm |
| Approx. Weight | Feels Normal |
| Split | Comes in split |
| | |
| --- | --- |
| On Snow Feel | |
| Turn Initiation | |
| Skidded Turns | |
Where To Buy
No obligation, but these links & ads support the site.
Dreamscape Split 500 2023 - 2022 Review by The Good Ride
The Dreamscape Split 500 is a freeride splitboard that comes with all the hardware you need and skins to start earning your turns. It is a medium flexing, directional tapered board that comes with a hybrid camber profile and a sintered base.
This is a men's specific board that I tested. But we know a lot of women riders out there ride men's boards. So this is a women's take on the Split 500.
Timecodes
0:00 – Intro 0:18 – Sizes 0:28 – Snow Conditions 0:54 – Skins 2:02 – Skin Glide 2:17 – Tail Clips 3:59 – Camber Profile 4:14 – Flex 4:27 – Uphill Travel 5:29 – Downhill 6:23 – On Snow Feel 6:43 – Camber Profile 7:05 – Powder 7:47 – Set Back On. Board 8:18 – Base 8:38 – Steeps 9:37 – Edge Hold 9:51 – Off Piste 10:26 – Groomers 10:43 – Carving 11:01 – Freestyle Personality 11:48 – Switch 12:01 – Overall
Ethics Statement: We don't get paid by the manufacturer to write these reviews.  We do make money from the "Where To Buy" links, but this is our best attempt at an honest and objective review from an average rider's perspective.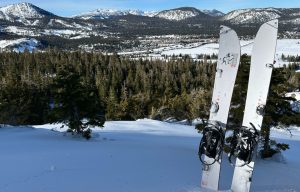 Size: 157
Days:  7
Riders: Steph
Boots: K2 Cosmo
Bindings: Union Explorer
Set Up: Centered 15 front -15 back 20.5″ wide
Sizes: 151, 157, 163
This is a men's specific board, and I was on the 157 which is way out of my board size range. However, it was surprisingly nimble for me. That tells me that in the proper size, it would be a very fun board.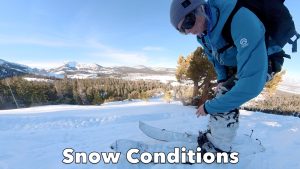 Snow Conditions
We had mostly fresh powder and hard pack snow conditions.
Approximate Weight
Feels normal under foot for being a splitboard.
Camber Profile
The Split 500 has positive camber between the feet and rocker on the nose and tail. The positive camber helps greatly for uphill hiking. It helps with spring out of each step while split boarding as well as grip when traversing.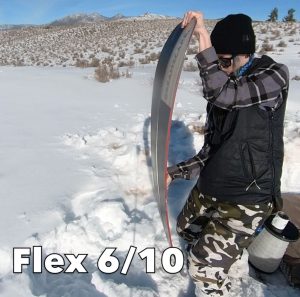 Flex
Comes with a medium flex. 6/10 men's flex. Just enough to stay maneuverable but also stable.

Base
It comes with a sintered base that seemed to have decent glide in the conditions we rode it in.
"The base is made of premium crosslink polyethylene with properties of sintered quality. With good abrasion resistance, very low stress level and modified with wax for better gliding and by adding UV stabilizers suitable for sublimation." – Dreamscape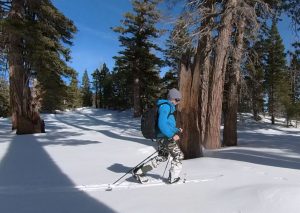 Skins
Love that the Split 500 comes with its own skins that are ready to go. They were simple to install with the nose and tail clips and easy to take off and store. They come in a carrying bag and also come with mesh backing to store the skins with so they don't stick together. I liked that the glue wasn't insanely sticky but had enough bond to stay on the ski while skiing uphill.
The traction from the skins worked great in most all the conditions I was hiking in. When the terrain got steeper and more hard pack, they slipped a little but that's to be expected. In normal fresh snow conditions they performed great.
The skins also had a decent glide to them that added glide between steps and when there was a slight downhill.
Splitboard
The Split 500 comes with Union hardware. It is pretty simple to attach the skis together to make the board. But I had issues with the upper nose clip attaching and detaching. I'd most likely trade out the hardware for something more simple to attach and detach. But it could have just been the specific board I had.
On Snow Feel
This board has a fairly stable feel on snow without being too locked in. It is fairly easy to turn from edge to edge and more maneuverable than I was expecting it to be. It has just enough connection to the snow to feel reliable in harder snow or icier conditions. At the same time it can still be turned quickly and maneuvered around in tight situations.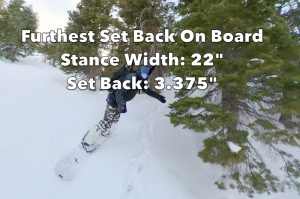 Powder
It comes with 35mm of set back on board and around 13mm of taper between the nose and the tail. This helps a lot with directional float in powder. It doesn't float like a fish tail where the tail sinks deep into the snow. It seems to ride a bit more on top of the snow, and the tail sinks only a little bit. But either way it had nice float in deeper snow.
The furthest set back on board you can get is 3.375″ with a 22″ stance width on the 157.
Steeps
Because the Split 500 is so maneuverable but also stable, it felt great on steeper terrain. I liked that I could turn it quickly and also make some closed off turns for speed control. It also had a nice edge hold when the snow got more scraped off.
Edge Hold
There is no sidecut disruption along the sidecut. But the Split 500 still had decent edge hold in harder snow. I didn't have too much ice to test it in. But it should do well in most average snow conditions out there.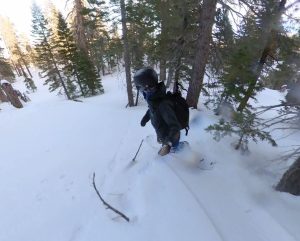 Off Piste
Again, I was surprised about how quickly I could turn the Split 500, especially since it was 10cm bigger than I normally ride in a freeride snowboard. I could turn it quickly around trees and in tighter situations and it never felt slow to maneuver. A good option for off piste riding.

Groomers
A smooth ride on groomers. Liked more medium to large radius turns. Could make skidded turns and carve turns alike. It has a bit of an all mountain board personality where it is good at a lot of things, but doesn't really have a specialist feel anywhere. It likes to dabble in a lot of different terrain situations.
Freestyle Personality
It obviously isn't a freestyle board. But it would hold together for any natural hits or drops you might find in the backcountry. It has good stability in landings and can be ridden switch if needed. But it isn't a board that you would really take into the park.
Overall
The Split 500 could be a good intro splitboard for someone. It comes with everything you need except for the bindings and the binding hardware. But overall it is a pretty complete package for getting started. It also doesn't require an aggressive rider, so it could be good for the intermediate split boarder or a more expert rider too.
Dreamscape Split 500 Specs
Dreamscape Split 500 Images
Dreamscape Company Information
Dreamscape Split 500 User Reviews
The Good Ride
Average rating:
0 reviews
If you can't buy through the links above, you can support the site with: