Dreamscape All Road 900 2023 Snowboard Review
| | |
| --- | --- |
| Riding Style | Freeride |
| Riding Level | Advanced - Expert |
| Fits Boot size (US) | Women's |
| Manufactured in | |
| Shape | Tapered Directional |
| Camber Profile | Hybrid Camber |
| Stance | Setback over 20mm |
| Approx. Weight | Feels Heavy |
| Split | No |
| | |
| --- | --- |
| On Snow Feel | |
| Turn Initiation | |
| Skidded Turns | |
Where To Buy
No obligation, but these links & ads support the site.
Dreamscape All Road 900 2023 - 2022 Review by The Good Ride
The Dreamscape All Road 900 is a stiff, aggressive freeride Unisex board. It comes with a directional and tapered shape.
Dreamscape developed and designed this board with a team of men and women. So it is a part of their Unisex line.
Timecodes
0:00 – Intro 0:21 – Sizes 0:32 – Flex 0:50 – Camber Profile 1:09 – Base 1:15 – Snow Conditions 1:39 – On Snow Feel 2:09 – Board Personality 2:39 – Steeps 3:09 – Stability 3:34 – Off Piste 4:03 – Powder 4:42 – Groomers 5:51 – Switch 6:14 – Freestyle Personality 6:45 – Overall
Ethics Statement: We don't get paid by the manufacturer to write these reviews.  We do make money from the "Where To Buy" links, but this is our best attempt at an honest and objective review from an average rider's perspective.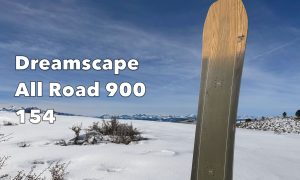 Size: 154
Days:  7
Conditions: Mid season conditions, mostly hard pack snow, a little soft snow here and there, not too much ice.
Riders: Steph
Boots: K2 Cosmo
Bindings: Union Explorer
Set Up: Centered 15 front -15 back 20.5″ wide
Sizes: 154, 160, 166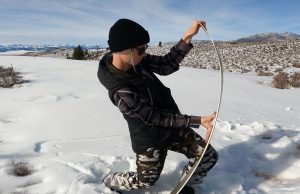 Flex
This board is pretty stiff, although in the pic you can see it bending quite a bit. (I was trying really hard)
It has an 8/10 flex rating, I'd say that's on the average men's flex scale. It felt most stiff along the length of the board from tip to tail. I was able to twist the board with medium effort when sitting still, but while riding it felt like a hard charging stiff snowboard.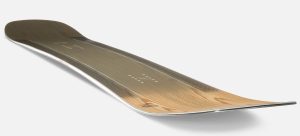 Camber Profile
The All Road 900 comes with a good amount of positive camber between the feet, with a little bit of early rise. Although I feel that it performs like a traditional positive camber board and has a lot of the personality of a true camber snowboard.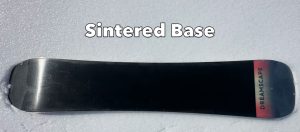 Base
It comes with a sintered base. And had a good glide in the snow conditions I used it in.
"The base is made of premium crosslink polyethylene with properties of sintered quality. With good abrasion resistance, very low stress level and modified with wax for better gliding and by adding UV stabilizers suitable for sublimation." – Dreamscape
Board Personality
The All Road 900 is a hard charging, no nonsense free ride board. It likes to ride at higher speeds, prefers large radius turns, and will take you down if you stop paying attention to what you are doing. It is for those aggressive free ride oriented riders out there.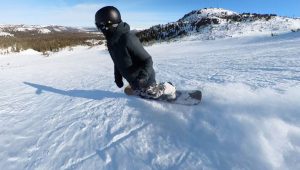 On Snow Feel
This board feels pretty locked in. I won't say it is fully locked in because there is some rocker in the nose and tail, and it is tapered a bit, which gives it a little leeway when riding. But it doesn't like to do skidded turns really. And tends to be a little grabby when riding at slower speeds.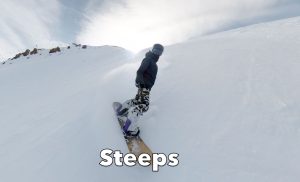 Steeps
I like this board in the steeps over most of the terrain I tested it in. It has a great connection to the snow, is very stable, and can take on a steep run with no problems. It still likes more open, large radius turns in steep terrain. And can handle bombing down at higher speeds.
Stability
The All Road 900 prefers to ride groomers at higher speeds. It felt more responsive for me when I was riding fast. And it kept it's stability as well. When I started slowing it down a bit, it started to feel more unstable, but mostly because it became less responsive for me. It offers a stable ride in most conditions, but when the snow got really choppy it felt less stable for me. This is most likely because it was a bigger board and I had to work extra hard to keep it on task. If you fit the specs, I think this would be a different experience and it would most likely feel better for you.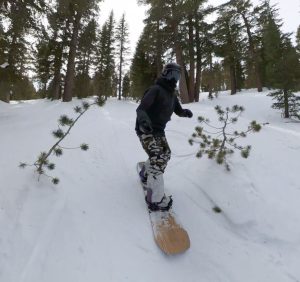 Off Piste
Felt pretty good off piste. But this board is for the expert rider who likes to ride more aggressive. So if you are charging off piste, it is fun and can do great in trees and choppy snow. If you ride a bit slower in this type of terrain, the All Road 900 becomes less fun and less maneuverable. So this board prefers the "send it" zone mostly.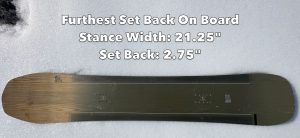 Powder
This board is directional and tapered (9mm) and has a bit of rocker in the nose to help with float in deeper snow. The furthest you can set it back on board on the 154 is 2.75″ with a stance width of 21.25″. I didn't get to ride this board in powder. But I imagine it will do ok in average powder conditions. But I think for really deep days, I would prefer to switch the board out to a more powder specific board.
Since the All Road 900 is for more experienced and hard charging riders, I think it would do well for those riders in powder. But if you are still getting used to powder riding, it might be better to have a more powder specific board.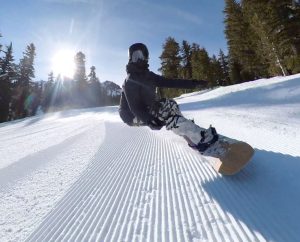 Groomers
I like the All Road 900 on groomers. Again, as long as I was riding fast and aggressive, it felt good. It prefers large radius turns and also prefers higher edge angle turns. So this board excels at carving at higher speeds and is very stable while doing this and has nice energy and spring from turn to turn. I had a difficult time getting the board to bend in the carves because I'm such a light rider. And this board is about 12cm larger than I normally ride. But if you fit in the spec range for this board I think it would be a ton of fun to carve.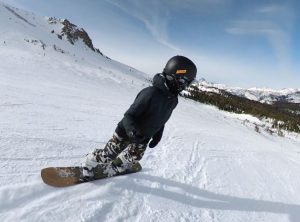 Switch
For a directional, set back, and tapered board it rides pretty well switch. But it does feel backwards a bit. Again, not for someone just getting used to switch riding, but for someone who already rips and is very comfortable riding switch.
Freestyle Personality
I don't feel this board has much freestyle personality. It is pretty difficult to butter and play around on. It has good energy for popping off of natural jumps or wind lips. And it has good stability for landings. But nothing is playful about this board, so if you are an aggressive rider then you might like it for natural jumps and things.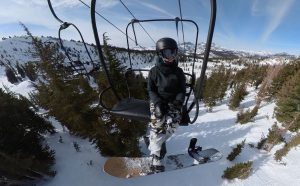 Overall
The Dreamscape All Road 900 is for the expert rider who likes riding at higher speeds and prefers freeride environments and terrain. There are only a few sizing options, so make sure your specs fit the sizing and it will be a fun hard charging freeride board to rip around in the steeps, off piste and crush some groomers with,
Dreamscape All Road 900 Specs
Dreamscape All Road 900 Images
Dreamscape Company Information
Dreamscape All Road 900 User Reviews
The Good Ride
Average rating:
0 reviews
If you can't buy through the links above, you can support the site with: