Coalition Queen Bee 2022 – 2023 Snowboard Review
| | |
| --- | --- |
| Riding Style | All Mountain Freestyle |
| Riding Level | Intermediate - Advanced |
| Fits Boot size (US) | Women's, 8-10, 10-12, > 12 |
| Manufactured in | |
| Shape | True Twin |
| Camber Profile | Hybrid Camber |
| Stance | Centered |
| Approx. Weight | Feels Normal |
| Split | No |
| | |
| --- | --- |
| On Snow Feel | |
| Turn Initiation | |
| Skidded Turns | |
Where To Buy
No obligation, but these links & ads support the site.
Coalition Queen Bee 2023 - 2022 Review by The Good Ride
The Coalition Queen Bee is an all mountain twin that offers a lot of stability, reliablity and fun all over the mountain with an all mountain freestyle personality. It has a slightly wider waist width that helps with stability at higher speeds and in bumpy snow, and can accomodate a larger boot size too. The Queen Bee comes with a flex that allows for playful movements, but still maintains nice energy, stability and pop while riding
Ethics Statement: We don't get paid by the manufacturer to write these reviews.  No one is perfect and we do make money from the "Where To Buy" links below, but this is our best attempt at an honest and objective review from an average rider's perspective. 

How This Review Happened:  We borrowed this for an extended demo and then returned it.
Coalition Queen Bee Video Fast Forward Markers : Intro 00:25 – Camber Profile 00:43 – Flex 00:52 – Sizes 01:00 – Waist Width 01:32 – Base 01:42 – Snow Conditions 02:11 – Steeps 02:32 – Off Piste / Bumps / Trees 02:55 – Stability 03:12 – Edge Hold 03:37 – Carving 03:54 – Switch 04:07 – Turning Experience 04:27 – Deeper Snow And Powder 04:41 – Furthest Set Back On Board 04:50 – Freestyle Personality 05:40 – Overall
Size: 147

Sizes Availible: 143, 147, 151, 155
Days: 4+

Conditions: Mostly spring riding conditions. I did get a little snow here and there but overall it was icy in the mornings and slushy in the afternoons.
Riders: Steph
Boots: Vans Ferra Pro
Bindings: Union Ultra
Set Up: 21″ Centered 15 front -15 back

Camber Profile
The Queen Bee comes with 4mm of positive camber between the feet, to early rise rocker on the nose and the tail. This gives the board a reliable and stable feel on snow, while still allowing for some playful movements without feeling catchy.
Flex
Coalition doesn't list a flex rating on their site, but I felt the Queen Bee had a medium to stiff flex. Somewhere around a 6 or a 7 out of 10. It is stiff enough for a more agressive or more advanced rider to feel good about it, but not too stiff that you can't play around a bit.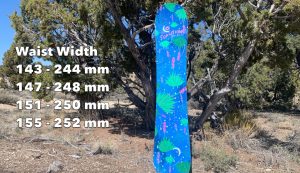 Waist Width
All the Coalition boards I tested had a wider waist width than the average women's board. The Queen Bee in a 147 has a 248 waist width. I can definilty feel the difference in the board personality while riding them. They tend to have a stable, more damp feel while riding at higher speeds or over bumpy snow. The turn initiation takes a little extra effort as well; but would be good for riders with a larger boot size. I feel because of my weight (108lbs) and boot size (7.5W), the smaller 143 Queen Bee would have felt a lot more responsive.  The wider waist will also help with float and surface area in deeper snow.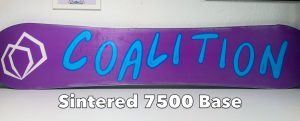 Base
It comes with a sintered 7500 Base
Steeps
I like the Queen Bee a lot in steeps. It handles well, maintains a good edge connection with the snow, and is reliable in the steeper more variable conditions.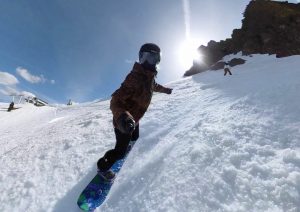 Off Piste / Bumps / Trees
This board handles well off piste too. It has a nice mix of being a damp ride but also energetic in turns. It feels consistant when riding in different types of snow conditions and terrain.
Stability
The medium flex mixed with the wider waist width and the generous postive camber between the feet make for a nice stable ride. I liked it in a variety of different snowboarding situations. That mix is only present in a handful of women's all mountain twin boards. It would be good for riders that like to go faster and ride a little harder. Or just want a more stable ride all over the mountain.
Edge Hold
The edge hold was great in icy conditions. It was plenty for the ice we experience out here in the West. There is not sidecut disruption. But the sidecut it has and the positive camber make for a nice hold in most icy conditions.
Turning Experience
This board was fun to turn, it has good energy and a fun personality. For me and my lightweight self, the 147 felt like a slighlty more hard charging board. And was between medium and fast to turn depending on the speed I was riding it at. So weight, boot size, and ability level will change the way the board reacts for each rider. For me, if I am looking for a more stable board that will be ridden at more higher speeds and in more technical conditions I might size up to the 147. If I want something more playful, a bit quicker to turn and will be riding at medium to slower speeds, I would choose the 143 for my specs. If you have a larger boot size or weigh more than I do, the board will probay react and turn quickly even in a slightly larger size.
Overall the Queen Bee was fun to turn, I like its personality on snow and its energy in turns. The rocker on the nose and tail allow for quicker turns if needed. And will let you skid the turns more easily. While the positive camber adds that bit of technical ability for carving and edge hold in turns.
Carving
The Queen Bee was fun to carve. It isn't directional or set back, so it carves like a twin. But the stable flex, positive camber, and wider waist width help with laying down a few trenches on the groomers.
Switch
It rides switch great. Just as well as it rides regular. And the rocker on the nose and tail allow the board to pivot around rather easily from switch or regular.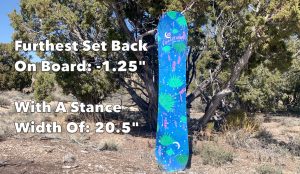 Deeper Snow And Powder
I didn't get to test the Queen Bee on a proper powder day. But I did ride it in some deep slush if that counts. The 50cm of rocker on the nose and the tail allow the Queen Bee to float in softer snow and keep it feeling catch free. The wider waist width will help with float as well, as it increases the surface area on the snow. You can set it back a bit, with the furthest option on the 147 beign -1.25″ of setback on board. But overall, it is still a twin. So if you are looking for optimal float, having a back up powder board for deep days might be the call. Otherwise, the Queen Bee will handle ok in most average powder conditions.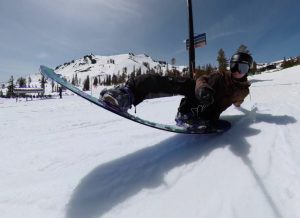 Freestyle Personality
I had a lot of fun on this board in the park. And also while finding natural freestyle features all over the mountain. It has just enough playfulness to its personality to allow for some fun moves just about anywhere. But it still maintains its technical ablity for spinning, halfpipe, and more advanced freestyle maneuvers. I has a good amount of pop. But I had to be riding pretty quickly to get it to react for me. Again, either a smaller size, or if you are a heavier rider than I am, it will probably be easier to get mroe pop out of with less effort. The Queen Bee would fit great with an intermediate to advanced park rider. But would still be friendly enough to learn park on too I think. It isn't a playful jib board, and there are more flexible, park friendly learning boards out there. But this would be a good park board that can also handle all mountain riding, which those softer more playful boards don't do too well.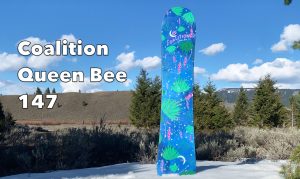 Overall
The Coalition Queen Bee is a stable all mountain twin that can be ridden all over the resort. It would be great for those riders needing a mid-wide women's board. Or for the riders looking for a stable all mountain twin. It can handle just about anything and has a fun, playful side too. So if you are looking for a park board that can ride all mountain, or an all mountain board that can ride the resort like a park, the Queen Bee can mix well with a lot of different riding styles.
Coalition Queen Bee Specs
Coalition Queen Bee Images
Coalition Company Information
Coalition Queen Bee User Reviews
If you can't buy through the links above, you can support the site with: