Coalition Myth 2022 – 2023 Snowboard Review
| | |
| --- | --- |
| Riding Style | All Mountain |
| Riding Level | Intermediate - |
| Fits Boot size (US) | Women's, 8-10, 10-12, > 12 |
| Manufactured in | |
| Shape | True Twin |
| Camber Profile | Hybrid Rocker |
| Stance | Centered |
| Approx. Weight | Feels Normal |
| Split | No |
| | |
| --- | --- |
| On Snow Feel | |
| Turn Initiation | |
| Skidded Turns | |

Where To Buy
No obligation, but these links & ads support the site.
Coalition Myth 2023 - 2022 Review by The Good Ride
The Coalition Myth snowboard is a all mountain twin, with a medium-stiff flex, a wider waist width, and a hybrid rocker camber profile (with flat camber between the feet instead of rocker). The Myth rides well in a lot of different snow conditions and terrain options. It would also work well for people looking for a mid-wide or wide snowboard.
Ethics Statement: We don't get paid by the manufacturer to write these reviews.  No one is perfect and we do make money from the "Where To Buy" links below, but this is our best attempt at an honest and objective review from an average rider's perspective. 

Coalition Myth Fast Forward Markers And Timecodes 00:00- Intro 00:27 – Camber Profile 00:50 – Base 01:01 – Waist Width 01:14 – Flex 01:22 – Snow Conditions 01:32 – Steeps 01:42 – Edge Change 02:11 – Edge Hold 02:33 – Stability 02:42 – Powder 03:32 – Furthest Set Back On Board 03:46 – Turning Experience 04:05 – Freestyle Personality 05:03 – Overall / Who Is This For?
How This Review Happened:  We borrowed this for an extended demo and then returned it.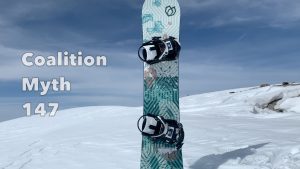 Size: 147

Sizes Availible: 147,151
Days: 4+

Snow Conditions: Mostly spring riding conditions. I did get a little snow here and there but overall it was icy in the mornings and slushy in the afternoons.
Riders: Steph & Gina
Boots: Vans Ferra Pro
Bindings: Union Legacy & Ride A-6
Set Up: 21″ Centered 15 front -15 back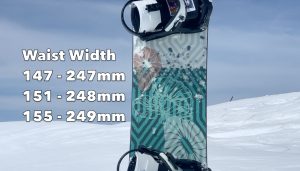 Waist Width
147 – 247mm / 151 – 247mm
The Myth snowboard comes with a wider waist width than your average women's snowboard. This could either be good for riders with a larger boot size, or if you just want a board that has more stability in uneaven terrain or at higher speeds.
Base
It comes with a 7500 Sintered Base. This base should stay nice and fast as long as it is kept well waxed and tuned.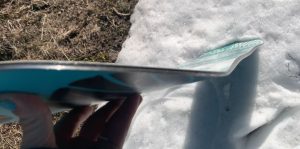 Camber Profile
It comes with a hybrid rocker camber profile. Flat camber between the feet, positive camber under each foot. This flat zone adds stability to the snowboard and gives it a little bit of a catch free feel on snow. The positive camber zones create energy in the board, help with edge hold and control, and add stability. It feels a little more locked into the snow than a hybrid rocker board with more rocker between the feet as opposed to the flat camber that the Myth has.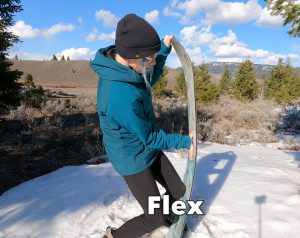 Flex
I think the flex of the Myth highly depends on what size of rider you are. For me, the Myth felt stiff. But I am not a very heavy rider, and I have a smaller boot size. For someone who is a heavier rider and has a larger boot, I think the Myth will feel closer to medium.
Edge Change
Again, this depends on what size of rider you are. Because of the wider waist width, I felt the edge change was a solid medium. But Gina, who has a larger boot size than I do, felt it turned quicker. So we will say it is medium to medium fast, depending on your weight and boot size.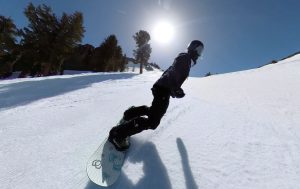 Edge Hold
I was able to ride the Myth in some semi-icy conditions. Mostly frozen spring mornings. I felt the edge hold was quite good on the Myth for having a hybrid rocker camber profile. It also doesn't have any sidecut disrutpion. But should have enough edge hold for most average snow conditions.
Stability
Similar to all the other board in the Coalition line, the Myth rode very stable over uneaven snow and at higher speeds. It has a pretty consistant feel in a lot of different terrain conditions and stays stable in all of them.
Turning Experience and Groomers
The Myth was fun to turn on groomers, it has a little energy in the turn from the positive camber zones under the feet but stays a little bit loose at the same time from the flat section between the feet. It is pretty fun to carve as well, nice and stable and likes higher speeds while cruising around on groomers.
Freestyle Personality
Although the Queen Bee in the Coalition line would be more ideal for freestyle specific riding, the Myth can definitly dabble with jumps, jibs and tricks. It is a little on the stiffer side, so maybe not ideal for a beginner to learn freestyle on. But again, it depends on what size of rider you are. If you are a heavier rider, the Myth might feel a little more forgiving and flexible. I enjoyed jumps more than jibs on this board.
It is a twin, so riding switch is definilty doable. It feel the same in either direction.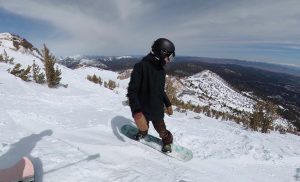 Steeps
The Myth feels great in steep terrain. It is reliable and stable. It has pretty good edge hold and you can kind of push it as hard as you want while riding. It can make smaller, skidded turns without too much effort as well.
Powder
It is a twin board. So it isn't going to float amazing in powder. And the furthest set back on board option for the 147 is -1.25″ with a 20″ stance. But it should be enough to allow you to ride on an average powder day. It won't be super easy to maneuver through deep snow, but it will get the job done if that's all you have.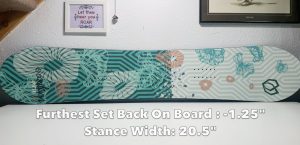 Overall
The Myth is the type of board that you can ride in a lot of different snow conditions. It is one of those boards that is pretty good at a lot of things, but not necessarily an expert at anything. If your riding style has a little bit of everything mixed in, you might like the Myth. It would be a good all over resort board for someone who likes to ride a little faster and wants a nice stable ride. It also has a wider waist width, which not many women's boards do. So if you are a heavier rider or have a bigger boot size, the Myth could be a good fit as well.
Coalition Company Information
Coalition Myth User Reviews
If you can't buy through the links above, you can support the site with: