Capita Spring Break 154 Diamond Tail Snowboard Review
| | |
| --- | --- |
| Riding Style | Powder |
| Riding Level | Beginner - Expert |
| Fits Boot size (US) | 8-10 |
| Manufactured in | Austria at The Mothership |
| Shape | Tapered Directional |
| Camber Profile | Flat to Rocker |
| Stance | Centered |
| Approx. Weight | Feels Light |
| Split | No |
| | |
| --- | --- |
| On Snow Feel | |
| Turn Initiation | |
| Skidded Turns | |
Where To Buy
No obligation, but these links & ads support the site.
Capita Spring Break 154 Diamond Tail 2021 Review by The Good Ride
Capita Spring Break 154 Diamond Tail Snowboard Video Review Fast Forward Markers
0:00 – Intro 0:26 – Diamond Tail vs. Other SB Powder Shapes 1:07 – Summary 2:02 – Sizing 2:34 – Shape/Camber/On Snow Feel 3:27 – Flex/Butterability/Pop/Air 4:05 – Speed/Dampness 4:42 – Uneven Terrain 5:02 – Edge Hold 5:14 – Turning/Carving 5:36 – Powder 6:18 – Conclusion 6:46 – Outakes 6:59 – About Our Reviews
Turn Ons/Swipe Right: Super soft, light buttery, tapered directional ride. Amazing float.
Turn Offs/Swipe Left: Only for smaller, lighter riders. Too bucky and bouncy for heavier riders.
Summary
If you want a small, light, poppy and ultra-soft buttery ride for powder the Capita Spring Break 154 Diamond Tail could be for you. It's not for heavier riders though.
Ethics Statement: We don't get paid by the manufacturer to write these reviews and this is our unfiltered opinion. We do make money from the "Where To Buy" links, but this is our best attempt at an honest and objective review from an average riders' perspective.
Capita Spring Break154 Diamond Tail Snowboard Review – How It Rides and Who It's For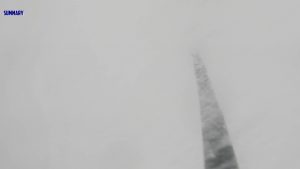 How This Review Happened:
We spent our precious Good Ride dollars to buy this Capita Spring Break154 Diamond Tail and review it.
Size: 154
Days: 2
Conditions: Thigh High Powder slackountry time with Drift Boards.
Riders: James (Size 9, 5'10" 185-190lbs), Nick (Size 10, 160lbs, 5'8")
Boots: Burton Tourist
Insoles: F.I.T. Gamechangers, F.I.T. Gameghangers LP
Bindings: Union Expedition
Similar Boards (but not the same): Capita Spring Break 158 Powder Glider, Capita Spring Break 161 Tree Hunter, Jones Mind Expander,
Set-Up: 21.5" Wide. 21 front -3 back. Set all the way back.
Approximate Weight:
Feels pretty light.
(We don't put in the exact weight because with wood cores there is no consistency in a boards weight)
Sizing
Best for size 10 and under and it really prefers a lighter rider. My 195lbs was way too much for this. I'd keep it 160lbs and under.
Shape/Camber/On Snow Feel/Ability Level
The shape of the Capita Spring Break 154 Diamond Tail is pretty directional and tapered. Throw in the flat to rocker profile and you have a pretty stable, forgiving, back foot weighted ride. It tracks well one footing off the chair or flat basing down a long flat cat track. Incredibly easy to skid a turn.
Flex/Pop/Buttering
Super soft. Softer than a lot of jib boards I've tried. It is soft and it just keeps on flexing the more you press on it. I was tempted to see what would happen if I bent it in half because it just doesn't seem like it will snap if you do. It is also incredibly light and poppy and it springs into an ollie really well for flat to rocker.
Speed
Super fast and is up there with the fastest but the rest of the build is not meant for high speed. It is a freestyle/jib flex in a tapered directional shape so it is only meant for slow to moderate speeds.
Uneven Terrain
The Capita Spring Break 154 Diamond Tail bucks and bounces around in uneven snow even at moderate speeds. I found myself constantly getting bucked out of my line even in moderately tracked snow. Just wasn't good for my specs. Nick who is 35lbs lighter loved this.
Edge Hold
Best in powder but can handle moderately firm snow.
Turn Initiation
The Capita Spring Break 154 Diamond Tail turns really fast for its width thanks to the taper in the tail, the deep sidecut and its overall easy turning flex. Great board for weaving in and out of trees.
Turning Experience/Carving
The Capita Spring Break 154 Diamond Tail has a fun turning experience as long as you don't want to carve hard.
Powder
Such a floater…such a floater! The Capita Spring Break 154 Diamond Tail has a thicker build that feels like a very floaty surfboard. It just sits on top of powder and the tail only sinks a little bit. It is all about effortless directional float.
Conclusion
So get this if you want a tapered directional soft and floaty ride.
Capita Spring Break 154 Diamond Tail Specs
Capita Spring Break 154 Diamond Tail Images
Capita Company Information
Capita Spring Break 154 Diamond Tail User Reviews
If you can't buy through the links above, you can support the site with: