Capita Equalizer 2023 Snowboard Review
| | |
| --- | --- |
| Riding Style | Freeride |
| Riding Level | Advanced - Expert |
| Fits Boot size (US) | Women's, < 8, 8-10 |
| Manufactured in | Austria at The Mothership |
| Shape | Tapered Directional |
| Camber Profile | Hybrid Camber |
| Stance | Setback -12.5mm |
| Approx. Weight | Feels Normal |
| Split | No |
| | |
| --- | --- |
| On Snow Feel | |
| Turn Initiation | |
| Skidded Turns | |
Where To Buy
No obligation, but these links & ads support the site.
Capita Equalizer 2023 - 2022 Review by The Good Ride
The Capita Equalizer is a fun freeride board that has an aggressive yet playful personality. It can float in powder, shred the steeps, and have some fun with freestyle elements as well.
Full Capita Equalizer Fast Forward Markers Timecodes
00:00 – Intro 00:23 – Camber Profile 00:58 – Flex 01:16 – Base 01:24 – Board Personality 01:41 – Snow Conditions 01:58 – Turn Initiation 02:08 – On Snow Feel 02:26 – Steeps 02:37 – Speed 03:04 – Edge Holde 04:12 – Off Piste / Trees 04:26 – Powder 04:45 – Set Back On Board 05:44 – Switch 06:03 – Groomers and Turning 06:44 – Freestyle Personality 07:14 – Overall / Who Is This For?
Ethics Statement: We don't get paid by the manufacturer to write these reviews.  We do make money from the "Where To Buy" links, but this is our best attempt at an honest and objective review from an average rider's perspective.
How This Review Happened: We were sent this for an extended demo and returned it.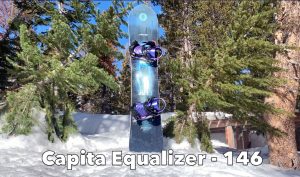 Size: 143
Days:  4+
Conditions: Hard pack, some fresh snow, and mid-season conditions.
Riders:  Steph
Boots:  Vans Ferra Pro
Bindings: Union Legacy & Union Ultra
Sizes Availible: 142, 146, 150, 154

Camber Profile
Alpine V1 Profile from Capita. A slightly directional positive camber zone between the feet. The camber goes a little further out towards the tail and less towards the nose. It has a flat section before the tail going to a little bit of rocker, with a Wah-Pow! tail.  The front comes with rocker, and a Wah-Pow! nose. This profile makes for a nice stable feeling throughout the board and great pop, stability and energy through the tail. The rockered nose keeps the Equalizer feeling smooth in turns, and helps with float in deeper/softer snow.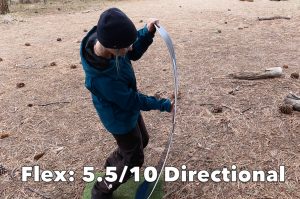 Flex
Comes with a 5.5/10 flex on the Capita scale. But it felt a little stiffer to me than 5.5. Maybe closer to 6 or 6.5. Just enough stiffness to heep it stable, damp, and have energy. But has enough flex to allow for maneuverability and some playfulness too.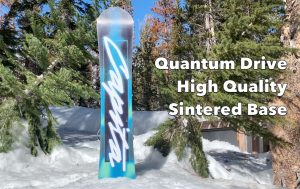 Base
Comes with Capita's Quantum Drive high quality sintered base. I felt the Equalier had nice glide in all the snow conditions I rode it in.
Board Personality
The Capita Equalizer is a hard charging freeride board but it doesn't take snowboarding too serious. It has a somewhat playful feel to it and allows for creative snowboarding at an advanced/expert level. It can handle fast speeds, chunder, bumps, and shred in powder too. All this, without feeling like an overly stiff freeride board that has to charge all the time, although it totally can if you want it to.
Turn Initiation
This board is fast to turn, but we have it rated as medium/fast because it is a more advanced board and takes a bit of a firm hand from time to time.
On Snow Feel
The profile of the Equalizer creates a semi locked in feel. The flat section through the tail seems to elongate the contact points outside of the back binding. But the rocker in the nose keeps turns somewhat quick to initiate and feels a little catch free. So it has a little bit of both worlds. But the mixture of this allows for technical riding while still having the benefit of the rockered nose.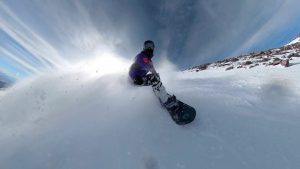 Steeps
Handles great in steep terrain, and is very fun to ride at higher speeds down the face of the mountain. Has a very reliable feel underfoot in the steeps. Can absorb most of the little bumps and chunder you might find up there too.
Speed
Holds its speeed well. I had no problem charging hard on this board. It never felt unstable or jumpy. Always felt smooth underfoot and consistant at higher speeds.
Edge Hold
The Equalizer has pretty good edge hold for most snow conditions. Does great up to hard/icy snow. Will not have as much grip in really icy condiitons as a board with sidecut disruption. But for the advanced/expert rider, it probably has plenty of edge hold. For the rider that might be a little nervous on ice, it may feel a bit loose.
Off Piste
Very fun board to take off piste. Quick to turn through bumps and trees. Can hold speed and stay maneuverable through tight spaces. Would be a reliable off piste board in  both powder and normal snow conditions.
Powder
The directional shape and slightly directional camber profile help the Equalizer to float in powder. The rocker on the nose helps keep the nose above snow, and the flat section on the tail helps to give stability in deep snow. The 146 can be set back up to 2.125″ on board with a stance width of 20.5″.
I rode the Equalizer on a mini powder day, nothing too deep. But it handles really well in soft snow, and I believe it would have some nice float in deeper snow too. It isn't a powder specific board. But it is the type of board that will float for you, and also charge through the more gnarly snow conditions to get to powder stashes with no problem.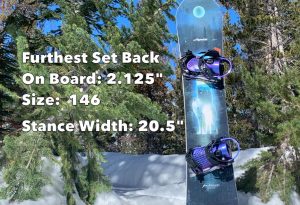 Switch
Although it is directional, you can ride the Equalizer switch. It feels a bit backwards, but it is completely doable. No problems taking off switch or landing switch on jumps.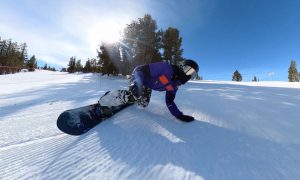 Groomers / Turning
I enjoy how this board turns and handles through a carve. When riding it at speed, it has great energy through turns and is very fun to carve. It isn't a carving specialist. But is very fun to lay over in some fresh corduroy and leave some trenches behind.
The Eqalizer can make skidded turns as well. Good for steeper terrain and off piste. It likes a good medium sized turn but smaller turns can be made with just a little extra effort too.
Freestyle
There is a freestyle side to the Equalizer. Fun on natural features, but can also be ridden through the park. It isn't for a beginner park rider. But for the advaned/expert rider, park will feel just fine. It has nice energy off jumps and isn't too stiff to hit some jibs on either.
Overall
The Capita Equalizer would be good for an advanced/expert rider who wants a freeride board with a slightly playful personality. A board that can float in powder, carve up groomers, shred off piste and even dabble in freestyle. It likes riding fast and being a bit aggressive, but it isn't a requirement with this board. Overall, a very fun freeride choice. It has a similar personality to the Arbor Veda, or the Rossignol After Hours, although the Eqalizer feels a bit less directional.
Capita Equalizer User Reviews
If you can't buy through the links above, you can support the site with: