Burton Territory Manager Snowboard Review
| | |
| --- | --- |
| Riding Style | All Mountain |
| Riding Level | Advanced - Expert |
| Fits Boot size (US) | < 8, 8-10, 10-12 |
| Manufactured in | Austria |
| Shape | Tapered Directional |
| Camber Profile | Directional Camber |
| Stance | Setback -12.5mm |
| Approx. Weight | Feels Normal |
| Split | No |
| | |
| --- | --- |
| On Snow Feel | |
| Turn Initiation | |
| Skidded Turns | |

Where To Buy
No obligation, but these links & ads support the site.
Burton Territory Manager 2023 Review by The Good Ride
Turn Ons/Swipe Right: Doesn't feel tapered on groomers but does in powder. Great pop. Good one board quiver.
Turn Offs/Swipe Left: Not the best in harder snow for average riders. Large gaps between sizes.
Summary
The Burton Territory Manager isn't good in hard snow but is a great one board quiver for those that want a more centered non-tapered feel compared to the Hometown Hero or 3D Daily Driver.
Ethics Statement: We don't get paid by the manufacturer to write these reviews and this is our unfiltered opinion. We do make money from the "Where To Buy" links, but this is our best attempt at an honest and objective review from an average riders' perspective.
Burton Territory Manager Snowboard Review- How it rides and who it is for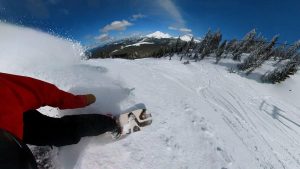 How This Review Happened:
Borrowed this for an extended demo and sent it back.
Size: 154
Days: 3
Conditions: Good snow with some hard patches, perfect medium to soft snow and about 8" of really light snow.
Riders: James (Size 9, 5'10" 185-190lbs)
Boots: Burton Kendo, Burton Photon Step On Wides
Insoles: F.I.T. Gamechangers
Bindings: Union Atlas. Then did a same day sampler with Burton Genesis Step On, Clew, Nidecker Supramatic, Burton Step On 2023, Buton Genesis 2023, Burton Cartel X 2023.
Jacket: Burton AK Gore-Tex Pro 3L Tusk Jacket, Volcom Guide Jacket
Pant: Burton AK Gore-Tex Pro 3L Hover Pant
Helmet: Smith Maze
Goggle: Smith 4D Mag
Gloves: Burton AK Clutch Mitt, Burton AK Tech Leather Glove, CG Habitats Glove
Similar Boards (but not the same): Burton Cartographer, Burton Instigator, Never Summer Hammer, Jones Frontier, Ride Wild Life, Borealis Tundra, Tahoe Labs Directional Twin, Yes Basic Uninc,

Set-Up: 21.5" Wide. Sance Angles +18/-3, +18/-9, +15/-15. Close to Reference and Set all the way back.
Approximate Weight
The Burton Territory Manager was on the light side of normal. Not ultra-light though. (We don't put in the exact weight because with wood cores there is no consistency in a boards weight)
Sizing
The 154 worked for me but it was too small to want to ride every day. I didn't try the 160 but it didn't look like a good fit on paper. Not sure why they didn't make a 157. I think that would have been a great fit.
Here are some ideal US boot sizes for the Burton Territory Manager boards. You can of course go bigger or smaller but these work best for not turning the board slower than it should be and not having the dreaded Toe & Heel Drag.
148: 7.5-8.5
154: 8.5-9.5
160- 10-11
165- 11.5-12.5
Shape/Camber/On Snow Feel/Ability Level

The Burton Territory Manager has a tapered directional shape but it feels like most directional non-tapered all mountain boards. I think this is because of the balanced freeride geometry sidecut. What that means is they do the sidecut in a way that reduces or almost eliminates that back foot heavy ride on groomers but keeps the tapered float in powder.


Then you have the standard directional camber like most family tree boards. There is a little early rise before the nose but not too much. It is almost like full camber so you need to be on your game. Not easy to skid a turn but the Burton Territory Manager tracks well in everything except hard snow.
Edge Hold

Other than sizing this is one area the Burton Territory Manager could do better. It feels great in medium to soft snow but it just doesn't bite into a hard patch like some other boards with non-disrupted sidecuts like the Territory Manager do. I don't need magnatraction but just a little more grip. If you can twist and really pressure your edge you won't care. If you are an average rider like me then you will want more.
Flex Personality
There is a pretty medium to medium-stiff flex happening with the Burton Territory Manager. I could butter the 154 but I'm not sure if I could butter a 160 that well. Nose butters were easier than tail butters and that is probably because there is a little early rise to help.
The pop you got from the Burton Territory Manager made me feel like I signed up for the Ollie assist program. I was never one to generate a lot of my own air on those micro jumps I hit around the mountain. Read more about this pop in turning n carving.
Speed/Base Glide.
I could point it pretty well with this 154 Burton Territory Manager. It surprised me. It isn't a Leaderboard/First Cut or even a Flight Attendant but it sure does point it pretty well.
The base glide is good but not like it used to be with Burton. The new bases like Burton Wax and also need several initial waxings to get it ready. With other Burton boards I waxed it with Burton Wax, scraped, re-waxed and scraped it the first time. That really helps it act like a good base.
Turning Experience/Carving
Burton just knows how to make a mostly camber board turn and the Burton Territory Manager is no exception. It is fast edge to edge and once you get it on edge there is a pretty balanced turning experience. It leans a little more on the turny side but there isn't anything this can't do. I loved how it drives out of a turn in good conditions and sets you up for your next turn. That pop you get from an Ollie also springs you out of a turn. Very fun carver. What I really liked about this is you could carve almost like you are on a non tapered board. You could drive pretty hard off your front foot, ride center weighted or lean hard off your back foot. It liked back foot weighted carves the most but was a lot of fun center and front foot weighted too. This carved more like a double ender all mountain ride than a board with 8mm of taper.
Powder
So the Burton Territory Manager only has a -2.5" set back on board all the way back at a 22" stance width. That is a good bit less than the 3D Daily Driver, Cartographer and Hometown Hero. They all offer more directional float. If you look at this from an all mountain/non-tapered perspective which is what this board feels more like this is pretty good compared to those. Also that 8mm of taper that you don't feel on groomers sure does come into play in powder and helps with directional float. So not great for a freeride board but definitely above average for an all mountain board.
Switch/Pipe/Jumps
Very doable switch. Not perfect but way better than you would think for a board with 8mm of taper. I think many would feel pretty good lapping kickers with this and it tracked well into and out of the little jumps I hit on the mountain. Felt too stiff to want to jib.
Conclusion
At first I was pretty uninterested in the Burton Territory Manager because on paper it has a lot of overlap with the Hometown Hero, 3D Daily Driver and Cartographer. Then after riding it I found out that it is more like a Hometown Hero and a Burton Custom had a baby and it is very much its own board. This is best if you want a one board quiver/all mountain ride that can do a little of everything. If you can get over the below average edge hold and strange sizing you can get a very versatile poppy ride.
Burton Territory Manager Specs
Burton Territory Manager Images
Burton Company Information
Burton Territory Manager User Reviews
If you can't buy through the links above, you can support the site with: