Burton Sensei 2021 Snowboard Review
| | |
| --- | --- |
| Riding Style | Freeride |
| Riding Level | Advanced - Expert |
| Fits Boot size (US) | < 8, 8-10 |
| Manufactured in | Austria |
| Shape | Directional |
| Camber Profile | Traditional Camber |
| Stance | Setback -20mm |
| Approx. Weight | Feels Normal |
| Split | No |
| | |
| --- | --- |
| On Snow Feel | |
| Turn Initiation | |
| Skidded Turns | |
Where To Buy
No obligation, but these links & ads support the site.
Burton Sensei 2021 Review by The Good Ride
Turn Ons/Swipe Right: Old school narrow full camber freeride with no taper.
Turn Offs/ Swipe Left: Old school narrow full camber freeride with no taper.
Summary
The Burton Sensei's full camber narrow old school no taper shape with a wide variety of lengths is a very unique design for this time. We would have loved to ride the 170 but the 156 was all they had for us at the demos. It is a very niche board that is hard to recommend.
Ethics Statement: We don't get paid by the manufacturer to write these reviews and this is our unfiltered opinion. We do make money from the "Where To Buy" links, but this is our best attempt at an honest and objective review from an average riders' perspective.
Burton Sensei Snowboard Review- How it rides and who it is for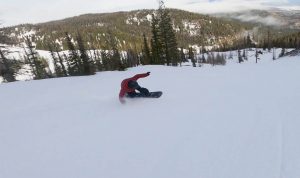 How This Review Happened: We had a few laps at a demo.
Size: 156
Days: 1
Conditions: Far from ideal snow for testing. Pretty hard and uneven old snow
Riders: James (Size 9, 5'10" 185-190lbs), Peter (Size 8, 5'11" 185lbs), Jimbo (Size 11, 5'11" 160lbs)
Boots: Adidas Tactical ADV
Insoles: Sandsole Custom Insoles,  F.I.T. Gameghangers Low Profile , F.I.T. Gamechangers
Bindings: \ Burton Cartel
Similar Boards (but not the same):Can't think of a single boar like this right now.
Set-Up: 21.5" Wide. 21 front -3 back. Close to Reference
Sizing
Here are some ideal US boot sizes for these boards.
156: 7-8
161: 8-9
170- 9-10
Shape/Camber/On Snow Feel/Ability Level
The Burton Sensei is full camber but there might be a touch of early rise (maybe just a few cm) before the nose to not make it a completely retro board. Still, it is way more camber than Burton's directional camber and it this time it can easily be called full camber. It is a narrow turny, semi-gunny technical camber board for advanced to expert riders. It tracks pretty well and didn't feel too twitchy for how narrow it was.
Flex/Pop/Buttering
All that camber took the medium flex and made it more work to butter than some stiffer directional camber boards from Burton. That bend up near the tip/tail sure can make it esay to butter. The 156 Burton Sensei popped into an ollie pretty easy though.
Speed
Now if we had the 170 or even the 161 I think our take on the speed would have been different but the 156 was moderate.
Uneven Terrain
Burton does a great job at making a board to dampen vibrations caused by slow speed travel over bumpy hard snow. It isn't easy to do. The Burton Sensei, in the size we rode, would have been a great board for turning around bumps like a Porche on a windy road. The 170 would be a different story though.
Edge Hold
Burton is for those who don't like disrupted sidecuts and know how to twist the edge to get the most grip out of it. If you like a disrupted sidecut, like we do you will find that this edge can let go easier than others if you hit a hard patch.
Turn Initiation
Fast. Very fast. I bet that even on the 161 or 170 the turning would be quick.
Turning Experience/Carving
In the occasional acceptable snow patches we had you could tell this would be fun to carve. I would have loved to take the 170 Burton Sensei out on good groomers and lay into some hard carves like I used to back in the 00's.
Powder
Burton markets the Sensei as a powder/freeride board but it isn't for everyone. Some old school rippers are going to love this kind of ride but many will be happier grabbing an easier floating family tree ride with more nose, some taper and early rise. It would be fun to get on the 170 and take it through a deep wide open run.
Conclusion
The Burton Sensei isn't for everyone and is by far the most niche board in the Family Tree line. It is not a board we would ever recommend. It is the kind of board that a small group of old school style rippers will just know they want.
Burton Sensei User Reviews
Burton Sensei 2021 Snowboard Review
SKU
UPC
Model
Burton Sensei
Jan 25, 2022
by
B Emery
Ability Level: Expert •
Riding Style: ATV •
Days You Ride A Year: 60 •
Height, Weight And Boot Size (for Boards, Boots & Bindings): 6ft 2in 200lbs size 10
This Board Rips! Was hesitant to buy this because of the width, but one of the best boards I've ridden for speed and agility! I'm 6ft 2in and 200lb and have a size 10 Nitro Select boot with medium Cartel reflex bindings on the 161cm. With no boot drag, or heel up drag. About 1-1/2 inch wider than reference for stance. I usually ride a flight attendant162, but the sensei carves way better! The sensei is pure speed! Deep long carves on Utah high pressure hard pack. definitely reminds me of late 90s/early 2000s pipe boards. It rides really twitchy so this is only for strong riders used to full camber boards. You think about turning and your already halfway through the it. Stable off piste because of the stiff tail, and the softer nose makes it playful for side hits/cat track airs. Super stable and easy to ride switch as well. I would recommend if you love to ride fast! Haven't ridden in pow yet but it is setback enough to where I'm sure it it fine.

---
If you can't buy through the links above, you can support the site with: