Burton Kilroy Pow Camber 2021 Snowboard Review
| | |
| --- | --- |
| Overall Rating | |
| Riding Style | Alternative Freeride |
| Riding Level | Advanced - Expert |
| Fits Boot size (US) | 8-10, 10-12 |
| Manufactured in | China |
| Shape | Tapered Directional |
| Camber Profile | Directional Camber |
| Stance | Setback over 20mm |
| Approx. Weight | Feels Normal |
| | |
| --- | --- |
| On Snow Feel | |
| Turn Initiation | |
| Skidded Turns | |
Where To Buy
No obligation, but these links & ads support the site.
Burton Kilroy Pow Camber 2021 Review by The Good Ride
Burton Kilroy Pow Camber 2021 Snowboard Video Review Fast Forward Markers.
0:00 – Intro
0:25 – Summary
2:34 – Sizing
3:34 – Camber/On Snow Feel
4:39 – Flex/Pop/Butterability
5:49 – Speed
6:56 – Uneven Terrain
7:35 – Edge Hold
8:30  – Turning/Carving
10:07 – Pow
11:18 – Getting Air
11:41 – Conclusion

Swipe Right: Great set back, off the back foot carver and very easy float in powder. Great price point for advanced to expert riders looking to expand their quiver.
Swipe Left: Not much edge hold in harder to icy snow. Not an entry level ride which some could expect it to be at this price point.
Summary
The Burton Kilroy Pow Camber might not have the strongest grip but everything else about this board shines for those that want a very set back on the tail ride that can float in powder and carve groomers. If you take the Burton Stun Gun that Tim owns, give it a little less high end core and base but give it a cooler shaped tail you have the Kilroy Pow Camber. They have almost identical shapes/specs.
Ethics Statement: We don't get paid by the manufacturer to write these reviews and this is our unfiltered opinion. We do make money from the "Where To Buy" links, but this is our best attempt at an honest and objective review from an average riders' perspective.
Burton Kilroy Pow Camber 2021 Snowboard Review- How it rides and who it is for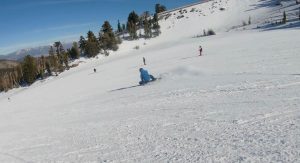 How This Review Happened: I liked this so much after demoing it that I bought it.
Size: 155
Days:  2 but more coming.
Conditions: Soft snow on top but pretty hard snow right underneath and then fresh tracks on perfect soft late summer (yes late summer) snow that was perfectly groomed.
Riders: James (Size 9, 5'10" 185-190lbs), Peter (Size 8, 5'11" 185lbs), Jimbo (Size 11, 5'11" 160lbs), Zobel (Size 11.5, 6' 180lbs), Grant (Size 11 6' 160lbs)
Boots: Adidas Tactical ADV, Adidas Tactical Lexicon
Insoles: Sandsole Custom Insoles,  F.I.T. Gameghangers Low Profile , F.I.T. Gamechangers
Bindings: Union Contact Pro/Union Superpro, Burton Malavita,
Similar Boards (but not the same): Gentemstick Mantaray 156, Korua Dart, Korua Café Racer, Yes Hybrid, Jones Hovercraft, Weston Japow
Set-Up: 21" & 21.5" Wide. 21 front -3 back 18 front -3 back, Close to Reference
Approximate Weight: Feels normal
Sizing
155- Approximately 9-11 US boots
158- Approximately 10-12 boots.
The 155 felt great for Peter and I with size 8.5 & 9 boots and medium bindings. Burton suggests Size L bindings so that implies 10.5+ boots but we did not feel that. Jimbo and Zobel were fine on the 155 though with their size 11ish boots.
Shape/Camber/On Snow Feel/Ability Level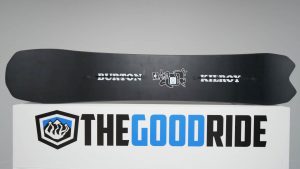 There is a pretty directional setback shape to the Burton Kilroy Pow Camber and the same goes with the camber profile. There is a good bit of rocker in the nose, a pretty pronounced camber profile going a little past the ends of the channels and what seems like a little bit of early rise before the nose. It makes for a semi-catchy/locked in feel that isn't a beginner/intermediate board. This makes it more for advanced to expert riders that know how to turn and are on a budget. This gives it a very set back ride compared to most Burton Freeride boards. Despite the setback overall ride it still tracks really well one footing and flat basing between the feet.
Flex/Pop/Buttering
There is a pretty medium stiff to stiff flex between the feet, a medium flex in the nose and a medium to medium stiff flex in the tail. It butters pretty easy on the nose and takes a little more work on the tail but it is still very doable. Burton just does great things with their board feel and the Burton Kilroy Pow Camber is no exception. It is lively and poppy without feeling too light and chattery. It helps improve your ollie power for sure.
Speed
The base of the Burton Kilroy Pow Camber isn't super fast but it has good glide and keeps its speed really well for this price point. While the nose can be a little chattery but that chatter quiets down quickly before the stiffer camber area. It doesn't work its way up to our joints.
Uneven Terrain
The Burton Kilroy Pow Camber can handle micro or macro bumpy snow really well. You usually sacrifice more dampening with a lively board like this but not here. Its great for all day riding.
Edge Hold
Its missing that hard snow magic that many other boards with disrupted sidecuts have. The Burton Kilroy Pow Camber lets go pretty easy and can catch you off guard. You can sharpen the edges and get a little more edge hold but then the board will feel way catchier and more unforgiving. We have tried it with other Burton boards and it never felt good.
Turn Initiation
Pretty smooth edge to edge. For my 9's and Peters 8.5's this was in between being medium and medium fast. Smooth and predictable without feeling sketchy in tighter spots like an unexpected bump or tight tree line. In powder it is more medium/fast and it will be fun to slalom through trees. If the 158 Stun Gun Tim owns is easy for me then the 155 will be even easier. Jimbo and Zobel with their 11's found this to be medium/fast on the groomers and Tim with his 11.5's found the 158 Stun Gun fast in the trees in a little powder.
Turning Experience/Carving
The Burton Kilroy Pow Camber can rail out a pretty hard carve as long as the snow isn't too hard. The decent amount of taper in the tail doesn't act like that on sidecut. Translation…the tail doesn't wash out as easy as many boards with similar taper yet it acts like other boards in powder which is where we love that tapered feel. It isn't a super circle carver but it can get a circle carve on really well but also be good for wider radius turns without feeling twitchy or weird. It is a very fun turny experience.
Powder
We haven't had the Burton Kilroy Pow in powder but we have had the Burton Stun Gun which is pretty much the same float except for one thing. The base is a little slower so it won't have that easy traverse glide that the Stun Gun had. It will not be bad at all and the sintered base still has some easy glide. It just won't be a hero traverser. The set back on board is -5.875" set all the way back at a 21.75" stance width. These days we like that stance width for a board like this. Combine all that set back, the early rise before the big ass nose, and a tiny tapered tail you have a lot of float happening here. It could be a dedicated pow board easily but still carve the hell out of groomers.
Conclusion
So The Burton Kilroy Pow Camber is a great directional daily driver or even better a great addition to a quiver. I could have a pretty good life if I had a mountain freestyle or all mountain board with good grip and the Burton Kilroy Pow Camber.
Burton Kilroy Pow Camber Specs
Burton Kilroy Pow Camber Images
Burton Company Information
Burton Kilroy Pow Camber User Reviews