Burton Kilroy Pow Camber 2021 Snowboard Review
| | |
| --- | --- |
| Riding Style | Alternative Freeride |
| Riding Level | Advanced - Expert |
| Fits Boot size (US) | 8-10, 10-12 |
| Manufactured in | China |
| Shape | Tapered Directional |
| Camber Profile | Directional Camber |
| Stance | Setback over 20mm |
| Approx. Weight | Feels Normal |
| Split | No |
| | |
| --- | --- |
| On Snow Feel | |
| Turn Initiation | |
| Skidded Turns | |
Where To Buy
No obligation, but these links & ads support the site.
Burton Kilroy Pow Camber 2021 Review by The Good Ride
Swipe Right: Great set back, off the back foot carver and very easy float in powder. Great price point for advanced to expert riders looking to expand their quiver.
Swipe Left: Not much edge hold in harder to icy snow. Not an entry level ride which some could expect it to be at this price point.
Summary
The Burton Kilroy Pow Camber might not have the strongest grip but everything else about this board shines for those that want a very set back on the tail ride that can float in powder and carve groomers. If you take the Burton Stun Gun that Tim owns, give it a little less high end core and base but give it a cooler shaped tail you have the Kilroy Pow Camber. They have almost identical shapes/specs.
Ethics Statement: We don't get paid by the manufacturer to write these reviews and this is our unfiltered opinion. We do make money from the "Where To Buy" links, but this is our best attempt at an honest and objective review from an average riders' perspective.
Burton Kilroy Pow Camber 2021 Snowboard Review- How it rides and who it is for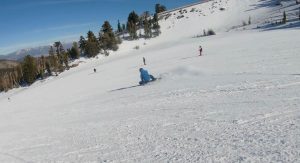 How This Review Happened: I liked this so much after demoing it that I bought it.
Size: 155
Days: 8 days
Conditions: Soft snow on top but pretty hard snow right underneath and then fresh tracks on perfect soft late summer (yes late summer) snow that was perfectly groomed. Then after this review I got it in about 1.5′ of Powder.
Riders: James (Size 9, 5'10" 185-190lbs), Peter (Size 8, 5'11" 185lbs), Jimbo (Size 11, 5'11" 160lbs), Zobel (Size 11.5, 6' 180lbs), Grant (Size 11 6' 160lbs)
Boots: Adidas Tactical ADV, Adidas Tactical Lexicon
Insoles: Sandsole Custom Insoles,  F.I.T. Gameghangers Low Profile , F.I.T. Gamechangers
Bindings: Union Contact Pro/Union Superpro, Burton Malavita,
Similar Boards (but not the same): Gentemstick Mantaray 156, Korua Dart, Korua Café Racer, Yes Hybrid, Jones Hovercraft, Weston Japow
Set-Up: 21" & 21.5" Wide. 21 front -3 back 18 front -3 back, Close to Reference
Approximate Weight: Feels normal
Sizing
155- Approximately 9-10 US boots
158- Approximately 10-11 boots.
The 155 felt great for Peter and I with size 8.5 & 9 boots and medium bindings. Burton suggests Size L bindings so that implies 10.5+ boots but we did not feel that. Jimbo and Zobel were fine on the 155 though with their size 11ish boots.
Shape/Camber/On Snow Feel/Ability Level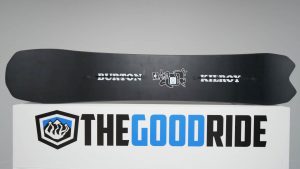 There is a pretty directional setback shape to the Burton Kilroy Pow Camber and the same goes with the camber profile. There is a good bit of rocker in the nose, a pretty pronounced camber profile going a little past the ends of the channels and what seems like a little bit of early rise before the nose. It makes for a semi-catchy/locked in feel that isn't a beginner/intermediate board. This makes it more for advanced to expert riders that know how to turn and are on a budget. This gives it a very set back ride compared to most Burton Freeride boards. Despite the setback overall ride it still tracks really well one footing and flat basing between the feet.
Flex/Pop/Buttering
There is a pretty medium stiff to stiff flex between the feet, a medium flex in the nose and a medium to medium stiff flex in the tail. It butters pretty easy on the nose and takes a little more work on the tail but it is still very doable. Burton just does great things with their board feel and the Burton Kilroy Pow Camber is no exception. It is lively and poppy without feeling too light and chattery. It helps improve your ollie power for sure.
Speed
The base of the Burton Kilroy Pow Camber isn't super fast but it has good glide and keeps its speed really well for this price point. While the nose can be a little chattery but that chatter quiets down quickly before the stiffer camber area. It doesn't work its way up to our joints.
Uneven Terrain
The Burton Kilroy Pow Camber can handle micro or macro bumpy snow really well. You usually sacrifice more dampening with a lively board like this but not here. Its great for all day riding.
Edge Hold
Its missing that hard snow magic that many other boards with disrupted sidecuts have. The Burton Kilroy Pow Camber lets go pretty easy and can catch you off guard. You can sharpen the edges and get a little more edge hold but then the board will feel way catchier and more unforgiving. We have tried it with other Burton boards and it never felt good.
Turn Initiation
Pretty smooth edge to edge. For my 9's and Peters 8.5's this was in between being medium and medium fast. Smooth and predictable without feeling sketchy in tighter spots like an unexpected bump or tight tree line. In powder it is more medium/fast and it will be fun to slalom through trees. If the 158 Stun Gun Tim owns is easy for me then the 155 will be even easier. Jimbo and Zobel with their 11's found this to be medium/fast on the groomers and Tim with his 11.5's found the 158 Stun Gun fast in the trees in a little powder.
Turning Experience/Carving
The Burton Kilroy Pow Camber can rail out a pretty hard carve as long as the snow isn't too hard. The decent amount of taper in the tail doesn't act like that on sidecut. Translation…the tail doesn't wash out as easy as many boards with similar taper yet it acts like other boards in powder which is where we love that tapered feel. It isn't a super circle carver but it can get a circle carve on really well but also be good for wider radius turns without feeling twitchy or weird. It is a very fun turny experience.
Powder
I got the Kilroy Pow Camber in Pow and it was what I hoped it would be. It was really good/light early season PNW pow so take that for what it's worth. The Kilroy camber wasn't even trying.  The base is a little slower so it won't have that easy traverse glide that the Stun Gun had. It will not be bad at all and the sintered base still has some easy glide. It just won't be a hero traverser. The set back on board is -5.875" set all the way back at a 21.75" stance width. These days we like that stance width for a board like this. Combine all that set back, the early rise before the big ass nose, and a tiny tapered tail you have a lot of float happening here. It could be a dedicated pow board easily but still carve the hell out of groomers.
Conclusion
So The Burton Kilroy Pow Camber is a great directional daily driver or even better a great addition to a quiver. I could have a pretty good life if I had a mountain freestyle or all mountain board with good grip and the Burton Kilroy Pow Camber.
Burton Kilroy Pow Camber Specs
Burton Kilroy Pow Camber Images
Burton Kilroy Pow Camber User Reviews
Burton Kilroy Pow Camber 2021 Snowboard Review
SKU
UPC
Model
Kilroy Pow Update
Feb 17, 2021
by
Joel Miranda
Ability Level: Advanced •
Riding Style: Not park •
Days You Ride A Year: 30+ •
Height, Weight And Boot Size (for Boards, Boots & Bindings): 5'10", 185 with riding clothes, Ride size 10
Wanted to submit an update because I've had some more days on it. I still haven't had a pow day on it but more on that later. Some updated thoughts:

Knee pain, moved the bindings forward and set them on reference with 12/-9. I'm not sure why, but moving the binding forward did alleviate some knee pain. With the front binding angle a little more open the pain is gone. The channel makes incredibly easy to adjust.

Speed, maybe it needs the right conditions, but the board is definitely fast. Had a day recently where it was on the firmer side, but I nearly hit 50mph on a trail. I've gone faster than that on other boards, but this felt real planted and we'll in control which means I probably could have gone a little faster.

Carving, this thing does it and does it well. Had some of my best carving days on this board. Comfortable hand drags on either edge. Had enough heel edge hold where I could get down and grab the board during a carve. Have never felt that comfortable heelside doing that. Get it on edge and just let it go.

Powder, I still haven't done a pow day on it but something interesting happened over the weekend. I did a pow day on my Jones Hovercraft and can say that I'm gonna let the Kilroy Pow fill in where I was gonma ride the hovercraft. I think it's just a better turning board. The Hovercraft is a good board, but not what I want to ride these days. I think it needs a lot of room for long carves. The Kilroy feels like I can make long carves or tight carves with now effort. For deep days I have my Mind Expander and will lean on that. The Kilroy can fill in for those days where I don't get to the ski area at open and need to go hunting for the stashes of pow.

---
Interesting board
Jan 08, 2021
by
Joel
Ability Level: Advanced •
Riding Style: Not park •
Days You Ride A Year: 30+ •
Height, Weight And Boot Size (for Boards, Boots & Bindings): 5'10", 185 with riding clothes, Ride size 10
Bought this board based solely on this review. I was looking to buy a Burton board this year. Rest of my inbounds quiver is a Jones party. Mountain Twin, Hovercraft, Mind Expander. The Hovercraft and Mind Expander are my pow boards that I ride in different pow conditions. The Mountain Twin is my go to for when the conditions are firming up. I was interested in the Kilroy as a directional compliment to my Mountain Twin. Something that might be better for carving with that wide nose. Maybe also find some of those small hidden pow stashes. I also really just like the shape and the mostly black graphic.

So far it does what I picked it up for. Haven't even found any pow stashes with it, but for softer groomers where it's starting to firm up it has been great. Can really lean into a carve and drag a hand. Let it start to run uphill a smidge before switching edges and carving the other direction.

It handles the lumpy uneven terrain ok, but I think that's just the rider and not the board. Because the camber profile is so different than my other boards, I'm still getting used to it. That edge hold you can use for carving doesn't release the same way my other boards do. So I'm a little cautious on it for fear of catching an edge. I've been on boards for 20 years and haven't slammed from catching an edge since day 1 on a 2011 Capita ultrafear (flat camber). I don't expect that will happen here, but the difference in the camber has me second guessing myself on occasion. I think I most notice it when I'm straight lining a section. Just need to take more reps on it I guess.

In terms of the speed, I do feel it's a little slower. Partially from my own inhibition, but also the base. I use Booger Reds all temp wax on all my boards because it's perfect in the PNW. The glide just doesn't feel the same as my other boards. Not a deal breaker for me, but I noticed it.

Hopefully I can get a pow day on this just to test it out. Itll probably be a day where I get the morning goods on the mind expander and then use the afternoon to snatch up the last hidden stashes.

Currently riding this board with 2015 union contact pros. I would try my Now Drive bindings, but I think I have to buy a separate disc to mount them with the channel. I'm curious how a stiffer binding would drive this board.

One last thing, this board causes knee pain for me in my back leg (regular stance). I can't figure out out why. All of my boards are set at 22.25" wide, +9f/-9r. This stance let's me drive the front toe/heel edge comfortably. I've tried a more forwsrd facing angle, but that cause pain in my front knee. Goes away at 9° so I just leave it at that. I haven't tried a narrower stance like at 21.5" maybe I'll do that next. I've tried that on other boards and don't feel as confident landing things off of side hits. It'll take some experimenting.

Only going 4 star because, unlike my Jones boards, im having to make some adjustments to get more from the board. Each of my Jones boards were just throw my bindings on with my normal binding setup and go.

---
If you can't buy through the links above, you can support the site with: