Burton Big Gulp 2021 Snowboard Review
| | |
| --- | --- |
| Riding Style | Alternative Freeride |
| Riding Level | Advanced - Expert |
| Fits Boot size (US) | 8-10, 10-12 |
| Manufactured in | Austria |
| Shape | Tapered Directional |
| Camber Profile | Directional Camber |
| Stance | Setback -12.5mm |
| Approx. Weight | Feels Normal |
| Split | No |
| | |
| --- | --- |
| On Snow Feel | |
| Turn Initiation | |
| Skidded Turns | |
Where To Buy
No obligation, but these links & ads support the site.
Burton Big Gulp 2021 Review by The Good Ride
Burton Big Gulp 2021 Snowboard Video Review Fast Forward Markers.
Timecodes
0:00 – Intro
0:13 – Summary
2:11 – Sizing
2:24 – Camber/On Snow Feel
2:59 – Flex/Pop/Butterability
3:40 – Speed/Uneven Terrain
4:51 – Edge Hold
5:45 – Turning/Carving
7:16 – Powder
7:33  – Conclusion
7:44 – Outakes

Swipe Right: Fun turner, great pop and very turny for the right size boots.
Swipe Left: Edge hold isn't ideal for most riders in harder snow.
Summary
So The Burton Big Gulp is a new offering this year. It has some elements of former Family Tree Boards but is still very much its own unique design. It runs a little wider than most Family tree boards of similar lengths so it has a little more surface area going on. Other than some edge hold issues in harder snow the Burton Big Gulp is a fun semi-wide ride. We wish we had more time on this in more conditions especially in powder but that was the best we could do in the mess of a season we had last year.
Ethics Statement: We don't get paid by the manufacturer to write these reviews and this is our unfiltered opinion. We do make money from the "Where To Buy" links, but this is our best attempt at an honest and objective review from an average riders' perspective.
The Burton Big Gulp 2021 Snowboard Review- How it rides and who it is for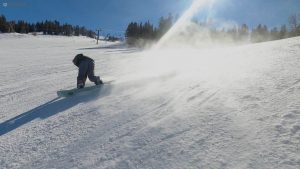 How This Review Happened: We had a few laps at a demo.
Size: 154
Days: 1
Conditions: We got on this in less than ideal conditions. It was pretty firm in most places with only a few good patches. Most of the good snow was scraped away.
Riders: James (Size 9, 5'10" 185-190lbs), Peter (Size 8, 5'11" 185lbs), Jimbo (Size 11, 5'11" 160lbs), Zobel (Size 11.5, 6' 180lbs)
Boots: Adidas Tactical ADV, Adidas Tactical Lexicon
Insoles: Sandsole Custom Insoles,  F.I.T. Gameghangers Low Profile , F.I.T. Gamechangers
Bindings: Burton Cartel X EST
Similar Boards (but not the same): Yes Hybrid, Endeavor Scout, Jones Hovercraft, Weston Backwoods,
Set-Up: 21.5" Wide. 21 front -6 back.
Sizing
The Big Gulp isn't described on the site as a mid/wide or regular board but it seems more on the mid/wide(10-12US) side from size 154 up. Or maybe something to size down a bit from if you are under size10. It is good to see lots of sizing options and it might mean the Burton Big Gulp will be here next year. The 154 did work pretty well for us and Peter and I felt like we could control the 154 but the 159 seems tempting to make sure it will float like a champ in the deep stuff. Not sure if it would work with our foot sizes of 8.5-9 but Jimbo and Zobel would love it. Neither of them had any toe/heel drag even with the 154.
Shape/Camber/On Snow Feel/Ability Level
There is a good bit of camber with some early rise in the nose and maybe just a touch happening in the tail. It has an almost full camber feel that tracks well but is pretty catchy if you get off your game. It is not super forgiving but a little better than old school camber. If you mainly skid your turns look somewhere else. That with the wider and a little more stable platform underfoot makes for a very cruisy board for those that know how to turn.
Flex/Pop/Buttering
The Burton Big Gulp has all of that burton pop magic that they put into their higher end boards. The medium to medium stiff flex snaps well while not feeling too ridgid. It can butter pretty well for this kind of camber profile too.
Speed
Family Tree boards all have a pretty fast base and the Burton Big Gulp is no exception. It is pretty damp too.
Uneven Terrain
The Burton Big Gulp is damp but not dead and doesn't get cranky in hard micro bumpy snow that we came across in a few places.
Edge Hold
Not the best for those that see hard to icy snow unless you really have the skill to twist whichever edge you are on into the snow to get more grip. Burton boards shine when the conditions are good but we found edge hold lacking when it gets harder.
Turn Initiation
The 154 didn't roll edge to edge easy for Peter and I with our 8.5-9 feet but it was a smooth predictable fun turner. So medium to medium/slow for Peter and I but medium/fast for Jimbo and Zobel. The deeper sidecut can turn a tighter circle so once it is really engaged it starts turning quicker for Peter and I but for Jimbo and Zobel it's consistently medium/fast. I bet if you get this in powder it turns faster though.
Turning Experience/Carving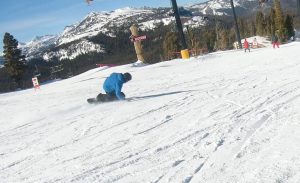 The more that sidecut engaged the tighter the turns radius got. All felt it would be a good circle carver in softer snow. You could feel all that potential carving energy in the camber profile and we would love to really get into it in better snow.
Powder
There is about 12mm of taper and only12.5mm of setback on sidecut. That being said it seems to have a lot more set back on board and there is also a big difference in surface area between the nose and tail. So it looks like it will have easy float in powder and not ride as centered as it feels on groomers.
Conclusion
So overall the Burton Big Gulp does some pretty cool things. The 154 could be a semi-short semi-wide cruiser/powder slasher/good conditions carver for Peter and I. Or it could be more of a mid/wide ride at159 for Jimbo and Zobel.
Burton Company Information
Burton Big Gulp User Reviews
If you can't buy through the links above, you can support the site with: