Arbor Element Camber 2021 Snowboard Review
| | |
| --- | --- |
| Riding Style | All Mountain Freestyle |
| Riding Level | Intermediate - Expert |
| Fits Boot size (US) | 8-10, 10-12 |
| Manufactured in | Dubai by SWS |
| Shape | Directional Twin |
| Camber Profile | Mostly Camber |
| Stance | Centered |
| Approx. Weight | Feels Normal |
| Split | No |
| | |
| --- | --- |
| On Snow Feel | |
| Turn Initiation | |
| Skidded Turns | |
Where To Buy
80% of outdoor sports products are not listed or sold online.
Our team has relationships with hundreds of local snowboarding and outdoor sports shops.
We'll call the shops and email you a list of stores along with pricing and availability.
---
Not sure what to buy?
Get custom advice from Good Ride editors James and Steph.

Get Advice
Arbor Element Camber 2021 Review by The Good Ride
Arbor Element Camber 2021 Snowboard Video Review Fast Forward Markers.
0:00 – Intro, 0:19 – Summary, 1:23 – Sizing, 2:22 – Camber/On Snow Feel, 3:59 – Flex/Pop/Butterability, 4:43 – Speed/Uneven Terrain, 5:36 – Edge Hold, 5:56 – Turning/Carving, 6:53 – Powder, 7:52 – Switch/Park, 8:22 – Conclusion, 8:38 – About Our Reviews

Turn Ons/Swipe Right: Almost full camber & Not catchy. Fun to turn. Great edge hold. Good Price
Turn Offs/Swipe Left: Can feel edgeless and washy in hard snow. Not much float in powder for a directional twin. It comes at a pretty reasonable price and would be a great addition to a two board quiver.
Summary
The Arbor Element Camber is not a one board quiver for most but is a pretty fun mtn freestyle ride with a forgiving camber feel.
Ethics Statement: We don't get paid by the manufacturer to write these reviews and this is our unfiltered opinion. We do make money from the "Where To Buy" links, but this is our best attempt at an honest and objective review from an average riders' perspective.
Arbor Element Camber Snowboard Review- How it rides and who it is for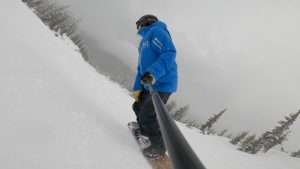 How This Review Happened: We borrowed this for an extended demo and sent it back
Size: 156
Days: 1 (Thanks to Covid-19)
Conditions: Pretty uneven soft late wet spring snow.
Riders: James (Size 9, 5'10" 185-190lbs)
Boots: Adidas Tactical ADV
Insoles: Sandsole Custom Insoles,
Bindings: Union Strata
Similar Boards (but not the same): Never Summer Protosynthesis, Yes Greats, Stone Message, Prior Wildcard, Marhar Darkside, Lib Tech Box Knife, Capita Outerspace Living, Yes Basic
Set-Up: 21.5" Wide. 15 front -15 back. Centered on sidecut.
Sizing
Here are some ideal US boot sizes for these boards. You can of course go bigger or smaller but these again are just the ideal sizes.
153: 8-9
156: 9-10
159: 9-10
162: 9.5-10
160 MW: 10.5-12
161 W: 12-13
Shape/Camber/On Snow Feel/Ability Level
The directional twin shape with only approximately a 1cm longer nose makes for a pretty centered mountain freestyle ride. Then the mellowish camber from tip to tail with lifted contact points at the end gives it a catch free camber feel underfoot. It can feel a little edgeless and slippery in harder snow though. I found that you counterintuitively lean harder into the turn and put more weight/pressure between the feet towards the Grip Tech (extensions in the edge) it helps reduce that feeling. Other than this hard snow feel it is pretty stable underfoot one footing and flat basing. The Arbor Element Camber is really forgiving though and it is really hard to catch an edge.
Flex/Pop/Buttering
Pretty medium flex throughout the board. With the camber from tip to tail there isn't an easy bending point so it took a bit more work than I thought but it was doable. Same with getting the Arbor Element Camber to ollie.
Speed
The Arbor Element Camber is quite damp and although the base isn't super high end it kept its speed well when waxed for the sticky late spring conditions, I was riding in. It isn't a bomber but also did not chatter much either. It is a pretty competent directional twin for picking up good speed on the mountain.
Uneven Terrain
There was a lot of messy uneven snow and the Arbor Element Camber didn't pass any of that vibration up into my joints. It is a great board for riding all day on the mountain without any fatigue. It can handle slow speed turning in uneven terrain like a champ.
Edge Hold
The Arbor Element Camber's Grip Tech (extensions of the edge by the bindings) really grips well without being grabby. It's not perfect in harder snow because of that edgeless feel because of the lifted contact points but once you get the edges into the snow it grips well. Maybe not the best for icy snow but its good in most conditions you want to ride.
Turn Initiation
Pretty quick without being hookey and the Arbor Element Camber has an easy turn that works well weaving around bumps, trees or other tight spots you might find yourself in.
Turning Experience/Carving
I did not get the Arbor Element Camber in ideal carving conditions and kind of had to force some hard turns in uneven snow. It did well. It is fun for trying to carve switch and regular. Especially with the forgiving lifted sides.
Powder
Not ideal. The Arbor Element Camber doesn't have the extra set of inserts that the rest of the Arbor line has so you can't set this back far like many boards we call All Mountain/AKA a one board quiver. You only have that 1cm extra nose along with only 1.375" back from center of board at a 22" stance width with traditional disc bindings. The lifted sides (Uprise Fender) help a little and it makes it more fun to turn in powder but that camber from tip to tail really hinders float. It is mainly for riders who know how to ride camber twins in powder which is kind of a lost art these days. It takes a lot of skill to plane in deep powder with a twin.
Park
The Arbor Element Camber is a pretty solid Jump and pipe board. The only concern is tracking into a jump in harder conditions because of that edgeless feeling. With other System Camber Arbor boards I went to load up for an ollie and it washed out making for an awkward air. So in softer snow it will be great and in all conditions forgiving.
Conclusion
So after riding/reviewing this I found out the price. That kind of surprised me as I thought it was $499. So for a $449 ride this does a lot. If you like to set it back in powder this could be a great fit in a two board quiver. If you can handle camber twins/directional twins with a centered stance like this in powder then this could be a great one board quiver for the price.
Arbor Element Camber Specs
Arbor Element Camber Images
Arbor Element Camber User Reviews
If you can't buy through the links above, you can support the site with: