Arbor Bryan Iguchi Pro Camber 2017-2023 Snowboard Review
| | |
| --- | --- |
| Riding Style | All Mountain |
| Riding Level | Intermediate - Expert |
| Fits Boot size (US) | 8-10 |
| Manufactured in | Dubai by SWS |
| Shape | Tapered Directional |
| Camber Profile | Mostly Camber |
| Stance | Centered |
| Approx. Weight | Feels Normal |
| Split | No |
| | |
| --- | --- |
| On Snow Feel | |
| Turn Initiation | |
| Skidded Turns | |
Where To Buy
80% of outdoor sports products are not listed or sold online.
Our team has relationships with hundreds of local snowboarding and outdoor sports shops.
We'll call the shops and email you a list of stores along with pricing and availability.
---
Not sure what to buy?
Get custom advice from Good Ride editors James and Steph.

Get Advice
Arbor Bryan Iguchi Pro Camber 2023 - 2017 Review by The Good Ride
Update 2023: It looks like the Arbor Bryan Iguchi Pro Camber has not changed much or at all since we reviewed this. 
Turn Ons/Swipe Right: Rides really centered on reference stance. Feels amost like full camber but still a really catch free, forgiving ride. Very damp.
Turn Offs/Swipe Left: Can feel edgeless in harder snow. Not an ideal floater for this much set back on board.
Summary
The Arbor Bryan Iguchi Pro Camber is a pretty damp fast aggressive all mountain with a mostly camber feel that is still very forgiving. It has a little taper but when on reference stance/centered on sidecut it feels much more like an Arbor style directional twin than you would think.
Ethics Statement: This is our unfiltered opinion without any manufacturer oversite. We do make money from the "Where To Buy" links, but this is our best attempt at an honest and objective review from an average riders' perspective.
Arbor Brian Iguchi Pro Camber Snowboard Review- How it rides and who it is for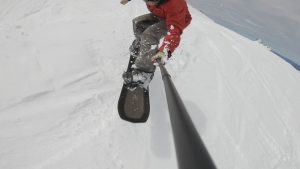 How This Review Happened: We borrowed this for an extended demo and sent it back.
Size: 156
Days: 3
Conditions: Some wet late spring snow along with some
Riders: James (Size 9, 5'10" 185-190lbs), Peter (Size 8, 5'11" 185lbs)
Boots: Adidas Tactical ADV, Northwave Decade (review coming)
Insoles: Sandsole Custom Insoles, F.I.T. Gamechangers
Bindings: Union Atlas, Union Strata
Similar Boards (but not the same): Korua Otto, Jones Mountain Twin, K2 Manifest, Jones Frontier, Ride Wild Life, Yes Ghost, Capita BSOD.
Set-Up: 21.5" Wide. 18 front -9 back. Close to Reference and Set all the way back.
Sizing
Here are some ideal US boot sizes for these boards. You can of course go bigger or smaller but these again are just the ideal sizes.
156: 8-9
159: 9-10
162: 9.5-10.5
163MW: 10.5-12
167W: 12.5-14
The 156 felt great for Peters and my specs listed above and it could handle our weight no problem.
Shape/Camber/On Snow Feel/Ability Level
The Arbor Bryan Iguchi Pro Camber is just barely tapered (1-2 mm depending on the size) and really feels much more like a non-tapered board when on reference stance. Even when set back, it doesn't feel that directional or tapered which makes sense being centered on sidecut and having a tail close in size to the nose. It has a very between the feet kind of ride.
The System Camber profile has camber from tip-tail but with lifted contact points.  On the table it looks like none of the edge touches the snow but on snow it feels pretty stable in most conditions. It tracks well in good snow but on firm to hard snow it can feel a bit edgeless. It takes a little getting used to because if you make a turn like you would in soft snow sometimes you will wash out before you get to the edge. However, if you keep the pressure between the feet it works better. It doesn't have a long learning curve though but it is super forgiving. Very easy to skid turns when you get off your game.
Flex/Pop/Buttering
This isn't a mellow flex and the Arbor Bryan Iguchi Pro Camber has more of a stiffer freeride flex packed into more of an all mountain shape. It feels medium/stiff throughout and doesn't have any places on the board where it flexes easier.  It takes some work to butter or Ollie but a strong rider might really like this.
Speed
The Arbor Bryan Iguchi Pro Camber can point it really well for an all mountain board and it has a pretty damp feel to it. It is not in the same realm as the Annex or A-Frame or Crosscut but it's pretty close. The base has pretty good glide but we have felt a little more glide from some other boards at this price point.
Uneven Terrain
This damp feel can power over uneven micro bumpy to chundery snow and it was really impressive for a 156. The Arbor Bryan Iguchi Pro Camber can also ride all day on a crowded resort and not fatigue you as much as you would think for the flex.
Edge Hold
The Grip Tech in the Arbor Bryan Iguchi Pro Camber is grips really well in hard snow. That being said, you need to get that edge over and learn how to engage it without putting too much pressure on the lifted sides near the tip/tail. It doesn't grab too hard in softer snow either.
Turn Initiation
Kind of in between med and med/fast edge to edge. In tight spots it turned fast enough to not feel uncomfortable but it wasn't effortless either.
Turning Experience/Carving
the Arbor Bryan Iguchi Pro Camber doesn't really like to carve a tight circle but it sure can carve a moderate to wide width groomer like a champ. The more pressure between the feet you put in the more it seems to engage the camber and the Grip Tech edge extensions. Like we mentioned before it doesn't like too much pressure near the lifted points of the effective edge called Uprise Fenders. It can wash out.
Powder
The Uprise Fenders seem to help a little in powder but it still feels like its just a bit better than full camber. It isn't up there with many hybrid shapes in a similar size and setback. That being said if you know how to ride camber in powder you will like the the Arbor Bryan Iguchi Pro Camber. There is a touch of taper, a longer nose and a setback on board of 2" at a 21.75" stance width. It doesn't feel that set back and does better for those that see a lot of steep powder runs. It does not shine for low angle powder riding. Riding on reference stance was taxing on the back for us in low angle wet spring snow.
Switch/Park
The the Arbor Bryan Iguchi Pro Camber can ride switch really well and it has a very centered feel when on reference stance. I guess that is probably because it is centered on sidecut. So very good for a slightly tapered board. Felt more like a twinish ride and even rode almost as well s some directional twins we have tried. Very doable and fun.
Unfortunately, we didn't get a chance to ride this in a park because it was shut down due to Covid-19. We were just lucky to get on this.
Conclusion
So, all in all, the the Arbor Bryan Iguchi Pro Camber has a ride that will appeal to those that want a stiff semi-powerful all mountainish ride that is also really forgiving.
If this review helped, we'd appreciate if you:
Arbor Bryan Iguchi Pro Camber Past Reviews

The Arbor Bryan Iguchi Pro Camber is a pretty fun board that we all liked over the Rocker version. If it had a little more directional float in powder then it would be a board we'd want to own and something we could easily recommend. It's a fun ride and could find a great role in someone's quiver.

Ethics Statement: We don't get paid by the manufacturer to write these reviews.  No one is perfect and we do make money from the "Where To Buy" links below, but this is our best attempt at an honest and objective review from an average riders' perspective.
How This Review Happened:  We borrowed this for an extended demo and then returned it and also got a few laps on it at the demos.

Size: 156
Days:  4
Conditions:  Some hard snow, some really good snow, and some windblown Sierra powdered sugar.
Riders: James (Size 9, 5'10" 185-195lbs), Jimbo (Size 11, 5'11" 160lbs), Zobel (Size 11.5, 6' 180lbs, Peter (Size 8, 5'11" 185lbs), Jack
Boots: Burton SLX, Burton Rover, Burton AMB, Burton Imperial,
Bindings: Union Atlas, Burton Genesis,  Burton Genesis X, Arbor Cypress,
Set Up:  Almost centered almost 23″ wide 15 front -15 back

Our Recommended Boots: Adidas Tactical ADV, Burton SLX, Burton Imperial, Burton Ion, Burton Ruler,
Our Recommended Bindings: Union Atlas, Burton Genesis, Arbor Cypress

Approximate Weight: Feels pretty normal

Flex: Our board was a demo model and the flex was really mediumish.  Not what we expected for how this board was described.  Looks like it was stiffened up though in production from the demo we had so it seems like it's now more med/stiff.

Sizing: The 156 fit our specs pretty well and especially so our boot size for those with 8.5-9 boots but I think the 159 would have been the better call.  However, Zobel and Jimbo with their 11's would not be happy with this model sizing at all and they would need something more in a mid/wide.

On Snow Feel: So it feels almost like camber until you get to the tip/tail.  It's got this fender tech that lifts a little portion of the end of the effective edge like a fender does on a car….so yeah it is what it's described to be.  It's very good for making camber not feel catchy and it doesn't have that TBT washiness on semi-committed to carvy turns.  It's got a stable non-catchy camber like feel and it's the kind of board you want to take out on groomer days.  It's a slightly tapered somewhat directional board with a centered stance. So it feels a little mountain freestyle, a little surfy/freeride but not really committed to either side.  It's like a lot of all mountain boards are that we ride.  For it's shape it might be a touch more surfy/freeride than some of it's peers but it's still more of a chameleon type of board that likes to accommodate different moods and riding styles.

Edge Hold: System tech grip is great and it's a really fun board.

Turn Initiation:  Pretty quick edge to edge and the Bryan Iguchi Pro Camber goes where it should quickly.  There doesn't seem to be any lag time and that's great for riding in tight spots.

Turning Experience: I really thought the fender tech would fuck this boards ability to turn up but it was really fun and it allowed us to push it without as much consequence as traditional camber.

Carving:  You could lay this out really well and it felt like a fun carver.  It's like riding a camber board with a little early rise in the tip/tail so you only feel a little camber taken out of the turning equation so it's really fun for laying it out and trying new carves without worrying about the end of the effective edge catching as much as traditional camber.

Skidded Turns: It's not super easy like the continuous rocker Bryan Iguchi board, which is super easy, but this is pretty easy for camber for sure.

Speed: Even though our demo flex was mediumish it still held well when picking it up a bit.  I bet the stiffer production model would be even better for really opening it up.

Uneven Terrain: We had no problem weaving in and out of bumps and it has a touch of a rubbery feel that will absorb the shock so your body doesn't.  You could ride this all day on a crowded Sat.

Powder: So the fender tech makes this board catch free but not floaty.  It's good for a camber board with a centered stance but it's not as good as many of the similar hybrid shapes out there. You would need the rocker version if you want a lot of float but then I don't like the drive in steep terrain that the continuous rocker solution has. If you have another board for real powder days this could work. I wish they could tweak the fender tech to also give this board a little more float to compete with many of it's peers but as it stands it's not bad for a camber ride.

Buttering: Ours was very doable when it comes to buttering but not sure about the production model.

Switch: For a board with a little taper this rode pretty well.  It feels different but not so different that you couldn't easily get used to it with just a little bit of time.

Jumps: The fender tech is good in some ways and questionable in others. I noticed that the first day when I tried to Ollie I loaded the edge near the tail and that's where the fender tech is so I washed out instead of popped. You get this feeling like you have an edge from tip to tail throughout most of the board but then not on the edge.  I got used to it but it's a little weird.  It's good though when you are off your game and need to spin out.  It's less likely than camber to send you slamming into the ground so that's good too.

Jibbing: Our softer demo model would be ok but the production model would be pretty bonky.

Pipe: This was really fun in the pipe and it made a not so great pipe rider feel more confident.  I like how the tech

So, all in all,  we unanimously liked this board over the rocker version, it does a lot of things well, it's a fun board to go out and turn. It's not a perfect one board quiver but I think it can make a lot of people happy as long as they know the boards limitations.
Arbor Bryan Iguchi Pro Camber Specs
Arbor Bryan Iguchi Pro Camber Images

We try to get as many images of the Arbor Bryan Iguchi Pro Camber, but forgive us if they're not all there.
2023
2021
2018
2017
Arbor Bryan Iguchi Pro Camber User Reviews
Arbor Bryan Iguchi Pro Camber 2017-2023 Snowboard Review
SKU
UPC
Model
2020 Model
Dec 17, 2019
by
Circa
Ability Level: Advanced •
Riding Style: Freeride •
Days You Ride A Year: 40+ •
Height, Weight And Boot Size (for Boards, Boots & Bindings): 5'11, 165, 9-10
WHOA! Yea, this thing is sweet. If you're a park person probably not the board for you but if you're looking to bomb groomers and take this thing all over the mountain then look no further. Powder?? yea cool, easy, set the stance back. Is this the best powder board? Probably not, compared to a pure powder-centric board, can you ride pow with confidence? YUUPP. I've done a little bit of everything on this and it does it all well(except park). Sure, there are style specific boards that may outshine this but a better all rounder that excels at stability, jumping, carving, and just pure getting it on the mountain I have not found. Proud to own the Iguchi Pro; i'll probably buy this board whenever mine needs an update for the rest of my life; or until arbor goes out of business.

---
Mid Year release was stiff
Nov 03, 2017
by
Pete
Ability Level: Advanced •
Riding Style: Free ride to all mountain •
Days You Ride A Year: 35
Have to agree with Rich as well. I am guessing that if you
Purchased the mid season release, it was a stiffer board than the 2016-2017 full release. I bought my during the winter of 2015 in December, and this board is stiff. Like Lib Tech T Rice stiff. Guessing they made it less stiff to appease more riders? Makes me happy because I like the flex as is.

It's a phenomenal board. And I don't neccessarily agree with the review. It's obvious this group loves directional free ride boards. This is a twin that is built to rip turns, land switch, but still have solid capabilities directional in powder, and I cannot think of many twin, camber dominant boards with a tail meant to sink should you find powder.

The review mentioned that they would like it better with more of a directional build, and some early rise in the nose. Well, that's not who this board was built for. This is built for the guy that wanted a little more powder friendly twin in a cambered stick. This was built for people who ride like Guch. Landing switch on a flight attendant sucks. I've done it. The Guch was supposed to cover that. But if you wanted to go hike and hit a shoot, you could do that too.

No offense to the review. We all pick out poison. But as a long time reader, it's obvious this group likes side cut tech for grip, directional freeride sticks with early rise noses, and damp boards.

While that is great, many other riders like different things. So to try and alter this board into a Pick Your Line, or Mullair doesn't make sense to me. That's not what it was built to be. And as a guy who really appreciated a twin, it's a really neat concept to add some tech to this board to also gives it some big mountain ability. You can ride this from shoot to glade, to slack country, while having a free style flare.

If I could request something for future reviews. Focus less on forcing boards into categories of boards you enjoy, and talk more about the build, snap, Sweet spot, flex pattern, where the play is and where it stiffens up, dampness, etc. Snap is huge here. Some sort of description off a tranny and amount of "send it" ability would be great. Amount of spring out of carves, etc. Less about how about how you would build it to be a Burton Flight attendant. Because if I wanted that, I would buy that. Constructive criticism...

Response: Thanks for the review Pete and your feedback. You have some valid points and I\'ll take into consideration your suggestions. Also your review reminded me I didn\'t finish up the written portion which often rounds out the review so just did that. Thanks! I think it addresses more of your critique but just to be clear we never want it to be a PYL, Mullair or Flight Attendant style of ride. We like the shape but just wanted more from their fender/lifted tech in the tip and tail since it already takes that part of the effective edge out of play.
---
Mine is stiffer than yours!!
Jan 14, 2017
by
Rich in Sweden
Ability Level: 25 years •
Riding Style: All mountain •
Days You Ride A Year: 10 - 20 •
Height, Weight And Boot Size (for Boards, Boots & Bindings): 6'2" 87kg EU 43
Hi James!

I just seen your Arbor Bryan Iguchi Pro review. I actually got my 162 model in December 2015 and have riden it for 14 days in the Austrian alps. Dude! It is one of the siffest boards I have ever riden! On your review, you say it has a nice medium flex and I can see you prove that when you flex it with your palm when you are standing with the guys. So why is mine so stiff? Is it a dud? Does it need breaking in? Has the flex changed since the early prototypes? I am not kidding you mine is as stiff as a door. I can't flex mine even a quarter the amount like you did with your demo. These are the previous boards that I have owned…

Burton Iguchi 155 (1996)
Burton Custon 159 (1997)
Burton Olofsson 162 (1998)
Nitro Shogun 166 (1999)
2x Lib Tech Emmagator 165 (2000 -2001)
Ride Timeless 164 (2002)
2x Nitro Darkhorse 165 (2003 – 2005)
Unity Ultra Light Series 164 (2008)
Jones Mountain Twin LTD 160 (2014) - current board
Arbor Bryan Iguchi Pro 162 (2015) - current board

The most stiff boards I had owned previously were the Nitro Darkhorse and the Unity ULS. I have progressively gone stiffer with my board choices in the past when I was riding a lot more, up to 40 days a season. Now I get maybe 20 days, I am older, 42, and I like cruising with my own two kids. The Jones is awesome. Still reasonably stiff, but about a third less stiff compared to my older decks. So that was a nice transition down for me. However, as I said, the Arbor is super stiff. I was not expecting that! I like the board, but I am kind of bummed because I was expecting a more mellow board like the one you tested.

That said. The thing absolutely rocks at warp speed and has great pop, but it took a bit of adjustment when loading up for a big ollie. It takes a lot of power to get it to pop, then it really takes off. Basically, everything works better above 40 mph! It's not a board for morning legs or tired legs.

I really don't like the 'uprise fender system' though. I like the way the contact points bite on a traditional camber board. I find it reassuring either as I rebound from edge to edge or when I edge into a spin. I felt that the additional grip provided by the 'grip tech' was wasted by the addition of the uprise fenders. I felt the board lose grip for a split second between turns, which I guess is the purpose of it, but when I was pushing hard it washed out a couple of times. It also washed out a couple of times when I was edging slightly off kickers or into spins. Combined with the Jones I suppose I have everything I need, but it's a shame the Arbor is so far towards stiff end of the scale.

I have written to Arbor to ask if it is possible that there could be a difference in flex between an early test board and production board, but I have not yet had a reply. I almost wonder if my board accidentally got the core from one of the stiffer boards in the Arbor range during a power black out?! I am pretty sure the boards are partly hand made, especially when it come to laying up the fiber glass and the carbon stringers. I have done a bit of this and it is not an exact science, so I could imagine that one board could feel slightly different to another to a very experienced rider, but not the difference I believe my board has compared to the board TheGoodRide tested.

I'd be curious to know what anyone else thinks of this board.

All the best. Rich in Sweden.

---
If you can't buy through the links above, you can support the site with: