Arbor Annex 2021-2023 Snowboard Review
| | |
| --- | --- |
| Riding Style | Freeride |
| Riding Level | Advanced - Expert |
| Fits Boot size (US) | 8-10, 10-12 |
| Manufactured in | Dubai by SWS |
| Shape | Tapered Directional |
| Camber Profile | Mostly Camber |
| Stance | Setback -10mm |
| Approx. Weight | Feels Normal |
| Split | |
| | |
| --- | --- |
| On Snow Feel | |
| Turn Initiation | |
| Skidded Turns | |
Where To Buy
No obligation, but these links & ads support the site.
Arbor Annex 2023 - 2021 Review by The Good Ride
Update 2023: It doesn't seem like the Arbor Annex changed since we reviewed it in 2021. 
Turn Ons/Swipe Right: Has the full bow of camber tip to tail without the catchy feel. Still fun and turny for how stiff it is. Good board for steep terrain riding.
Turn Offs/Swipe Left: Not as good as some peers with low angle float. Uprise Fenders can make the board feel edgeless and washy in harder snow.
Summary
The Arbor Annex can feel edgeless and washy in hard conditions but overall it is a stiff but forgiving turny board that shines in steep terrain. Because of Covid-19 we didn't get to try this in all conditions (especially groomers) but this is our best effort with the conditions we had.
Ethics Statement: We don't get paid by the manufacturer to write these reviews and this is our unfiltered opinion. We do make money from the "Where To Buy" links, but this is our best attempt at an honest and objective review from an average riders' perspective.
Arbor Annex 2021-2023 Snowboard Review- How it rides and who it is for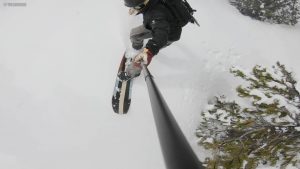 How This Review Happened: We borrowed this for an extended demo and sent it back. It wasn't how we wanted to go though but we did the best we could with Covid-19
Size: 159
Days: 2
Conditions: A little over 1' of early spring powder with Drift Boards and then some really late even wetter thicker shallow powder with ice underneath when Mt. Bachelor reopened for a week with restrictions. We were stoked to have it after being shut down.
Riders: James (Size 9,180-190lbs, 5'10"), Peter (Size 8.5, 185lbs 5'11")
Boots: Adidas Tactical ADV
Insoles: Sandsole Custom Insoles, F.I.T. Gamechangers, F.I.T. Gameghangers LP
Bindings: Union Atlas
Similar Boards (but not the same): Yes Pick Your Line,  Burton Flight Attendant, Jones Flagship, Never Summer West Bound, Rossignol XV, Lib Tech BRD, Weston Backwoods, Prior Spear Head (review coming), Arbor Clovis,
Set-Up: 21.5" Wide. 21 front -6 back. Close to Reference and Set all the way back.
Sizing
Here are some ideal US boot sizes for these boards. You can of course go bigger or smaller but these again are just the ideal sizes.
156: 8-9
159: 8.5-9.5
162- 9-10
163 M/W- 10.5-11.5
One thing about arbor is they are less likely to have toe/heel drag if you go a little bigger size wise because of the Grip Tech
Shape/Camber/On Snow Feel/Ability Level




The Arbor Annex has a unique camber profile with full on camber tip to tail but with lifted contact points at the end of the effective edge. The edges don't touch anywhere when laid flat on the table. This makes it very catch free but it can feel
edgeless and washy on harder snow. In soft it almost unnoticeable. The Uprise Fenders with this seem to be a little bigger than other Arbor System Camber boards we have tried. So I'm not sure how much more pronounced that edgeless feel will be on medium to harder snow.
Flex/Pop/Buttering
This Arbor Annex is pretty stiff and it is no easy board to butter. Not a butter buddy. Neither Peter or myself could really access that full bow of camber to get it to ollie. It is a board that wants stronger riders than we are.
Speed
The base of the Arbor Annex has good glide. It isn't the fastest we have come across but it is durable and still is in the upper tier glide wise. This can bomb. You will probably flinch before this ride.
Uneven Terrain
We could both just hammer over everything from messy soft snow to icy micro bumps without feeling anything on our beat up joints. Very damp! If we made a wrong turn into a bump line you could turn through it really well too.
Edge Hold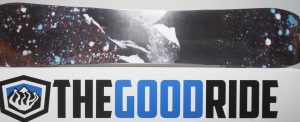 The Arbor Annex can handle most conditions you want to ride. For icy east coast scariness you might be better off with more disruption but it can for sure hang. Their Grip Tech, extensions over the bindings really help.
Turn Initiation
What Peter and I both really liked about the Arbor Annex was it was super stiff but such a quick easy turner. It is very quick edge to edge.
Turning Experience/Carving
We couldn't get snow good enough to really lay into some hard carves and hope to do so if we can review it again. Blame Covid-19…not us.
Powder
There is pretty competent float with the Arbor Annex for being mostly camber. The roughly 20mm of taper and the big nose are what we thing makes it work pretty well for an almost full camber board. The Uprise Fenders might do something too and we felt it rolled easier edge to edge when turning in thick powder. The board rides pretty centered on sidecut at -10mm but there is directional float you would expect for this shape. You can set it all the way back from center 3.25" with approximately a 21.25" stance width. Or -2.125" back on reference at a 21.25" stance width. In comparison to some freeride boards we rode on the same day we felt it was good for full camber but not quite as good as other different hybrid shapes. While it isn't a first choice for low angle powder I think it would come alive in steeper terrain. These are the types of boards I felt most comfortable with in the past.
Conclusion
So, if you want a stiff, almost full camber charger that is also fun, forgiving, and easy to turn the Arbor Annex could work. I can't remember the last time I've seen an Arbor board that wasn't hang on your wall worthy either so being easy on the eye always helps too.
If this review helped, we'd appreciate if you:
If you can't buy through the links above, you can support the site with: