Dope Blizzard Pullover 2023-2024 Review
Where To Buy
80% of outdoor sports products are not listed or sold online.
Our team has relationships with hundreds of local snowboarding and outdoor sports shops.
We'll call the shops and email you a list of stores along with pricing and availability.
---
Not sure what to buy?
Get custom advice from Good Ride editors James and Steph.

Get Advice
Dope Blizzard Pullover 2024 - 2023 Review by The Good Ride
Dope Blizzard Pullover Video and Written Review
Welcome to the Dope Blizzard Pullover video and written review from your average but experienced rider James Biesty.
Positives/Swipe Right:Great price. Unique Collar.
Negatives/Swipe Left: Hood is not Helmet Compatible
Summary
The Dope Blizzard Pullover isn't helmet compatible but comes at a very reasonable price, has a good fit and a unique collar.
Ethics Statement: We don't get paid by the manufacturer to write these reviews.  We do make money from the "Where To Buy" links, but this is our best attempt at an honest and objective review from an average riders' perspective.
How It Fits And Who It Is For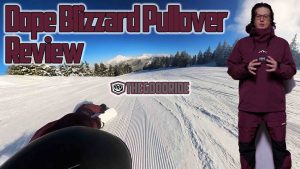 James' Jacket Specs
Size: Large
5'10" 185 lbs
Chest: 44"
Arm Length (pit to wrist) 19.5"
Neck: 16″
Torso Length (collarbone to pant line) 23"
Shoulder Width 19" wide
Inseam 30"
Gloves: Drop Tahoma Mit
Helmet: smith maze size medium
Goggles: Smith 4D Mag
Fit
The Dope Blizzard Pullover fit me pretty well and that isn't always easy having medium arms, an XL chest and L torso.
Construction
For this price point the Dope Blizzard Pullover does a great job at building a jacket that should last a pretty long time.
Waterproofing/Breathability
So the Dope Blizzard Pullover does pretty well with breathability and it's about what you would expect for this 15k/15gm waterproofing/breathability rating.When it's stretch material like this I always discount the waterproofing a bit because when the material stretches it lets moisture in a little more easy.
Wind Resistance
I did a same day test with a Gore-Tex jacket to see how the Dope Blizzard Pullover blocks wind and allows the layers underneath to do their job. I took one run with the Blizzard and then another with a Gore-Tex Jacket. The Gore-Tex jacket definitely did a lot better but this wasn't bad for being more than half the price.
Hood/Helmet Compatibilty
This is a personal deal breaker for me as I wear a helmet almost every day I ride. I couldn't get the Large Dope Blizzard Pullover hood over my Medium Smith Maze helmet.
Cuff/Glove Compatibility
Not bad but I wouldn't mind a little bigger cuff.
Pit Zips
I love the open pit zips and venting on the Dope Blizzard Pullover.
Pockets
There aren't a lot of pockets and it's a very simple jacket.
Conclusion
So for me, the Dope Blizzard Pullover isn't ideal for every day use for where I ride at Mt. Bachelor. We get a lot of wind, a lot of wet snow and occasional rain. I need a pretty serious jacket for that and I also want a helmet compatible hood. That being said, this is a great jacket for those who see more dry weather and are on a budget.
If this review helped, we'd appreciate if you:
Dope Blizzard Pullover Images
Dope Blizzard Pullover User Reviews
If you can't buy through the links above, you can support the site with: