Burton AK Gore-Tex 3L Pro Tusk Jacket 2021-2022 Review
Where To Buy
80% of outdoor sports products are not listed or sold online.
Our team has relationships with hundreds of local snowboarding and outdoor sports shops.
We'll call the shops and email you a list of stores along with pricing and availability.
---
Not sure what to buy?
Get custom advice from Good Ride editors James and Steph.

Get Advice
Burton AK Gore-Tex 3L Pro Tusk Jacket 2022 - 2021 Review by The Good Ride
Turn Ons/Swipe Right: Excellent Waterproofing, Excellent back friendly pocket selection & Very durable
Turn Offs/Swipe Left: No Powder Skirt. Super expensive.
Summary
The Burton AK Gore-Tex 3L Pro Tusk Jacket is super expensive but it's hard to find a splitboard jacket with so many functional, back back friendly pockets.
Ethics Statement: We don't get paid by the manufacturer to write these reviews.  We do make money from the "Where To Buy" links, but this is our best attempt at an honest and objective review from an average riders' perspective.
Burton AK Gore-Tex 3L Pro Tusk Snowboard Jacket Review: How It Works And Who It Is For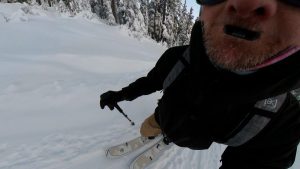 How This Review Happened: Liked it so much, asked to keep it (only do this with favorites).
James' Jacket Specs
Size: Large
5'10" 185 lbs
Chest: 43.5"
Arm Length (pit to wrist) 19.5"
Neck: 16″
Torso Length (collarbone to pant line) 23"
Shoulder Width 19" wide
Inseam 30"
Gloves: Burton AK Guide Glove
Helmet: smith maze
Goggles: Smith 4D Mag
Fit
The Burton AK Gore-Tex 3L Pro Tusk Jacket in size L is a touch on the tight side of medium and it fits really well.
Construction
This jacket is light, thin and sturdy. At this price point it would be hard to be anything less than that though.
Waterproofing/Breathability
Bombproof is a good word with 3L Gore-Tex Pro. It isn't as breathable as some companies but it's hard to beat this for warterproofing. I have been able to rain ride longer with this and the Gore-Tex Pro Hover Pant more than any other outfit.
Hood/Helmet Compatibilty
This contoured hood is pretty good at wrapping around the goggles to block out wind. It isn't going to have a really easy to manage collar like the Hover Jacket but keeps all the cold off your face.
Cuff/Glove Compatibility
I love that Burton choose to make a super wide cuff so you could easily get your glove on and off without ever having to fuss with the cuffs. They just drop right over.
Pit Zips
The Burton AK Gore-Tex 3L Pro Tusk Jacket has big wide open pit zips with no mesh. I personally love that.
Pockets
This is what differentiates this from the other high end jackets I've tried. It has 3 huge pockets that are backpack friendly. Then inside there are some small pockets and 2 skin pockets. On top of that I forgot to mention in the video review that there is a little pocket that comes with an ice scraper to get ice off your base or on the inner sidewalls of your split. This even makes the Burton AK Gore-Tex 3L Pro Tusk Jacket a pretty good resort jacket too. I never feel like I need another pocket.
Powder Skirt
No powder skirt. Most will be wearing bibs so it shouldn't be a deal breaker but if you wear pants it might be. It isn't for me though and I wear pants.
Conclusion
Overall the Burton AK Gore-Tex 3L Pro Tusk Jacket  is a pretty amazing split jacket but no slouch when it comes to resort riding as well. It's been a great friend last year and helped me have fun longer in rough weather.
Burton AK Gore-Tex 3L Pro Tusk Jacket Past Reviews

The Burton AK Gore-Tex 3L Pro Tusk Jacket is one of the few Gore-Tex Pro snowboard specific jackets out there. On top of that it is a very resort friendly jacket despite the fact it leads as a split board jacket. Not many can pull this off pocket/functionality wise. Yeah it's more than most snowboards so this isn't for everyone. But if you split board, Drift Board, or ride in really wet conditions a lot it might be worth it. It has more breathability and durability than all Gore-Tex Jackets as well.

Days: 4+

Size: Large
5'10" 180-195lbs
Chest: 43.5"
Arm Length (pit to wrist) 19.5"
Neck: 16″
Torso Length (collarbone to pant line) 23"
Shoulder Width 19" wide
Inseam 30"
Gloves: Burton AK Guide Glove
Helmet: smith maze
Goggles:  Smith IO Mag
Burton AK Gore-Tex 3L Pro Tusk Jacket Images
Burton AK Gore-Tex 3L Pro Tusk Jacket User Reviews
If you can't buy through the links above, you can support the site with: