Salomon Dialogue 2020 Snowboard Boot Review
Where To Buy
80% of outdoor sports products are not listed or sold online.
Our team has relationships with hundreds of local snowboarding and outdoor sports shops.
We'll call the shops and email you a list of stores along with pricing and availability.
---
Not sure what to buy?
Get custom advice from Good Ride editors James and Steph.

Get Advice
Salomon Dialogue 2020 Review by The Good Ride
The Salomon Dialogue is a mid flexing boot that offers a good fit and good response. We also got to try this in a Wide and it was a gamechanger for us comfort-wise. We didn't try the 2019 model but heard it got an overhaul from last year.
Ethics Statement: We don't get paid by the manufacturer to write these reviews.  We do make money from the "Where To Buy" links, but this is our best attempt at an honest and objective review from an average riders' perspective.
How This Review Happened:  We borrowed this for an extended demo and then returned it.
Days: 5+
Riders: James (Size 9, 5'10" 185-195lbs), Peter (Size 8, 5'11" 185lbs)
Size Tried: 8.5 wide for Peter and 9 wide for me. I had a size 9 regular but it didn't fit my foot as well as the wide.
James' Foot: Size 9 US and D bordering on E width. 
Peter's Specs: Size 8.5 US and C Width
Insoles:  Footprint Insole Technology Gameghangers Low Profile, Sandsole Custom Insoles
Bindings: Union Atlas, Union Strata, Salomon Quantum, Salomon Highlander
Boards:  Korua Pencil, Yes Greats and many other boards and boots.
Sizing/Fit/Heel Hold: The size 9 regular felt a bit tight like most Salomon boots have done over the years but the wide boot fit me really well. Based on our foot width it never occurred to us to try the wides but when Salomon sent us wides too we had to give it a go and were super stoked on it.  It wasn't as wide as my regular Adidas Tactical ADV but it's not narrow by any means. Overall, the Salomon Dialogue Wide had a great fit for my foot. I think Peter, even with a narrower foot preferred the wide too. The back is narrow compared to many boots with this width and it holds the heel in well in a size wide and especially so in regular. There isn't any additional hold tech but they made sure the built-in J-Bars and heel area wrap around that part of your ankle very well when laced up.
Lacing/Adjustability: The Lacing system is somewhat simple and a little bit messy but I've seen a lot worse with this type of quasi speed lace. Overall very doable for a hybrid between speed lace and traditional lace because the upper and lower lacing is separated. So if you like upper/lower adjustability then this could work.
Comfort: Both Peter and I felt comfortable day one and day two and day three etc. The boot wraps around most feet really well and we had zero pressure points. Not to say you will as well as all feet are different but it's worth a shot.
Flex & Flex Retention: The Salomon Dialogue isn't a super boot for flex retention but it is pretty well constructed and there was some thought put into retaining this medium bordering on medium-stiff flex.
Footprint: The footprint has come down a lot over the years and it held up well against my 8.5 Adidas boot that fits just the same lengthwise inside as the 9 Dialogue.  It used to be a good inch or more in a comparison like this so there is much less chance of toe/heel drag with Salomon now. I hope this is the same for the rest of the line as well.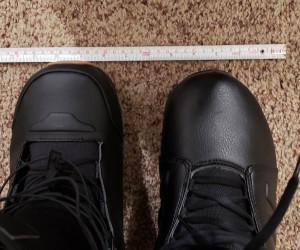 Response/Turn Initiation: Very good response with the Salomon Dialogue and it turned the boards we rode really well out of the box. As the boot breaks in the response might be more medium-ish but overall it turned the boards we rode the way we wanted to turn them.
Shock Absorption: Nothing bad and nothing great. Pretty medium. It provides decent shock absorption without limiting too much board feel for those that like more of a skate like feel.
Traction: Very good traction and the almost all rubber sole is a great thing to have in icy parking lots or lift lines or anywhere you need traction which in our opinion is all the time. So glad there is no EVA foam in contact with the snow.
On & Off Ease: Pretty middle ground on and off. Noting fast but nothing annoyingly slow either.
So all in all, it's been a while since we got on Salomon boots but after this experience, we want to get on more of their wides as it was the first time a Salomon boot felt really comfortable for us.
Salomon Dialogue Images

We try to get as many images of the Salomon Dialogue, but forgive us if they're not all there.
2020
2019
2018
2017
2016
2014
2013
2012
2011
2010
Salomon Dialogue User Reviews
If you can't buy through the links above, you can support the site with: