Nidecker Rift Snowboard Boot Review
Where To Buy
No obligation, but these links & ads support the site.
Nidecker Rift 2023 Review by The Good Ride
Swipe Right: Excellent Flex Retention. Versatile mid range flex. Separate Upper & Lower Adjustability. Excellent Traction. Great boot for a wide variety of boards/bindings.
Swipe Left: Not much. I could personally use a little softer sole but that is personal preference. Only comes in sizes up to 13
Summary
The Nidecker Rift is a very well made very versatile boot and it is going to be something I often recommend.
Ethics Statement: We don't get paid by the manufacturer to write these reviews.  We do make money from the "Where To Buy" links, but this is our best attempt at an honest and objective review from an average riders' perspective.
Nidecker Rift Snowboard Boot Review: How It Rides And Who It Is For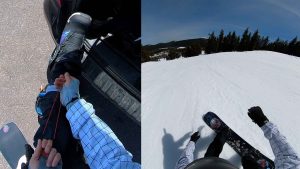 How This Review Happened:  Borrowed this for an extended demo and sent it back.
Size: 9 US
Days: 3
Conditions: Mixed but good spring conditions.
Riders: James (Size 9, 5'10" 185-190lbs
Insoles: Footprint Insole Technology Gamechangers
Bindings: Union Atlas. Nidecker Kaon X, Kaon
Boards: Jones Mountain Twin, Nideker Mellow, Never Summer Proto Slinger
Jacket: Burton AK Gore-Tex Pro 3L Tusk Jacket, Volcom TDF Infuse 3L Gore-Tex Jacket
Pant: Burton AK Gore-Tex Pro 3L Hover Pant, Burton AK Gore-Tex 2L Swash Pant, Burton Gore-Tex Ballast Pant
Helmet: Smith Maze
Goggle: Smith 4D Mag
Gloves: Burton AK Clutch Mitt, Burton AK Tech Leather Glove, CG Habitats Work Glove,
Similar (but not the same) Boots: Burton Kendo, Burton IonBurton SLX, DC Judge, Vans Implant
James' Foot Specs
Foot Size: 9 US
Foot Width: E
Arch Length: Right 9.5 and Left 9
Calf Circumference: Top of boot 17" & Bottom of boot 12"
Fit
The Nidecker Rift fit true. My size 9's felt just right in them length wise. Width wise they weren't ideal for a size E width but I think with some heat molding and lots of boot fitting foam on the sides of my feet I could for sure make these work. They seem best for a C or D Width.
Flex/ Flex Retention/Construction
I love the articulating cuff of the Nidecker Rift. It makes the flex more natural and it also lasts longer than regular single construction boots.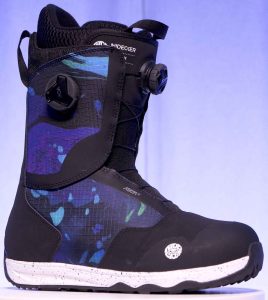 Response
There is a pretty medium to medium fast response edge to edge which I personally love. I don't like a really responsive boot but don't want something super soft either. This type of flex/response with the Nidecker Rift blends really well with a wide variety of boards and bindings.
Adjustability/Heel Hold
The Nidecker Rift has good heel hold but it's not exceptional. If you need the best in heel hold it's probably best to go with a double BOA where the upper and lower overlap. I think for most its got sufficient heel hold.
Now the adjustability is exceptional. The Upper and lower is completely separate. You can really dial it out. It isn't perfect like traditional lace where you can customize every rung in the upper section but it's much more convenient.
Shock Absorption
So the sole is pretty stiff which a lot of people will like because it has very good board feel. I prefer a softer sole for a little more shock absorption.
On & Off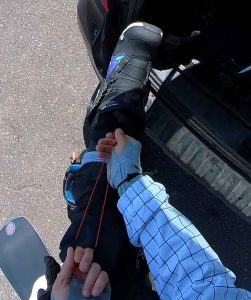 The Nidecker Rift is pretty easy on and off. BOA isn't super fast on but is incredibly easy off which is best. After a long day you can pretty much pop right out of it.
Traction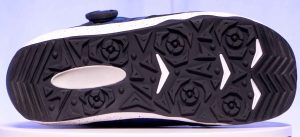 There is a very thick rubber sole that has near excellent grip in the conditions I rode it in. It handled hard to icy snow in the morning, soft snow and everything inbetween in the spring that I tested it.
Reduced Footprint vs. Warmth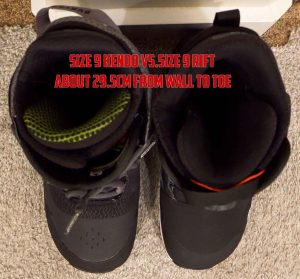 The Nidecker Rift has an excellent footprint that is a little smaller than my Burton Kendo's in a size 9 to 9 comparison with a similar fit as well. This is great for getting that little extra bit of room to carve harder or ride in steeper terrain without toe/heel drag.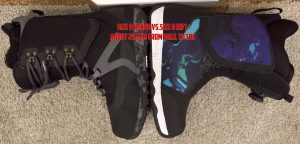 Conclusion
So overall, the Nidecker Rift is an exceptional boot and it was by far my favorite of the Nidecker line I tried. It is a great boot for someone who wants a boot to retain it's flex and traction for a long time.
If this review helped, we'd appreciate if you:
Nidecker Rift User Reviews
If you can't buy through the links above, you can support the site with: