Adidas Tactical 2017-2020 Snowboard Boot Review
Where To Buy
No obligation, but these links & ads support the site.
Adidas Tactical 2020 - 2017 Review by The Good Ride
The Adidas Tactical snowboard boot is not without faults but the major standouts are the next level shock absorption and flex retention. The 2018-2020 Adidas Tactical is the same boot but now you can choose the Adidas Tactical Lexicon if you want a more comfortable liner or choose the Tactical if you want more flex longevity.
Ethics Statement: We don't get paid by the manufacturer to write these reviews.  No one is perfect and we do make money from the "Where To Buy" links below, but this is our best attempt at an honest and objective review from an average riders' perspective.
This boot is not without faults but it is what most of us wear at The Good Ride and it works with a wide variety of boards and bindings. If you are all about long-term reliability, a reduced footprint, shock absorption and if the tounges downward pressure doesn't bother you the Adidas Tactical is a great call.
Days: 120+
Size Tried: 9, 8.5, 11, 11.5, 10.5, 13
Riders: James (Size 9, 5'10" 185-195lbs), Jimbo (Size 11, 5'11" 160lbs), Peter (Size 8, 5'11" 185lbs), Grant (Size 11, 6′, 160lbs) Stephen
Insoles: Footprint Insole Technology Gamechangers, Footprint Insole Technology Gamechangers Lite, Footprint Insole Technology Gameghangers Low Profile, Sandsole Custom Insoles
Bindings: Bindings: Union Atlas, Union Strata, Union Falcor,  Union Superpro, Burton Genesis, Burton Genesis X, Burton Cartel, Union Force, Union Contact, Union Contact Pro, Union T.Rice, Burton Mission, Salomon Hologram, Salomon Defender, Salomon District, Salomon Quantum, Now Drive, Now Pilot, Now Select, Now O-Drive, Now IPO, Union Ultra , Burton Malavita,
Boards: OZ Custom Woody, Korua Puzzle, Yest Basic, Yes Typo, Salomon Assasin, Rome Agent Rocker, Yes Optimistic 2016, Yes Greats, Yes Pick Your Line, Yes Jackpot, Jones Mountain Twin, Jones Ultra Mountain Twin, Jones Flagship, Jones Hovercraft, Loaded Algernon, Rossignol One Magtek, Rossignol XV, Rossignol Jibsaw,  Lib Tech TRS, Lib Tech Hot Knife, Lib Tech Burtner Box Scratcher, Lib Tech Lando Phoenix, Burton Flight Attendant, Burton Skeleton Key, Gnu Mulair, Gnu Space Case, Gnu Headspace, Gnu Riders Choice, Capita Mercury, Capita Outerspace Living,  Capita Spring Break Powder, Capita Ultrafear, Gentemstick Stingray, DWD Rat, Never Summer Proto Type Two, Never Summer Chairman, Never Summer Funslinger, Never Summer West, Rome Agent Rocker,  Never Summer Ripsaw, Lib Tech Box Knife, Lib Tech Terrain Wrecker, K2 Broadcast, K2 Manifest, Rome Powder Division 157 and many many more.
James' Foot Specs
Foot Size: Right 9 and Left 8.75
Foot Width: Right and Left between a D/E
Arch Length: Right 9.5 and Left 9
Calves (Widest Point): 17"
Calves (At top of boot): 12"
Fit: The fit is just like a Burton that's on the wider side of regular in the toe box so there is room to use the toes. The size 2017 size 9 felt about a 1/4 size large and with the change to the liner, the 2018-2019 Adidas Tactical feels like it's up to a 1/2 size large so that's why the 8.5 fits so well now. The only sizing that seems to fit true is the UK. It actually fits better than the 2017 Size 9.
Flex:  It's pretty medium stiff and seems like it will stay that way for a good while.
Comfort: I had some issues with the 2017 model in size 9 but none with the 2018 size 8.5. I haven't felt that instant comfort in a long time and it's not easy to do.  So if you can go with the 2018-2019 Adidas Tactical because the fit is so much better.
The 2017 model is not 100% love at first try but it's probably more around 80% love.  There is a little mellow pressure on the roof of my foot just below the ankle which is I thought might be a big issue but instead, it faded throughout the day as I rode it the boot conformed much better to my feet.  Now it's a very comfortable boot to ride and my only suggestion is to take it slowly on breaking it in as I described above in the video.
Heel Hold:  Very good heel hold and I don't feel the heel lifting at all.  I have slightly thicker ankle joints so I don't often have heel lift but this felt pretty good.  I would like to see an option on the inside of the shell or outside of the liner with Velcro for J-Bars but many will stick to the liner material so it's not a super big deal.
Adjustability:  Traditional Lace Boots still have an advantage over all other lacing types except hybrid setups that have something extra along with traditional lace. It takes more work but if you can tie a mountaineers knot you can really dial out your boots to fit your foot better than any other lacing system.
Flex Retention:  This is the best in the Adidas line when it comes to flex retention mainly because of the fully articulating cuff and the sturdier material on the outside.  The liner isn't anything to write home about and it would be nice to see some reinforcement in the areas with the most flex but still, overall it's on the higher end of the flex retention spectrum.  This is a great choice for the 100 day a year rider.
Turn Initiation/Response: The tactical is pretty responsive if it's tightened up but a nice smooth medium response if the upper rungs are left a little loose.  That's one of the reasons I love the versatility of traditional lace boots with an articulating cuff.
Traction:  There are soft rubber spikes places throughout the boot so it will hold well in almost any kind of snow.
Shock Absorption:  This shock absorption is really next level and I can't say that I've experienced anything like it. It's not just cushy but really springy too so it doesn't really feel like you are losing response.
Footprint: Very reduced just like the rest of the line and it's at the top of the industry.  It's the kind of boot that can really help reduce toe/heel drag. As the sizes get larger we have noticed less of a difference when it comes to footprint size but Adidas is still a little bit smaller.  You can also see that it seems Adidas will be less likely to have heel or toe drag by the way the sole tapers up in the heel and toe. Here are some pics of the 18 Tactical that is the same as the 2019 and 2020 compared to K2, Burton and Ride so you can get an idea of how reduced the footprint is in my sizes. The Burton is a size 9, Ride size 9, K2 size 8.5 (runs 1/2 size large like Adidas), and AdidasTactical a size 8.5 (runs 1/2 size large).
On & Off Ease: Traditional Lace isn't that bad and it's much easier than people think.  Yes, it's slower than Speed Lace or BOA but not by much.  It's almost as fast as BOA if you are one of those people who are constantly micro adjusting because when a BOA is undone it opens up pretty quick.
If you can get past the traditional lace and the fit/comfort is right then the 2018-2020 Adidas Tactical could be a great fit.  For me (James Biesty) the 2018-2019 is one of the best fitting boots I've had in a while
Adidas Tactical Past Reviews

Just to let you know in the vids this was a size 9 boot reviewed last spring and after trying an 8.5 I realized that all the little problems I'm talking about in the video aren't there with the size 8.5 production model and the fit/comfort was much better.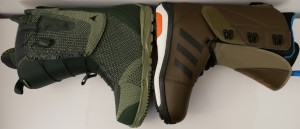 Adidas Tactical Images

We try to get as many images of the Adidas Tactical, but forgive us if they're not all there.
2020
2019
2018
2017
Adidas Company Information
Adidas Tactical User Reviews
---
---
Adidas Tactical 2017-2020 Snowboard Boot Review
SKU
UPC
Model
Great if you like instep pain
Jan 31, 2020
by
Ryan
Ability Level: Int-adv •
Riding Style: All mountain •
Days You Ride A Year: 20 •
Height, Weight And Boot Size (for Boards, Boots & Bindings): 6', 175, 9.5 (normally 10)
So these boots are really good, but there is a major flaw that makes them trash. When the tongue bends it applies pressure on the instep (top part of foot), which becomes almost unbearable after a few hours of riding. If it wasn't for this pain, they would be great boots, but I can't figure out a way to get rid of the pain. Tried breaking them in, and bending the tongue without any luck. They're just not worth risking it when buying new considering they lose almost 50% of their value as soon as you test them on the snow.

---
Amazing for size 11 feet
Sep 16, 2019
by
Tim
Ability Level: Advanced •
Riding Style: All mountain freestyle •
Days You Ride A Year: 30+ •
Height, Weight And Boot Size (for Boards, Boots & Bindings): 182cm, 78kg, 10.5 tactical adv
Ok first off, I usually and a 11.5 in Nike shoes. I was previously using thirty two binary boa 11us and they were a bit small and large foot print. I got the adidas tactical 10.5 us and they fit me perfectly. The extra room in the toe box makes all the difference for me. To let you know the footprint reduction, I measures these against a burton ruler 2019 size 10 and yheynweee exactly the same footprint. So for me it's game changing. A board that's 265mm centre of the reference points is enough to eliminate boot out. 265 gives you about 1.5cm over hang each side. Maybe I could go 260 not sure. Also size medium for union and burton.
The boot is reasonably comfortable. Good flex. Haven't had any real comfortable issues. Traction is great, probably the best hiking boots I've had. Easy to walk in. Good response tho I will probably go the Acerra 2020. I have about 20days on these so far and they holding up well.
Bottom line if you are same sized feet as me and want to ride SOME REGULAR sized boards this is the go. I can't explain how much better it is going from a wide 158 custom x to a regular

---
Solid so far
Mar 09, 2019
by
Craig Owens
Ability Level: Intermediate-Advanced •
Riding Style: Freeride- Pow Chaser •
Days You Ride A Year: 20+ •
Height, Weight And Boot Size (for Boards, Boots & Bindings): 5'9". 185
Reminds me of the original Burton Ruler back in the day with more boost and cush. After heat molding have a very good fit. Love the feel. If they retain their flex for 2 seasons that would be great.

---
Smoosh
Feb 22, 2019
by
Tap Elenac
Ability Level: Tindy All Night •
Riding Style: Freeride •
Days You Ride A Year: 50 •
Height, Weight And Boot Size (for Boards, Boots & Bindings): 6'1, 165, 11 boots
Really wanted to like these but less than ten days into the season, the lower part of the boot shell deformed/collapsed and the dreaded top of foot pain ensued. It's a genuine issue that can ruin your day and make the boots unusable.

On the upside, the Boost shock absorption is next level.

I came from Nike Lunarendors and found the Adidas a way better fit, much lighter, with a shorter footprint. But the Lunarendors lasted three seasons and still hold up.

Really like the liner, sole, appearance—everything. Would be a perfect boot if the shell were up to par.

---
Best All Round Boots
Feb 03, 2019
by
Mike
Ability Level: Intermediate •
Riding Style: Progressing at everything •
Days You Ride A Year: 10-15 •
Height, Weight And Boot Size (for Boards, Boots & Bindings): 185cm, 90kg, 10US
Owned the 2017 and 2018 models. My experience was very similar to the team at TGR. 2017s took about one day to break in, the 2018s took only a few runs.

I've got fussy feet and find traditional laces the best solution for getting a comfortable fit. These are the most responsive traditional lace boots I've found and I use them for all my riding.

Regarding the many comments about sizing for these, I take 11 in Burtons, 10.5 in Vans and 10.5 in K2s. The Adidas 10 fits me perfectly.

---
Exactly what I was expecting
Jan 07, 2019
by
Andrew
Ability Level: Advanced •
Riding Style: All Mountain, Freeride •
Days You Ride A Year: 6-10 •
Height, Weight And Boot Size (for Boards, Boots & Bindings): 6'1, 205, 11.5
I scoured the net for boots prior to a trip out west. Found these, knew there was a potential for top pressure, and bought them anyways because of the traditional lacing. There was no top pressure and I absolutely loved them. I purchased a half size smaller as recommended and they fit like a glove. For me, they were exactly what I was expecting by reading this review. Many thanks.

---
Top pressure
Dec 19, 2018
by
Spencer
Ability Level: Expert •
Riding Style: Park,all mountain freestyle, •
Days You Ride A Year: 30 •
Height, Weight And Boot Size (for Boards, Boots & Bindings): 5,10,155,12
Ive owned these boots for one season and was really hoping that they would fix them self, but after 30+ days of riding and even heat molding them. I still get top foot pain on my front foot. I tried everything from loosing the top or bottom of the boot or a combo of the two but the pain still would not go away. Please stay away from these boots and just go with a pair of burtons if you want foot shrinkage technology.

---
Impressed!
Oct 14, 2018
by
Rasheed
Ability Level: Intermediate to advanced •
Riding Style: All mountain freestyle •
Days You Ride A Year: 30 to 40 days •
Height, Weight And Boot Size (for Boards, Boots & Bindings): 6'0, 220 lbs, 11.5
I love these boots, super comfortable. I was a little nervous as I have heard some reviews of pressure points at the top of the foot and heel of the ankle. I have flat/low arch and wide feet so these boots works perfectly for me. I had the Ride Trident and there was no shock absorptions whatsoever. I also struggled with jumps as my ankle had no flex and it felt retrained. (It is is a free ride boot so it is to expected). The Adidas tactical is the complete opposite. They are awesome and I hope Adidas keeps making these boots. If they don't I plan on buying a bunch in bulk to last me a while. Highly recommended!

---
Cush
Apr 20, 2018
by
Ryan
Ability Level: Expert •
Riding Style: Powder/Steeps/Trees •
Days You Ride A Year: 20 •
Height, Weight And Boot Size (for Boards, Boots & Bindings): 6'2,190,12
These boots are extremely comfortable in my opinion. The Boost knocks down vibration and the laces offer great adjustability. I also tried on the Acerra thinking I might prefer the added response, but felt the foam to be too rigid and not as comfortable as the Tactical ADV's. Huge thanks to James and TGR on this recommendation!

---
Flawed
Apr 17, 2018
by
Gregor
Ability Level: Expert •
Riding Style: All mountain •
Days You Ride A Year: 60 •
Height, Weight And Boot Size (for Boards, Boots & Bindings): 6.1, 85, 9.5
Great soles, decent liner. Tongue too stiff. This is to compensate for articulated cuff and medium flex shell. For riders with higher instep the tongue pressure on the top of your foot, especially on a toe turn becomes unbearable. Can't use them. Last year's boot didn't have this problem.

---
If you can't buy through the links above, you can support the site with: