Adidas Superstar 2017-2019 Snowboard Boot Review
Where To Buy
No obligation, but these links & ads support the site.
Adidas Superstar 2019 - 2017 Review by The Good Ride
The Adidas Superstar takes a lot of the softer flexing skate like qualities from the Samba but has a little more shock absorption and has a strap that can offer up a little more response when pulled tight.
All Adidas 2018-2019 boots run about 1/2 size large from your foot size so best to size down 1/2 size. For example, I'm a size 9 boot but wear a size 8.5 Adidas Superstar best.
Ethics Statement: We don't get paid by the manufacturer to write these reviews.  No one is perfect and we do make money from the "Where To Buy" links below, but this is our best attempt at an honest and objective review from an average riders' perspective.
Days: 6+
Size Tried: 8.5 and 9
Riders: James (Size 9, 5'10" 185-195lbs)
Insoles: Footprint Insole Technology Gamechangers, Footprint Insole Technology Gamechangers Lite, Footprint Insole Technology Gameghangers Low Profile, Sandsole Custom Insoles
Bindings: Bindings: Union Strata, Union Superpro, Burton Genesis, Union Contact Pro,
Boards: OZ Custom Woody, Yes Basic, Yes Typo, Salomon Assasin, Yes Jackpot, Never Summer Funslinger
James' Foot Spec
Foot Size: Right 9 and Left 8.75
Foot Width: Right and Left between a D/E
Arch Length: Right 9.5 and Left 9
Calves (Widest Point): 17"
Calves (At top of boot): 12"
Fit: Adidas run on the wider side but the Adidas Superstar seems to be the widest of all the Adidas boots.  I think it's because of that rubber toe.  The rubber is thinner so it gives you a little more room inside. You also need to size down 1/2 size from whatever your size is on the scale in the US but in the UK it seems to fit true.
Flex:  The flex can be a little more supportive and stiff up top but at the bottom, there is a good break in the ankle that gives it a mellow flex on the softer side of med/soft.
Comfort:  Pretty comfortable for how small the liner is and I only noticed a little pressure on the roof of my foot on the forward flex. Not sure yet if that will be an issue or if it will go away as they break in. It doesn't have that instant comfort that some boots do but it does seem like it can become pretty comfortable. The 2018 Adidas Superstar didn't have the same pressure points and if the fit was correct it would have fit really well with almost no pressure points.  That's what happened when I sized down from the 2018-2019 Adidas Tactical ADV in size 9 to 8.5 so it should be very similar to the Adidas Superstar.
Heel Hold:  The softer fuzzy material in the liner made my socks slide pretty easy inside.  I like the easy in but would love to see the same material from the ZX-500 inside that keeps your foot in the right place better than this liner.
Adjustability: There are lots of options to dial out your boots with traditional lace and a strap up top. It takes a little more work to tie knots and dial the strap out but you can do almost anything once you get into the upper zone and you can
Flex Retention:  Like the articulation in the ankle.  Wish there was a little more but it's got enough to keep the flex similar to how you got it out of the box for a while.
Response: Nothing great here but that's what they are going for. It's got that medium bordering on med/slow response that is great to pair up with easier turning boards.
Traction:  So I love the EVA/Rubber Combo at the bottom and Adidas did this right with the Superstar.  It's got rubber in almost every place you really need traction and it gives you more than boots like the Burton AMB or 2019 Swath or any boot from them with the mostly EVA sole that has rubber in the heel and toe.
Shock Absorption:  Really good shock absorption. It's not as good as their energy boost tech but it's better than most boots out there these days and it's a massive improvement from the Samba.
Footprint: Super reduced! From what I've seen it's the best in the industry.  These are 2 sizes of size 9 boots that fit me almost exactly the same. We have noticed that there isn't as much of a difference in larger sizes as you go up from size 9 but Adidas is still a little smaller. Seems to be about the same for 2018-2019 models as well.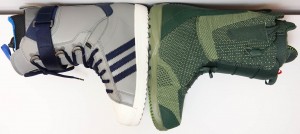 On & Off Ease: Not the easiest on and off and that's mainly because of the power strap across the top.
All in all this is a great mellow response boot that can get a touch more if you need it.  It
Adidas Superstar Past Reviews

Before you watch the vids just want to say I should of been in a size 8.5 than a size 9 for the 2018 model so it would of fit better and responded better than it did. 
Adidas Superstar User Reviews
---
---
Adidas Superstar 2017-2019 Snowboard Boot Review
SKU
UPC
Model
2017/18 Superstars
Nov 04, 2019
by
Mike
Ability Level: Decidedly average •
Riding Style: All mountain / Unimpressive freestyle •
Days You Ride A Year: Between 10 and 30 •
Height, Weight And Boot Size (for Boards, Boots & Bindings): 185cm, 90kg, Sz 10 (Adidas)
I've got the 17/18 version and am pretty damn happy.

I agree with all the comments in the review. Like others, I feel light pressure on the instep of the foot but it is not painful and doesn't interfere with my riding. I've had this same pressure with a pair of Sambas and Tacticals. For me the pressure from the Superstars was less than the Samba but more than the Tacticals. I did spend about 10 minutes working the tongue of the Superstars to soften them up and it seemed to help.

The fit inside is very wide. I nearly returned the boots because of this but I inserted and moulded some Gamechanger Lite insoles and afterward my foot wasn't swimming around as much and everything was sweet. The shock absorption improved too but the boots still have that low profile feel like a skate shoe.

I've been pleasantly surprised by how well they turn a board. I've used these with a Nitro Fury, Jones Aviator and Yes PYL. I didn't intend to do this with the PYL but it started coming down hard at the end of a day in Japan. I didn't have time to change boots so I just grabbed the PYL and jumped on the last lift. The Superstars were fine for me but I can see that better, more experienced riders might want more response sometimes.

I use the power strap all the time. I'm not sure if it really does add much response but it seems to stop the laces loosening throughout the day. I like that I can just put them on in the morning and then forget about them all day.

I don't wear these all the time and I've probably only got about 12-15 days on them. I've noticed they seem to be retaining their flex really well. They were medium - soft to start with but have stayed that way. They seem the same as when they came out of the box. Comparatively, my Tacticals softened up a lot after about a week but then stayed at a medium level.

A lot has been said about the Continental rubber sole on the Sambas but I think the sole on this is about as good. I actually think it grips the top sheet of a board better than the sole on the Tactical.

These worked out great for me but if Adidas could keep everything about this boot the same while eliminating the initial pressure on top of the foot, it would be 5 stars.

---
If you can't buy through the links above, you can support the site with: