Adidas Samba 2015-2019 Snowboard Boot Review
Adidas Samba 2019 - 2015 Review by The Good Ride
After 2017 the Adidas Samba became a very recommendable mellow response boot and for 2018 it got a little better.  It's got the most skate like feel out of all of the Adidas line. The 2019 Adidas Samba is the same boot as the 2018 model. Both are best if you buy 1/2 size down from your normal shoe size.  For example, I'm a size 9 on the scale but the 2018-2019 model fits me best in an 8.5.  The same works for our crew in other sizes too and the size down 1/2 size rule works pretty well.
Ethics Statement: We don't get paid by the manufacturer to write these reviews.  No one is perfect and we do make money from the "Where To Buy" links below, but this is our best attempt at an honest and objective review from an average riders' perspective.
Size Tried: 9 and 8.5
Days: 6+
Riders: James (Size 9, 5'10" 185-195lbs), Jimbo (Size 11, 5'11" 160lbs) and Jack
Insoles: Footprint Insole Technology Gamechangers, Footprint Insole Technology Gameghangers Low Profile, Sandsole Custom Insoles
Bindings: Bindings:  Union Superpro, Burton Genesis, Union Contact, Union Contact Pro
Boards: OZ Custom Woody, Yes Basic, Yes Typo, Salomon Assasin, Yes Jackpot,  Never Summer Funslinger
James' Foot Specs
Foot Size: Right 9 and Left 8.75
Foot Width: Right and Left between a D/E
Arch Length: Right 9.5 and Left 9
Calves (Widest Point): 17"
Calves (At top of boot): 12"
Fit: The 2017 Adidas Samba fit pretty well in a size 9 and only felt maybe 1/4 size too large on me but the 2018-2019 Adidas Samba fits much better for me in an 8.5.  The same goes for the rest of the sizing around the world except for UK sizing which seems to fit true.  It also runs as wide as some wide boots and is great for people with wider feet.
Flex: When tightened up well there is a pretty mid-level flex that is just right to work with most boards out there. When loosened a bit it's got a nice med/soft flex that would work well in the park.
Flex Retention: So we love the articulation tech in the ankle here that really works well.  It's going to hold it's flex for a while
Comfort: The Adidas Samba is pretty comfortable but I do feel a pressure point on the top of the foot where the tongue meets the boot when I flex forward. I think it will break in but it's a slight concern. Everything else about the boot works fine and I don't feel any pressure anywhere else.  There is lots of room for my toes to move and flex so it will not feel like I'm in a cast. The 2018-2019 Adidas Samba feels even better than the 2017 model.
Heel Hold: The fuzzy liner holds the ankle well enough but I can feel it slide up.  I'd like to see the other liner Adidas uses to put in the Samba and then it should hold a lot better.  Still, it's not that bad for my foot.  I don't think it will affect the way I ride and I personally feel people tend to freak out too much when it comes to heel hold. I'd rather have circulation in my feet and room to flex it than no heel lift.
Adjustability: Traditional lace boots are very good when it comes to dialing out your boots for your feet and are very underrated.
Response: It's a very mellow skate like response going on here that doesn't really want to smack a boards edge back and forth quickly.
Traction:  Very good traction because of the rubber.  It's not ideal for hiking but it's great in hard to icy parking lot ice or in lift lines on hard days.
Shock Absorption:  It's got that minimal shock absorption skate-like feel and out of all the boots in the Adidas line this feels the most like a skate shoe. It's the exact opposite compared to the Energy Boost boots on the upper end of the line.
Reduced Footprint: The footprint on the Samba is exceptional and from what I have seen so far it's at the top of the industry.  Take a look at the comparison between the Samba and the Burton Almighty.  Burton uses to be the best when it came to reduced footprint tech so it's pretty impressive to see the Samba fit just like Burton on the inside but be that much smaller on the outside.  This size 9 is approximately 1/2″ to 3/4″ of an inch smaller in overall length which is very impressive.  it's a great boot to choose if you are on the border between a regular board and a mid/wide but want to fit in a regular board that appeals to you. The one thing we noticed is as you get into larger sizes there isn't as much of a difference between the footprint when it comes to companies like Ride, Thirty Two and Burton. Adidas is still a little smaller but not as small as you will see in this pic with a size 9 comparison of the 2017 model.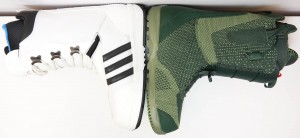 On & Off Ease: It's got an easy slide in and out and the laces aren't that hard to get on/off.  It's only a little slower than BOA and speed lace.
Adidas Samba Past Reviews

One thing to mention before you watch this review is I should have been in a size 8.5 instead of size 9 so the response would have been better and so would the minor pressure points.

The Adidas Samba Snowboard Boot is what I was more expecting from Addidas when I heard they were coming out with boots.  It's well built, feels like it will last a long time and it's pretty comfortable.  If it wasn't for some forward flex pressure on the top of the foot it would be a boot I'd want to keep and use often.  Not to say this will be a problem for everyone but it was for me.

This is a review of the 15 Samba but it looks like the quality of construction is better for 16 so it could be a good choice for those looking to a similar fit to a Burton boot but from a different brand.

Days: 1
Riders: James, Peter
Bindings:  Burton Cartel
Boards:  Lib Tech TRS

Size: 9

Weight– 2.2 Lbs Per Boot

Fit: The size 9 fits my size 9 feet nice and snug and with just a little packing out it will fit perfect.  It feels like it was built around my feet.

Flex:  Nice mediumish flex that has a pretty easy forward lean while still being good on the response side.

Flex Retention:  Much better than the other Adidas boots I tried.  The Samba feels heavier and sturdier.  It's got a pretty solid rubber spine on the back as well as good ankle articulation in the ankle that doesn't break down the ankle on forward flexing.  It looks like it's good for going 100 days without turning into a sock.

Turn Initiation:  Nice middle ground turn initiation that can rail a turn on a semi challenging turning board or hit a rail on a mellow jib board.

Comfort:  The biggest issue with me was on a forward lean the boot would depress between the beginning of the laces and the toe creating pressure on the top of my foot. The other Adidas boots did that too but this felt like it was more of a pronounced issue than the others.  It's probably because the material is more sturdy and thicker.  I wasn't sure if it would go away after a few days or if it would get worse and become unbearable.  Not sure if this is a deal breaker for everyone but it was for me. I tried to get a pic of it but it's hard to see.  You can kind of see that after the last lace there is an indention.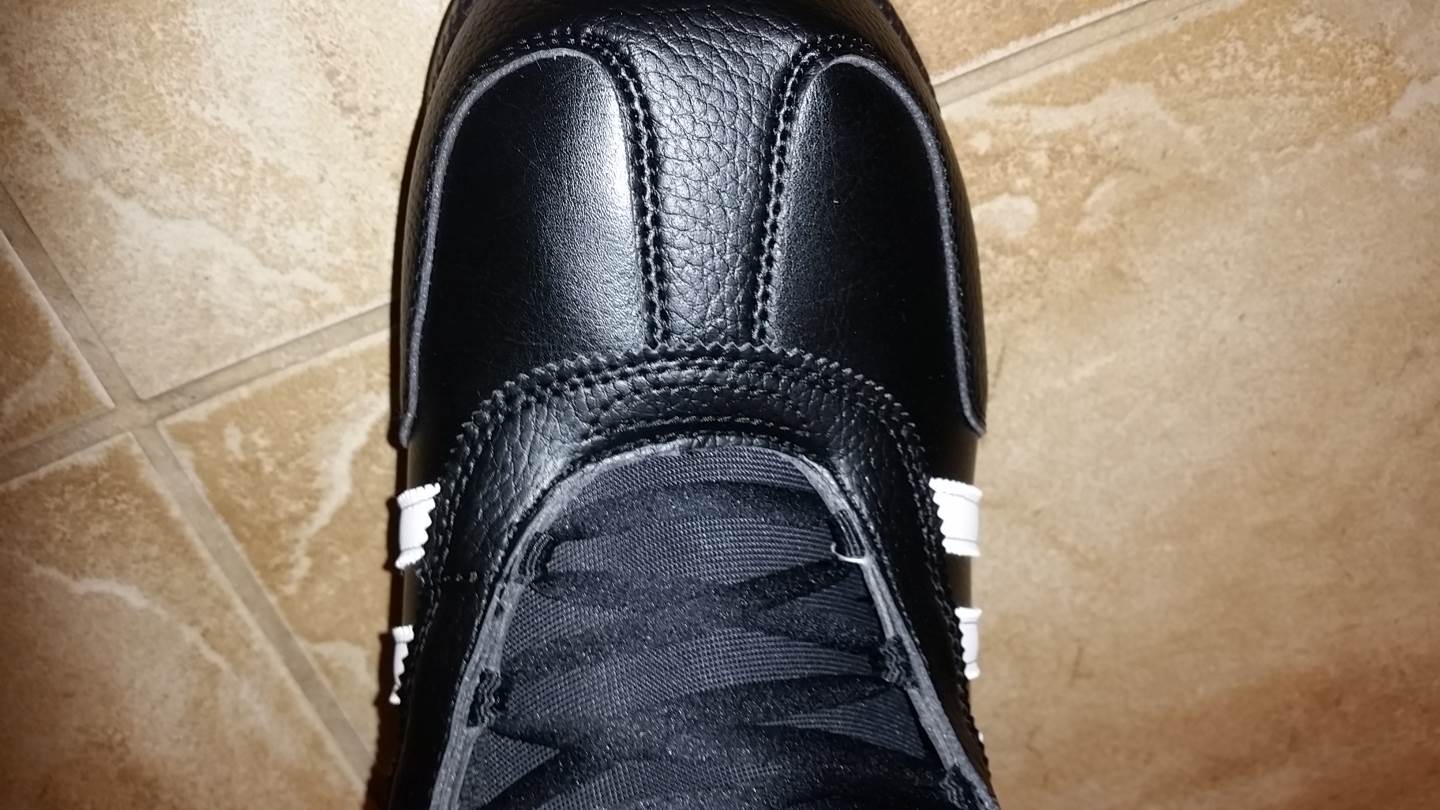 Other than that the rest of the boot was very comfortable at first but after a few hours I had some little pressure points that needed to be addressed with a little more riding/breaking in for it to go away.  I'd say that after about 5 full days of riding all theose litel issue would go away and the sambas would mold to my feet and be a good fit. I also like that the toe box isn't wide but also has some room to let your foot expand a bit on a forward flex.  The boots also roll inward rather well.  They aren't like Burton Auto Cant boots but don't cause pressure if you like to ride with your knees in a bit.
Heel Hold:  Really good heel hold for a lace boot.
Adjustability:  I still love traditional lace boots and don't feel they are the pain that many snowboarders do.  It's not much slower than speed lace or double boa and there is a lot more versatility when it comes to adjusting these boots. The top can be adjusted many ways and you can create upper/lower separation with a mountaineers knot in the middle.  The rungs that hold the top lacing are well built too and are easy to tighten.
Shock Absorption:  Nice shock absorption that feels middle ground to above average.
Traction:  Thank you for not going with a single mold eva foam sole.  There are varying types of rubber. You have continental tire rubber mixed in with what seems like a slightly softer rubber.
Footprint:  Love the footprint here and as you can see from the pic it's right there with Burton boots and even a little bit shorter than all but the Burton SLX. Well done!  It's very reduced and great for those trying to size down or fit better into in betweener sizies.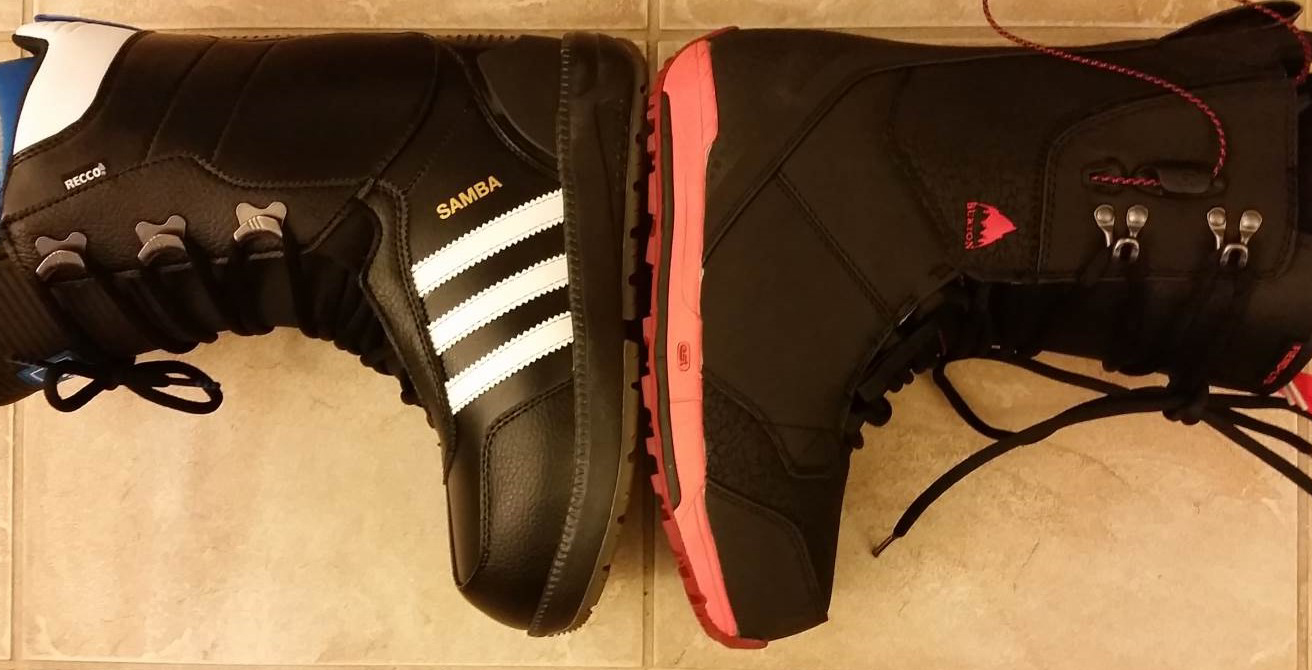 On & Off Ease:  You know it's not the fastest but it's not slow either.  It was pretty easy on and off for traditional lace and I liked them.
So all in all if it wasn't for that pressure on the top of my foot I'd like to own these and ride them often.  They are what I was hoping the ZX 500's would be.  I can't wait to try these next year.  If they fix that collapsing issue on the top of my foot I'd like to own these.
Adidas Samba Images

We try to get as many images of the Adidas Samba, but forgive us if they're not all there.
2020
2019
2018
2017
2016
2015
Adidas Company Information
Adidas Samba User Reviews
---
---
Adidas Samba 2015-2019 Snowboard Boot Review
SKU
UPC
Model
Disappointed
Nov 16, 2018
by
Beezy
Ability Level: Rockstar •
Riding Style: Everything •
Days You Ride A Year: 80 •
Height, Weight And Boot Size (for Boards, Boots & Bindings): 5'8 160 size 8.5
Too many pressure points. Long break in period. Harsh on landings.
Laces are way too short. Most uncomfortable boot I have ever worn.

---
Mar 11, 2018
by
Gianluca
Ability Level: Intermediate •
Riding Style: Park/jibbing •
Days You Ride A Year: 50
I found these boots very hard to break in. After that the flex was perfect for me, with enough flex for park but enough support to not break your ankles on harsh landings. Recently though the small pressure that I felt on top of the foot became painful and I developed a "bump" on top of my foot. Currently I cannot use these boots anymore, which is a bummer because I thought I found a new favorite. Someone mentioned you can remove the stitching that holds the tongue in place and that resolves the issue with the pressure on top of the foot. If someone has more info on that please let me know, I don't think I understand what the reviewer was referring to.

---
2016 Adidas Samba
Feb 08, 2018
by
Mike
Ability Level: I'm not impressive but not embarrassing either! •
Riding Style: All mountain •
Days You Ride A Year: 15 •
Height, Weight And Boot Size (for Boards, Boots & Bindings): 185cm, 90kg, US 11 Boots
I had to take a chance and buy these boots online during a sale because there are very limited retail options where I live and they tend to hammer customers on price.

I take a US 11 in almost everything and found the Samba 11 was a little large. Not enough to cause issues but not perfect for me, the toe box seemed quite wide.

The quality of the liners and outer boot seemed very good.

I have a strong preference for laces after bad experiences with boas and the Samba laces up really well. It took a few days of riding for me to feel I was able to get the lower part of the boot (around the foot), tight enough but I eventually got a nice fit. The lacing and shape of the tongue around the upper section was really good for getting the right tension and support. The only way I think this could have been improved was some lace locks.

The pressure point over the instep that others mentioned was mildly present for me too but not when riding. As soon as I put any forward lean or weight over the toes it went away. It was never painful when walking or sitting, just slightly noticeable.

I thought the boots gave decent shock absorption and I never had reason to complain. I don't have a lot of experience with other boots to compare with though (except the Adidas Tactical ADV I bought to replace these. The Tactical is a whole different level.)

One excellent feature of the Samba is the sole. It is super grippy and seems durable.

I only rode these for 32 days but they didn't seem to be losing response or folding. I only moved them on because I felt I could go a size smaller and found a pair of the Tactical ADV in the right size at half price.

The footprint of the Samba is really small. With a size 11 boot you are always in the cross over area between medium and large bindings. I went for a large Union Contact and moved the heel cup all the way in. I got the set up nicely centred over the board but there was a fair bit of wriggle room in the binding foot bed, either side of the boots. I've since tried them in a medium Union Falcor with the heel cup pulled out and the fit is also good.

Overall I was really happy with the Sambas, especially for the price of them and I'd happily own / use them again. I took a star off only because I'd like to see Adidas fit Sambas with some lace hooks that have a bit more grip, similar to the Tactical ADV.

---
Good boot with minor issues
Dec 01, 2016
by
mark s
Ability Level: Intermediate •
Riding Style: All mountain •
Days You Ride A Year: 15 •
Height, Weight And Boot Size (for Boards, Boots & Bindings): Size 10 boot
I got these cheap. they decent and quite comfy. they fit true to size.
I have the 2016 model.

the issue of the pressure point on the arch is real. but to fix it you need to take the liner out and just cut the stitching that holds the tongue in place.

The boot itself is a little to flexible to be a good boot for charging but solid in park or for a newbie.
One thing with adidas is you can really comb the outlet malls for sales with adidas and pick up bargains. I would compare these to low level burtons but i picked these up for AUD$147 which is about half the price of comparable boots even on sale.
i do think they flex too much at the top and cause weird pressure zones if not very well secured. i feel the top is just too loose for any hard charging, stay on the blues and park with these.

All in all if beginner or indermediate that has a pretty flexible board these are great if you can get them cheap. the fix to the issue of top of foot pressure point is easy.

---
Samba Snowboard Boots
Jul 18, 2015
by
Eric
Ability Level: Intermediate •
Riding Style: Freeride •
Days You Ride A Year: 35 •
Height, Weight And Boot Size (for Boards, Boots & Bindings): 6'4" 210lbs size 12 boots
I love the look of these boots. I bought these for $149.00 at the end of the Season, and it took me 2 full days of breaking these in on the mountain at A-Basin. They have decent flex but I lace hem fairly tightly for appropriate response during turns. They're decent boots, and I recommend them. I'm not sure how they'd work for a park rat, though as I'm in to steep runs and deep pow.

---
If you can't buy through the links above, you can support the site with: