Rome Cleaver 2022 Snowboard Binding Review
Where To Buy
No obligation, but these links & ads support the site.
Rome Cleaver 2022 Review by The Good Ride
Turn Ons/Swipe Right: Adjustable response. Damp/Shock Absorbent. Excellent Adjustablilty. Great feel underfoot.
Turn Offs/Swipe Left: More parts/Points of failure but worth the added risk.
Summary
The Rome Cleaver has adjustable response, is very damp and really adjustable. It can be really responsive and has a great feel underfoot..
Ethics Statement: We don't get paid by the manufacturer to write these reviews.  We do make money from the "Where To Buy" links, but this is our best attempt at an honest and objective review from an average riders' perspective.
Rome Cleaver Snowboard Binding Review- How it rides and who it is for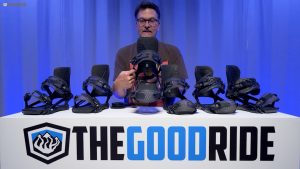 How This Review Happened:  Borrowed this for an extended demo and sent it back.
Days:  4+
Conditions: Pretty much all spring snow. Some hard, some great and some messy.
Riders:  James (Size 9, 5'10" 185-190lbs)
Boots: Burton Kendo,
Insoles: Footprint Insole Technology Gamechangers
Pant: Burton AK Gore-Tex Pro 3L Hover Pant, Burton AK Gore-Tex 2L Swash Pant
Helmet: Smith Maze, Smith Vantage
Goggle: Smith IO Mag, Smith 4D Mag
Gloves: Burton AK Clutch Mitt,  Burton AK Tech Leather Glove, Burton AK Tech Glove,  CG Habitats Work Glove Drop Web Glove,
Similar (but not the same) Bindings: Union Atlas, Union Falcor,  Salomon Highlander, Nitro Phantom Carver, Now O-Drive, Jones Apollo
How It Was Tested
On the first day I tested 5 bindings in one day on the Jones Mountain Twin to see how they all compared. Then I started putting them on other boards like the Stale Crewzer, Stale Fish & Rome Ravine Select.
Weight
2.0 Lbs with screws and discs per foot.
The Rome Cleaver is new to me but the lighter weight compared to past Rome bindings is welcomed. It's not super light but now far from being noticeably heavy.
Highback Flex
The Rome Cleaver has a pretty stiff highback. I for sure needed to rotate the high back so it wouldn't bite into my calf. If you like a stiff highback then this is a great choice. It's not ultra stiff and unforgiving though. There seems to be some cool dampening material in there to make it not feel like snappy carbon/ultralight highbacks can feel.
Flex Underfoot
The Rome Cleaver has this medium sized disc that is surrounded by a bed of unique foam on the base plate. It looks like the Energy Boost material in Adidas boots and shoes. If you set the screws up as a mini disc you get a really natural flex underfoot that doesn't seem to compromise dampness. If you set the screws up full size then you get the board to act a little stiffer underfoot. Very well done.
Turn Initiation/Response
When it comes to response, the Rome Cleaver can go from pretty responsive to really responsive. It all depends on how you adjust the angles of the Pivotmount Max ankle strap angle adjusters. If you take it up high it is right there with the most responsive bindings.
If you bring it down low it doesn't have that same mellow flex as the Katana or even more so the Vice but it's definitely dialed back. I didn't like the combo of the laxed toe side response combined with a stiffer high back. I liked a more mellow high back flex not only for a lower ankle strap position but the same for a higher position. Turning feels a little less symmetrical this way and I liked it in a middle to high position best.  It is all personal preference though.
This pairs up really well with demanding boards.
Shock Absorption
The Rome Cleaver is really damp and exceptionally shock absorbent. It's almost there with NOW/Jones bindings. If you want a damp but responsive ride without the arch issues I describe in jthe NOW/Jones binding reviews these could for sure work.
Boot Support
Just like with response you can get really good boot support or bring the ankle strap angle down to give you more mellow support. The Rome Cleaver is excellent when it comes to supporting your ankle in all conditions if you like that. It can also be adjusted to remove hot spots you got on old boots from other bindings. Great idea here with the Pivotmount Max tech.
Ratchets
Pretty good. They never brought attention to themselves and that is a good thing. They just worked.
Adjustability
So I've talked a lot about the Pivotmount Max but once again adjustable response with 64 potential settings is pretty unique and cool. Then you have a highback that can cant. You can line up the highback with the cant of the footbed. It lines them up better with the angle of your leg.
Now for the standard stuff. You have tooless adjustability for straps, high back forward lean which is nice but kinda expected. The good stuff again is the Adjustable base plate so you can get your boot centered in the binding. That really helps with getting your board to turn more evenly toe and heel side.
When you can center any boot in the binding you can turn the discs sideways and slide them from tip to tail. When you set up the screws in these quasi-mini discs like mini discs they have a lot of adjustability. If you go with a full sized disc screw set up you have no adjustability but the cool thing is you can do it. Most mini-discs aren't able to. So these work, not super well, but they do work with set back inserts.
Conclusion
So the Cleaver is the kind of binding I am normally not that into. I prefer bindings more like the Vice and Katana. That being said I could have a beautiful life with these if the Katana dumped me. They can power hard turns with just about any kind of board and have minimal compromise for being so stiff. So if you like a stiff, responsive adjustable binding just leave it to Cleaver.
Rome Cleaver User Reviews
If you can't buy through the links above, you can support the site with: