Ride C-8 2021 Snowboard Binding Review
Where To Buy
No obligation, but these links & ads support the site.
Ride C-8 2021 Review by The Good Ride
Ride C-8 2021 Snowboard Binding Video Review Fast Forward Markers. Timecodes 0:00 – Intro 0:20 – How it Was Tested 0:58 – Summary 1:12 – Weight 1:39 – Highback Flex 2:13 – Response 4:37- Shock Absorption 4:49 – Boot Support 6:05 – Ratchet System 7:51 – Adjustability 10:25 – Conclusion 11:18 – Outtakes 11:30 – About The Review
Turn Ons/Swipe Right: Damp, Well Built. Smooth response.
Turn Offs/Swipe Left: Small ankle strap is not supportive in uneven snow.
Summary
The Ride C-8 straps aren't supportive in uneven snow. The rest of the new design is very well built, damp and ofers up a pretty smooth ride.
Ethics Statement: We don't get paid by the manufacturer to write these reviews.  We do make money from the "Where To Buy" links, but this is our best attempt at an honest and objective review from an average riders' perspective.
Ride C-8 Binding Review- How it rides and who it is for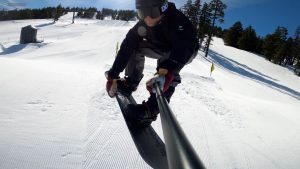 How This Review Happened:  We borrowed this for an extended demo and then returned it.
Days: 6+
Riders:  James (Size 9, 5'10" 185-190lbs), Peter (Size 8, 5'11" 185lbs)
Boots: Adidas Tactical ADV, Ride Laso Pro, Ride 92, Ride Fuse
Insoles: Sandsole Custom Insoles, Footprint Insole Technology Gamechangers, Footprint Insole Technology Gameghangers Low Profile
Boards: Jones Ultracraft, Ride Wild Life, Jones Hovercraft, Endeavor Pioneer
Weight
2.4lbs which is a bit on the heavier side compared to most bindings.
Highback Flex
The highback is very stiff with the Ride C-8.
Binding to Boot Adjustability
We found the Ride C-8 to have good all around adjustability so you can center most boots in the binding and therefore the board.
Stance Width Adjustability
The Ride C-8 wasn't perfect but pretty doable for those that need to get close to their perfect stance width.
Boot Support
This area is really lacking with the Ride C-8. The small ankle strap just doesn't give you any support in uneven snow. Both Peter and I felt our ankles folding over and that is a painful experience. Also, the toe straps always slid down no matter how hard we cranked them down.
Ratchet System
Smooth and no complaints here with the Ride C-8.
Turn Initiation/Response
Peter and I both felt the ankle strap didn't match up well to the pretty stiff high back and responsive base plate. We swapped the Ride C-8 ankle strap it upside down to get more response and it only helped a little.
Flex Under Foot/Buttering
Pretty easy to butter and the board flexed pretty well underfoot.
Shock Absorption/Dampness
There is a nice damp base plate that didn't seem to pass up any crankiness a board was having and we liked that.
So overall, we felt the Ride C-8 is a new set of straps away from being a recommendable binding. The ankle straps are great for park bindings but they didn't seem to match up well with how responsive/stiff the rest of the binding was. The lack of support/pain we experienced in uneven terrain was a deal breaker.
If you can't buy through the links above, you can support the site with: