Ride C-10 2021 Snowboard Binding Review
Where To Buy
No obligation, but these links & ads support the site.
Ride C-10 2021 Review by The Good Ride
Ride C-10 Snowboard Binding Video Review Fast Forward Markers
0:00 – Intro 0:11 – How it Was Tested 1:09 – Summary 1:20 – Weight 1:43 – Highback Flex 1:58 – Buttering/Flex Underfoot 2:38 – Turn Initiation 3:27- Shock Absorption 3:50 – Boot Support 5:48 – Ratchet System 5:54 – Adjustability 7:33 – Conclusion 7:59 – Outtakes 8:35 – About The Review
Turn Ons/Swipe Right: Damp and responsive base plate. Large Mini-Disc with good butterability.
Turn Offs/Swipe Left: Ankle strap is unsupportive and doesn't match up well with the response of the base plate and high back. Toe Strap came loose all the time. Hurt our ankles in uneven snow.
Summary
The Ride C-10 has a damp fast base plate and high back. The small unsupportive ankle and slippery toe strap were a deal breaker for us though. If they fixed the straps this would be a very recommendable binding for most riders.
Ethics Statement: We don't get paid by the manufacturer to write these reviews.  We do make money from the "Where To Buy" links, but this is our best attempt at an honest and objective review from an average riders' perspective.
Ride C-10 Snowboard Binding Review- How it rides and who it is for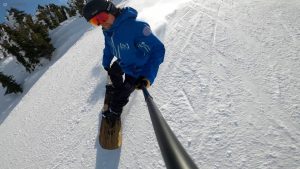 How This Review Happened:  We borrowed this for an extended demo and then returned it.
Days: 4+
Riders:  James (Size 9, 5'10" 185-190lbs), Peter (Size 8, 5'11" 185lbs)
Boots: Adidas Tactical ADV,  Ride Lasso Pro, Ride 92, Ride Fuse
Insoles: Sandsole Custom Insoles, Footprint Insole Technology Gamechangers, Footprint Insole Technology Gameghangers Low Profile
Boards: Jones Hovercraft, Jones Ultracraft, Ride Wild Life, Endeavor Pioneer.
Weight
2.2 LBS- On the heavier side of medium but the Ride C-10 isn't noticeable when you are riding.
Highback Flex
Really really stiff. The Ride Ride C-10 doesn't mess around. We could barely get it to move.
Binding to Boot Adjustability
The Ride C-10 does a great job helping you center the boot in the binding with an adjustable heel loop and gas pedal. The ankle and toe strap's don't come loose easy but after they break in they will be very easy to adjust.
Stance Width Adjustability
Pretty good but not great. The Ride C-10 has some stance width adjustability but not as much as some discs have when you turn them sideways.
Boot Support

Boot Support was a problem for us with the Ride C-10. The ankle strap really made our ankles feel exposed in any uneven terrain we encountered. It hurt our ankles and it made riding off piste unpleasant. The toe straps always came loose with any boot we used no matter how hard we cranked it down.
Ratchet System
A little sticky but our guess is the Ride C-10 production model will work better.
Turn Initiation/Response
These straps just don't seem to match up well with such a stiff responsive binding. They seem like they would work better with a more freestyle oriented binding and not what the Ride C-10 seems to be marketed as.
Flex Under Foot/Buttering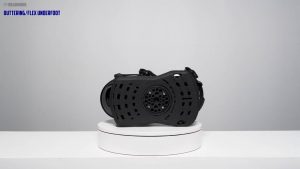 Pretty easy to butter with the These straps just don't seem to match up well with such a stiff responsive binding.
Shock Absorption
The Ride C-10 was pretty shock absorbent but really damp. If it wasn't for the un-supportive ankle strap it would kill it at high speed riding.
So, all in all, the Ride C-10 has a great base plate, heel loop and high back. We feel it just needs different straps to make this binding light up.
If you can't buy through the links above, you can support the site with: