Flux SR 2020-2021 Snowboard Binding Review
Where To Buy
No obligation, but these links & ads support the site.
Flux SR 2021 - 2020 Review by The Good Ride
Turn Ons/Swipe Right: Excellent Straps, Ratchets, Boot Support & Response for the flex
Turn Offs/Swipe Left: Almost no shock absorption
Summary
The Flux SR does everything really well except provide any kind of shock absorption. If you can get past that then this isn't a bad binding.
Ethics Statement: We don't get paid by the manufacturer to write these reviews.  We do make money from the "Where To Buy" links, but this is our best attempt at an honest and objective review from an average riders' perspective.
Flux SR Snowboard Binding Review- How it rides and who it is for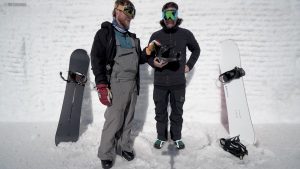 How This Review Happened:  We borrowed this for an extended demo and then returned it.
Days: 4
Riders:  James (Size 9, 5'10" 185-190lbs), Peter (Size 8, 5'11" 185lbs)
Boots: Adidas Tactical ADV, Adidas Tactical Lexicon ADV
Insoles: Sandsole Custom Insoles, Footprint Insole Technology Gamechangers,
Boards: Endeavor Pioneer
Similar (but not the same) Bindings: Union Strata,
Approximate Weight
2.0 lbs with Screws and disc.- These are very light and you feel it.
Highback Flex
The Flux SR has a good twist to it and some give when pulling back.
Binding to Boot Adjustability
There is some decent but not perfect adjustability with the Flux SR. You can move the heel plate and gas pedal to fit the footprint/size of your boot but you can't adjust the heel loop to center your boot in the binding and therefore on board. Most larger or smaller sizes in the recommended size spectrum won't fit centered so they will have to use the disc to center their boot/binding on board.
Stance Width Adjustability
If you can get centered in the binding and on the board (most wont) there is some stance width adjustability but not a lot.
Boot Support
The Flux SR isn't bad with boot support and there is ankle support for uneven terrain. The ankle strap is mounted inside the heel loop so it wraps better than just about any other binding brand out there. With the lack of shock absorption you will need it. There is also decent freedom of movement for those that want more of a freestyle to mountain freestyle feel.
Ratchet System
The Flux SR ratchets are exceptional. Smooth and they crank down to the point of serious pain. Well done.
Flex Under Foot/Buttering
This plate isn't like the Flux DS or DSL. The Flux SR doesn't have that cool bend up after the disc to make it easy to butter. It's still doable but it is more about the boards flex than the binding helping it to flex.
Turn Initiation/Response
Flux makes any binding seem more responsive than you would think for its design and high back flex. The Flux SR is no exception.
Shock Absorption/Dampness
None! Literally no shock absorption and the minute the conditions start to turn you feel it. For Peter and I, this was the deal breaker. It is the same theme with all Fux bindings. Excellent straps, ratchets and response but literally no shock absorption. It fatigues my joints and makes me want to stop riding early. Flux is willing to sacrifice all your shock absorption for response. For some its worth it but for us it isn't.
Conclusion
If there was shock absorption these would be highly recommendable bindings. They do so many things right with the design. However, as it stands now you have to sacrifice your joints to get all the other goodies that come with these bindings.
If you can't buy through the links above, you can support the site with: