Burton Step On X Binding 2021 Review
Where To Buy
80% of outdoor sports products are not listed or sold online.
Our team has relationships with hundreds of local snowboarding and outdoor sports shops.
We'll call the shops and email you a list of stores along with pricing and availability.
---
Not sure what to buy?
Get custom advice from Good Ride editors James and Steph.

Get Advice
Burton Step On X Binding 2021 Review by The Good Ride
Turn Ons/Swipe Right: Incredibly responsive & Really Easy On and Off
Turn Offs/Swipe Left: For some it might be too much response. Not easy to butter and not much freedom of movement.
Summary 
The Burton Step On X has limited freedom of movement after you step in but it is the most responsive soft boot set up I've personally ever tried.
Ethics Statement: We don't get paid by the manufacturer to write these reviews.  We do make money from the "Where To Buy" links, but this is our best attempt at an honest and objective review from an average riders' perspective.
Burton Step On X 2021 Binding Review- How it rides and who it is for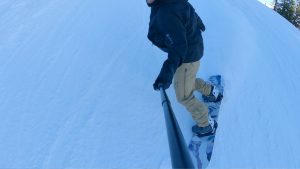 How This Review Happened: Due to overwhelming requests we spent our precious Good Ride dollars to buy this and review it.
Days: 2
Riders:  James (Size 9, 5'10" 195 lbs)
Boots: Burton Photon Step On
Boards: Burton Hometown Hero, Yes Ghost 153
Similar (but not the same) Bindings: Burton Step On Binding
Weight
1.6lbs per binding with discs and screws in. The Burton Step On X weighed 1.6lbs with 2 EST screws or with 4 traditional screws on my scale but it might be a touch lighter with EST.
Highback Flex
Super stiff! So stiff I could barely twist the Burton Step On X and could not even come close to pulling it back. It is very ridgit but light.
Binding to Boot Adjustability
Very little here with the Burton Step On X and all Step On bindings. You have 2 spots for Channel System boards and 2 for Traditional Inserts to center the binding to help center your boot on the board. If you flip it around you can slide it the other way too so you actually have 3 hole placements. Most have more options. For example, Union full size discs have 5 spots to place your inserts in the disc, an adjustabile gas pedal and an adjustable heel loop so you don't even need the discs to center your boot in the binding/board. You can also adjust the Gas Pedal so it is aligned properly with your boot. There is no real high back rotation but you can adjust your forward lean from 2 angles with a Phillips Head Screw Driver.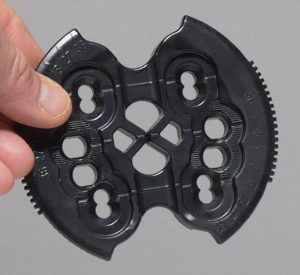 Stance Width Adjustability
None. This is not a problem if you get a channel system board from Burton, Endeavor and some Signal boards. However with traditional disc bindings it won't be easy to get the exact stance width you want.
Boot Support
The boot support is incredible. You are locked into the high back…litterally locked in. Then you have two places in the front that lock your Step On boot in just like the regular step on bindings.
Turn Initiation/Response
The Burton Step On X is super responsive. Too responsive for my taste. Paired up with the Burton Photon I felt like I had Hard Boot response. Couldn't even imagine what it would be like with the Ion Step On. I think these are best for really demanding boards that need a lot of leverage to turn.
Flex Under Foot/Buttering
Once I stepped into the Burton Step On X I could only lean forward or backward at the stance angle I had set up.  I couldn't get my knee to bend out from the binding to butter. Also for turning and carving it was hard to put weight into the turn anywhere but directly over the bindings. There is really no freedom of movement. If I had upper and lower adjustability on the Burton Photon instead of just one BOA for the whole boot I would have undone the top section so I could lean in different directions for carves and butters. It would also feel restricting if I was bold enough to get air and spin. It would power it around fast but just wouldn't feel comfortable.
Shock Absorption/Dampness
The Burton Step On X has pretty good shock absorption even without EVA foam below the Gas Pedal. It will be good with any Burton Step On Boot out at the time I write this.
The Step On System
So this is a pretty unique system and it is super fast and easy to get on and off. The only thing you trade off vs. a traditional binding is freedom of movement/butterability and adjustability. You get quick release and a shit ton of response. You have to be vigilant to keep snow from building up on the foot bed so get a scraper or a wax scraper from the surf world. I will say that this would be pretty frustrating if you are stuck in deep snow after a wrong turn and have to step out. If you get snow stuck to the sole of your Step On boot while hiking out it will be tough to get it off and step back in again if you are in a deep/tight spot. That is one place Step On will not be as convenient.
So overall, I think the Burton Step On X binding is not for everyone and the regular Step On is more than responsive enough. I would have thought they would go for a less responsive more flexible Step On binding next instead of ultra stiff/responsive. That being said the strength of Step On is super strong response and it shines for those who want to carve so I can see why they went with the X version next.
Burton Step On X Binding Images
Burton Step On X Binding User Reviews
If you can't buy through the links above, you can support the site with: