Burton Cartel Re:Flex 2010-2023 Snowboard Binding Review
Where To Buy
No obligation, but these links & ads support the site.
Burton Cartel Re:Flex 2023 - 2010 Review by The Good Ride
Burton Cartel Re:Flex 2021-2023 Snowboard Binding Video and Written Review
You have arrived at the Burton Cartel Re:Flex Snowboard Binding Review from an average rider with an exceptionally objective perspective.
Update 2023: The 2021 Cartel we reviewed is very much the same as the 2023 model so this review still stands. 
Turn Ons/Swipe Right: Great flex/feel underfoot. Shock Absorbent. Excellent ankle strap support. Lower Price for 2021
Turn Offs/Swipe Left: Glitchy toe strap and ratchet. No stance width adjustability on non-Burton Channel System boards.
Summary
The Burton Cartel Re:Flex has some toe strap issues and no adjustability for non-Burton Channel System boards but everything else about this binding is special.  The smooth mid-range response and excellent butterability make this a great choice with a wide variety of boards. It is best with Burton boards but still works really well with non-Burton boards as well.
Ethics Statement: We don't get paid by the manufacturer to write these reviews and this is our unfiltered opinion. We do make money from the "Where To Buy" links, but this is our best attempt at an honest and objective review from an average riders' perspective.
A Breakdown of How it rides and who it is for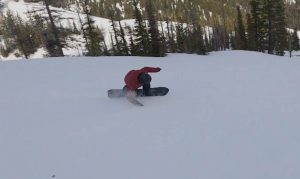 How This Review Happened:  We used this for a few days at the demos. It wasn't ideal but it was the best we could do.
Days:  2
Riders:  James (Size 9, 5'10" 185-190lbs), Peter (Size 8, 5'11" 185lbs), Jimbo (Size 11, 5'11" 160lbs), Zobel (Size 11.5, 6' 180lbs)
Boots: Adidas Tactical ADV
Insoles: Sandsole Custom Insoles, Footprint Insole Technology Gamechangers, Footprint Insole Technology Gameghangers Low Profile
Boards:
Similar (but not the same) Bindings: Union Atlas, Union Falcor, Burton Genesis X, Salomon Quantum, Salomon Highlander, Nitro Carver, Nitro Phantom Carver, Now O-Drive
Approximate Weight
The Burton Cartel Re:Flex is very light but at the same time not chattery so we love that about this binding.
Highback Flex
This new highback has a very medium flex throughout the binding and it reminds us of a mellow Diode high back. We all like how this big asym highback flexes and integrated with our boots.
Binding to Boot Adjustability
One of the problems with the Burton Cartel Re:Flex is being able to center the boot well in the binding and then on the board. It doesn't have as much adjustability as many bindings out there do. The rest is pretty good and especially the highback rotation. Everything is tooless including the forward lean.
Stance Width Adjustability
There is none so where ever your screws are on the board is where you will set up your stance width. On Burton Channel System boards it is infinite.
Boot Support
The ankle strap on the Burton Cartel Re:Flex kills it but the toe strap is lacking. It is not easy to fit on your boot and it doesn't crank down hard. It pops back up or just won't crank any more when you hit a certain point. That is the one strap that should because there are no pressure points on a cranked down toe. That way you don't have to crank as hard with the ankle strap because the boot is already held into the heel loop/high back perfectly. It helps keep your feet working.
Ratchet System
The ankle strap seems fine but the toe strap of the Burton Cartel Re:Flex seems to have issues. This wasn't just with this Burton binding but pretty much every one we tried at the demos. The ratchet would come loose and not crank down well. It would pop out and we often found the toe strap loose or off our toe by the time we got to the bottom of the hill. The good thing about Burton is their customer service is pretty good and they will probably help you fix this if you have issues similar to ours.
Turn Initiation/Response
Burton Cartels Re:Flex are know for smooth even response that is right in the middle response wise. We don't want these to power really demanding boards but they turn most boards really well.
Flex Under Foot/Buttering
The only thing we found out there that is better than the Burton Cartel Re:Flex is the Cartel EST. These, however work with all boards so we say sacrifice a little butterability so you aren't stuck with just a few snowboard companies when getting boards.
Shock Absorption/Dampness
There is lots of shock absorption and the foot bed is really cush. The only other brand that might do more is NOW because of their rubber stoppers on the base plate but they have had some issues with stress on the arch of your foot if you don't have a boot with a thick sole.
So all in all, the Burton Cartel Re:Flex is still a really smooth buttery binding that works with a wide varitey of boards. If you can get past no stance width adjustability and potential toe strap issues then this is an amazing binding.
If this review helped, we'd appreciate if you:
Burton Cartel Re:Flex Past Reviews

The Burton Cartel Re:Flex is one of our personal favorite bindings and other than the stance width adjustability limitations due to the Re:Flex disc it's hard to criticize. It blends in well with a wide variety of boards and it shows that this has been fine-tuned for tons of years.

The 2018 and 2019 Burton Cartel are very similar and have a pretty good upgrade from the past models. The biggest thing we like is the increased butter-ability.

Ethics Statement: We don't get paid by the manufacturer to write these reviews.  No one is perfect and we do make money from the "Where To Buy" links below, but this is our best attempt at an honest and objective review from an average riders' perspective.

Days:  2
Riders: James, Jimbo, Peter
Boots: Adidas Tactical ADV
Insoles: Sandsole Custom Insoles,  Footprint Insole Technology Gameghangers Low Profile
Boards: Burton Kilroy Custom and Trick Pilot.
The 2018 Burton Cartel Re:Flex has a couple of nice improvements in the ankle and toe strap.  Also, the base plate has the same shape as the Genesis and Genesis X so it butters and flexes even better underfoot.  It's a touch less damp but it's still really close to the older model.

The 2017 Burton Cartel has the same design to the body but the straps are now similar to what you see on the higher end bindings like the Genesis and Genesis X. The ride is about the same but there are some minor advantages with the new slightly more supportive ankle strap that also lasts a little longer. The toe strap also seems to have better grip but it's a little tough to align on your boot. Overall it's a small improvement but a welcome improvement.

Regarding Re:Flex Disc and Stance Width Adjustability : So this is a common problem with all re:flex discs in Burton's line.  They make the binding flex underfoot really well but at the cost of stance width adjustability.  You have 3 holes to move the binding closer to the heel edge or toe edge but you can not turn the bindings sideways to slide it from the tip to tail.  Sometimes Burton has discs that slide from tip to tail you can order if you call into customer support but it's not guaranteed.  I'd love to see them include these discs as well or sell them as an accessory.  Still compared to many bindings out there the three holes don't allow you to slide as much as others but at least it's something compared to nothing.

The 2016 Burton Cartel is very similar to the 2015 except it has new straps that are the same as the Genesis and Diodes.  So the double straps trickled down so it doesn't really change the ride but just makes the straps a little easier to use.

The 2015 Burton Cartel has the same high back and base plate as it did in 2014 and 2013 but it's got a new ankle strap from the 2013 Cartel Limited that we loved and a strap band that bends out so it's easier to put your bindings on. It's also got a little more foam padding on the bottom of the base plate.

It's kind of daunting to figure out which model is right for you but hopefully we can help you sort it all out. This review is of the Burton Cartel Re:Flex which is the most common and most recommendable model year in and year out.  Sometimes they release a limited model that's more recommendable but for the most part this is the binding.

Days– 200+
Riders– Almost all of us
Boards– More than I can think of
Conditions– Every kind we as a crew have experienced
Boots– Salomon, Burton, Ride, Rome, Nike and so many other companies.

Size Medium Weight: 3.8lbs

Regarding Re:Flex Tech: Re:Flex Tech really changes the way the board rides for the better but it has 1 issue.  Most 4 hole Discs can be aligned tip to tail or heel to toe but the Re:Flex Disc can only be aligned heel to toe. This isn't a big deal because most align heel to toe but some like to turn their discs side ways to reduce or increase their stance width might be disappointed. If you do this make sure your board has the stance width you desire.

Adjustability: No binding except for other Burton models are as adjustable as these. Almost any way you want these bindings tweaked, it can be done. The high backs have a very easy forward lean tool that won't slow you down if you need to make a quick adjustment. The ankle strap offers three different positions that go from super tight to super freedom. The toe strap has two positions. The toe of the base plate also is quite adjustable. The best part of this set up is the way you can rotate the high backs to line up with the board; most bindings only have three positions, but Burton has a sliding adjuster that allows you to adjust to 21 to -21 degrees so you can really dial it in. There isn't much difference in terms adjustability when it comes to the Cartel bindings. The only binding that has a slight advantage is the EST models, as it offers more stance/angle options on the board, but binding to boot is the same.

Comfort: The straps are right up there with the best without sacrificing performance. The ankle strap has evolved over the years as you can see above. The sub 2013 models have a smaller ankle strap but the 2013 and 2014 Burton Cartel upped the size offering a very supportive but very comfortable grip.  It's tapered down a lot center ankle which makes it less likely to bite.  The heel loop fits most boots very well.  It feels supportive and rarely ever bites into the side.  Burton has worked well with their boots and seem to understand how many others work as well.  The foot bed is very soft and comfortable. The 2015 Ankle strap is just as comfortable as the 2014 but it's just thinner.  Actually it might be a shade more comfortable.

Heel-Toe Response: When you want to be somewhere these bindings won't make you work too hard to get there. It provides a smooth response that can be a little deceptive.  You think it's not that responsive but it continues to perform even with stiffer flexing boards. We all prefer the Cartels with boards around the mid flexing range but they work well with softer and stiffer boards as well. The high back provides a nice smooth balanced turn from heel to toe that many will appreciate.

Tip-Tail Response– Re:Flex tech combined with the supportive ankle strap really makes it easy to butter and press the board. The ankle straps large outer part provides good leverage and the Re:Flex allows the board to flex pretty naturally under foot. The 2014 is just a very tiny bit better than the 2013 because the toe ramp now has EVA foam on the bottom where the 2013 had a plastic on the bottom.  It's almost not enough to notice. The 2015 is the same as the 2014.

Boot Support: Very good support. There is just a little bit of give because  of the really soft shock absorbing foot bed but other than that you feel secure and supported.

Ratchet System: Burton has some of the best strap system out there.  It's incredibly smooth and holds well.  You can crank it down as hard as you want and it holds very well.  It works for a long time and rarely if ever get's sticky.  This is seems the same from 2015-2013.

Shock Absorption– The Cartels do very well at high speed and don't allow much of your board's chatter to pass through to your feet. They have added gel cushioning in the middle of the EVA foam in the heel, which makes for one of the best rides when it comes to shock absorption. Overall we are always impressed with the Cartel line. No binding is 100% perfect, but these are almost always pretty close.  Some companies get more of a locked in feel/more response with a harder foot bed but most of us here prefer the cushioning and damper ride instead.  I personally would rather have a smoother ride and preserve my knees/hips/ankles so my body won't fail as fast.

So in conclusion the Burton Cartel 2013 is for sure the way to go unless you can find the Cartel Limited Re:Flex. This is hard to find so if you can't be happy with the regular cartel.

Burton Diode vs Genesis vs Cartel from thegoodride.com on Vimeo.

Burton Cartel 2014-2013

There is one common element in all the 2013 and 2014 Burton Cartels and that is the new high back. It has a much more asymmetrical flex than the 2012 model's high back. It's stiffer on the inside and softer on the outside, giving you just as much response as the 2012 model without the unnecessary stiffness. There is also a hollow plastic Toe plate with eva foam on the top. Last year it had EVA foam on the bottom a little thin plastic middle and EVA foam on the top.  The best thing is the larger ankle strap that offers more support.  Most of us like this especially when it comes to edge to edge response.  If you like more freedom of movement you might enjoy the Cartel Restricted Re:Flex better.

For 2014 The Cartel only comes with 4 models and in 2013 it came in 6. There is the Burton Cartel, Cartel Restricted, Cartel Limited (sadly discontinued for 2014), Cartel EST, Cartel Restricted EST or Cartel Limited EST (discontinued).  This review below is for the most common model the good old Burton Cartel with Re:Flex Tech that works with any type of board.

Nothing really changed for the 2014 Burton Cartel Re:Flex which is uncharacteristic of Burton. The only thing different this year is the toe ramp is soft on the bottom as well as the top where the 2013 was a hard plastic on the bottom and soft EVA foam on the top.  Is there much of a difference?  Not really at all. Just a little tiny bit of a more easy tip to tail flex but it's very hard to notice.

2014 Binding Comparison
Burton Cartel 2012-2010
2012 Burton Cartel Re:Flex– Has a new base plate (as mentioned above) and new high back. It's a little more responsive than the older model. The 2012 Burton Cartel Restricted Re:Flex- The best choice to us because its underfoot flex is closest to the EST bindings, it can ride every board, and has a higher quality ankle strap that provides more support and leverage. Because of the ankle strap, we think it offers better overall performance than the Cartel EST bindings. We'd like to see the restricted and Re:Flex to be just one binding.
2011 Burton Cartel Re:Flex
There are a few changes for the better over the 2010 models, including a new high back that's similar to the now-discontinued, long-running, and well-liked Burton P1. The Cartel also now has a noticeably higher-quality toe strap over last year's iteration. There are five models, so we'll address each model individually.
Re:Flex– A completely different binding than before. Re:Flex has a new base that allows a better flex underfoot that's more similar to the Cartel EST – and it's compatible with all boards, which makes it our choice for 2011.
2010 Burton Cartel Disc
Burton's 2010 Cartel line includes two main models: The Cartel EST and the Cartel Disc Binding. The main difference between the two is that the EST has more natural flex under foot, but the Disc model fits all boards.
Flex– All Cartels share the same high back and with the exception of the Limited the same base plate.  The flex with the non-limited is very middle ground and the 2013 high back is our personal favorite.  The 2012 high back wasn't bad and if you want a stiffer flexing high back you can still find it on the 2013 Burton Mission.
Burton Cartel Re:Flex Images

We try to get as many images of the Burton Cartel Re:Flex, but forgive us if they're not all there.
2021
2019
2018
2017
2016
2015
2014
2013
2012
2011
2010
Burton Cartel Re:Flex User Reviews
---
---
Burton Cartel Re:Flex 2010-2023 Snowboard Binding Review
SKU
UPC
Model
Improved Cartel
Feb 15, 2021
by
Ryan
Ability Level: Expert •
Riding Style: Pow, trees, steeps, groomers •
Days You Ride A Year: 15 •
Height, Weight And Boot Size (for Boards, Boots & Bindings): 6'2, 180, 12
Toe strap is lightyears better then the one from a couple years ago. Extremely comfortable and perfect for powder and chopped up snow. Personally I think Re-Flex is too soft for high speed groomers in that the response isn't as quick as a solid baseplate. If you ride groomers slower or don't need instantaneous response the binding is excellent for everything else

---
Go to binding choice
Jan 27, 2020
by
Dave
Ability Level: Professional •
Riding Style: Pro •
Days You Ride A Year: Everyday
The Cartels have by my go to binding choice for the past decade. Time and time again with each generation they are consistently reliable & comfortable.

Don't get me wrong there are other amazing bindings out there, but if I had to choose one and only one set, these will be it.

---
Great Bindings
Jan 12, 2020
by
Rob
Ability Level: Advanced •
Riding Style: All Mountain •
Days You Ride A Year: 50 •
Height, Weight And Boot Size (for Boards, Boots & Bindings): 5'8" 200lbs. Size 10 Ride Lasso Boots, size medium bindings, Burton Process Off Axis 159, Rossignol One LF 159, Rossignol Angus 162
My Cartel Bindings are a perfect match for my All Mountain Riding. The old days of the Bindings hurting my feet half way through the day are gone. Once you tighten up the toe and ankle straps you are good to go! I also like the breakaway ankle strap. It makes getting on your binding so much easier. I was a little worried about this being a weak point, but after 3 years of riding on them my worries we're unfounded. I actually own two pairs, one style with the EST and the other the Reflex.

---
I like the cartels
Feb 27, 2019
by
Christopher
Ability Level: Intermediate-advance •
Riding Style: Regular freeride •
Days You Ride A Year: Try for at least 20 •
Height, Weight And Boot Size (for Boards, Boots & Bindings): 6'2 185 10.5 wide
Thanks James for the recommendation of the cartels. I have them mounted on a rossi one mag 159. Let me start off saying I've had 5 left foot surgeries toes pinned out. I would get about 5 hour days out of my old board and bindings. I would break periodically and take boots and socks off and soak it in snow to ease the nerve pain. Well I have limited at least 60-70% of my foot pain. Part due to new board"thanks James" and a bigger part due to cartels. These are no slouch. Great board control and edge to edge. All I will say they work for me and I finally got what I was looking for. Great comfortable gear that still has good performance and a lot less foot pain. Btw last time I was out 6 hours and 1 hour break and didn't soak my foot in snow

---
DO NOT BUY - DESTROYS BOOTS
Jan 04, 2019
by
Andrew
Ability Level: Expert •
Riding Style: Freeride •
Days You Ride A Year: 35 •
Height, Weight And Boot Size (for Boards, Boots & Bindings): 5'10'' / 145 lbs/ 10
After one day of riding these bindings damaged my K2 Maysis boots. The heelcup of the highback has a jagged and sharp plastic design which scraped the exterior fabric of my boots.

I spoke with Burton over the phone, and they won't offer any compensation for the damage their product inflicted. They refuse to take any responsibility for their poorly designed product, at the expense of a $300 pair of boots.

After 20 years of purchasing Burton products, I unfortunately have to state that Burton doesn't value their customers or stand behind their products. I'll never buy Burton again, and recommend that everyone does the same.

---
just amazing
Nov 28, 2018
by
Pete
Ability Level: Experienced •
Riding Style: All mountain •
Days You Ride A Year: 15
when i bought the cartel 10y ago my riding skills just doubled coz i suddenly had so much control and im finally gonna get a new one for my burton custom x and put the old one on my new powder board flight attendant, which does the job still 100% after 10y. thats insane!

---
Good, solid binding; AutoCant blows
Dec 29, 2017
by
Bryan
Ability Level: Intermediate •
Riding Style: All-Mountain •
Days You Ride A Year: 25 •
Height, Weight And Boot Size (for Boards, Boots & Bindings): 5'11, 190, 12
I'm an intermediate 'boarder; 5'11, 190lbs, size 12 boot. I purchased these bindings to replace my Rome 390 Boss bindings (L) as they large Rome bindings did not fit my boots well (too small for the size 12 boot). I rode well in the Cartel bindings and the bindings fit my boots well; however long sessions resulted in joint discomfort.

Pros: the straps on the Cartel are awesome and felt very comfortable

There are two areas that I would recommend to improve the Cartel bindings. 1) the binding should include an actual canted binding, I believe Burton's AutoCant is a gimmick and did not compare favorably to the canted footbed in the 390 Boss. 2) Installation (and adjustment) of the Cartels was hampered by having to fold the footbed out of the way to change angles or positioning on the board; the plastic clips holding the footbed down were painfully sharp, especially with cold fingers. I believe having a totally removable footbed would be easier and more user friendly (although some might feel differently).

I've decided to replace the Cartels with Union Atlas bindings.

---
Favorite Binding
Feb 07, 2017
by
Andrew
Ability Level: Intermediate •
Riding Style: All Mountain •
Days You Ride A Year: 20-30 •
Height, Weight And Boot Size (for Boards, Boots & Bindings): 5'8", 185lbs, 9.5
I would simply like to amplify everything that Biesty and TheGoodRide crew have already observed about these awesome bindings. Their reviews match my experience with them nearly exactly. I started riding Cartels this year and have them on several of my boards (Libtech Skate Banana / Lando Pheonix / Hot Knife; Neversummer Funslinger / Type Two; Rossi OneMag). I also own Flux SF (2014-15 & 2015-16) and Burton Genesis (2014-15) bindings. Flux SF is another class of bindings in terms of stiffness and responsiveness, while the Genesis is a very comparable binding. The only board that the Flux Bindings pair better with is the Hot Knife (but the ride on the Cartels is still really great). Otherwise, the Cartel's are my hand's down favorite bindings I have ever strapped into to. I should mention that I have both this year's and last year's models. The toe straps are completely locked in (both year models for me) (I actually have a problem with my old Genesis that the trailing foot toe strap often comes loose - never experienced this with any of my Cartels). The one additional feature that, in my opinion, is far superior on the Cartels over the Genesis bindings is the High Back Adjustment. I've had the Genesis both jam into place and the opposite - come loose on them. I also find them a little imprecise and difficult to get lined up sometimes. The Cartel adjustment, on the other hand, is both precise and extremely easy to make changes with gloves on...it literally "dials in" to your exact preference...and feels very sturdy too. Bottomline - my favorite bindings - smooooth.

---
Awesome Bindings
Jan 18, 2017
by
Davide
Ability Level: Intermediate •
Riding Style: Freeride •
Days You Ride A Year: 20+
Absolute awesome bindings for do-it-all. I've used the 2016-2017 cartel for freeriding and some jumps and i've absolutely loved them. I can't find any problem with them. What i really love about the cartel is that it doesn't matter how much you tight them, you still have the feeling that there's nothing attached to your boots. Comfort, stability and responsiveness. Great great great bindings.

---
Burton Catel
Jan 12, 2016
by
Mark Tiemeier
Ability Level: Advanced •
Riding Style: Freestyle/All MTN •
Days You Ride A Year: 50+ •
Height, Weight And Boot Size (for Boards, Boots & Bindings): 5'9", 160, 10/10.5 Nike Vapen, Burton Fiend
These were great paired with my Niche Aether until I broke the highback on a 40 foot kicker in the park. I called Burton and they're sending me a replacement. My Malavita's of the same year are making noise in the same spot after 50 days. Hmmmm, Burton, after make some shit that holds up. I might be switching to Union after this.

---
If you can't buy through the links above, you can support the site with: