Stone Stony Skins 2021 Review
Stone Stony Skins 2021 Review by The Good Ride
These Stony Skins come custom fit to any Stone Splitboard of your choosing. They fit the splitboard like a glove and are simple to attach and remove from Stone Splitboards. I tested them with the Stone Topo Splitboard.
Ethics Statement: We don't get paid by the manufacturer to write these reviews.  No one is perfect and we do make money from the "Where To Buy" links below, but this is our best attempt at an honest and objective review from an average rider's perspective. 

How This Review Happened:  We borrowed this for an extended demo.
Days: 2

Conditions: Warm spring like conditions, somewhat wet snow.
Riders: Steph
These skins were paired with the Stone Topo Splitboard.
The Stony Skins came pre-cut to the Topo Splitboard. They fit extremely well. It makes the initial purchasing process that much easier because you don't have to trim the skins after you get them.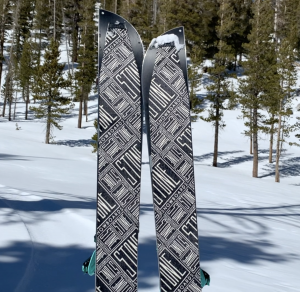 The Skins come with a pin to attach to the nose of Stone Splitboards, and a hook to attach to the tail of the Splitboards. This makes stretching the skins over the skis simple and easy. The tail clip adjustment took a bit of effort to adjust to the correct length. But you only have to do this once so it wasn't a big deal.
Stone uses something called "smart glue technology" on their skins. This helps the glue to release from the base of the splitboard, but still maintains a good connection to the base of the board while skinning. This was my favorite part of using the skins. I have owned skins that take all my effort to peel off the base of the splitboard. And if you need to do this multiple times in a hike it gets quite tiring. The Stony Skins have a nice balance of adhesion to the base, but they also don't take much effort to peel off.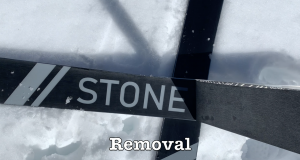 These Stony Skins come with a "fiber seal construction" that eliminates the cotton-polyester layer so that the skins are more water resistant for longer.
I hiked with these skins on a warm day, in a mix of melty hot pow, and crusty snow. They held up great, had nice glide, and were not saturated with water at all when I removed them.
They also are available in a "Worldfit" so you can custom cut them to your own splitboard. The Worldfit Skins come with a normal nose and tail clip.
Stone Stony Skins User Reviews
Where To Buy
80% of outdoor sports products are not listed or sold online.
Our team has relationships with hundreds of local snowboarding and outdoor sports shops.
We'll call the shops and email you a list of stores along with pricing and availability.
---
Not sure what to buy?
Get custom advice from Good Ride editors James and Steph.

Get Advice
If you can't buy through the links above, you can support the site with: