Spy Marauder Elite Goggle Review
Spy Marauder Elite 2024 - 2023 Review by The Good Ride
Spy Marauder Elite Goggle Video and Written Review
Welcome to the Spy Marauder Elited Goggle Review from a guy with a lot of goggle experience.
Positives/Swipe Right: Clear Lenses. Good Foam. Good Medium Face Fit.
Negatives/Swipe Left: Fogs a little bit for steamy heads. The low light lens didn't do as well in low light as some.
Summary
The Spy Marauder Elite Goggle doesn't come with a super low light lens in the kit but it has a good fit for a medium face and pretty clear lenses to look through.
Ethics Statement: We don't get paid by the manufacturer to write these reviews and this is our unfiltered opinion. We do make money from the "Where To Buy" links, but this is our best attempt at an honest and objective review from an average riders' perspective.
A Breakdown Of How It Works On The Hill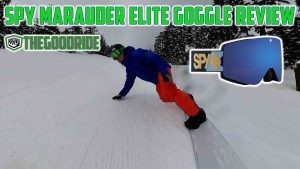 How This Review Happened:
Borrowed this for an extended demo and they didn't want it back. I think it's because I sweated all over it.
Days: 10+
Conditions: Sunny, Flat Lit and Really Stormy Low Light
Compared Against: Smith 4D Mag
Gloves: Burton AK Clutch Mitt, Burton AK Tech Leather Glove, Drop Tahoma Mitt,
For weight I would stay close to the Brands recommended weight ranges. If it comes down to boot size or weight, I would make sure it fits your boot first and then your weight a close second.
Fit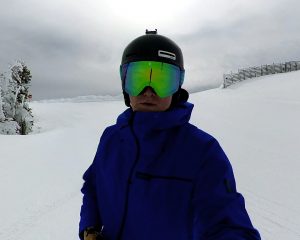 I have a medium somewhat oval medium size face that usually does well with medium size goggles and this fits me really well.
Foam
The triple foam of the Spy Marauder Elite is pretty comfortable and it should last a long time.
Field Of View
So this isn't a super wide field of view in comparison to some lenses but it's pretty good for this size goggle. I would personally like it to be the same height but have a wider field of view like some goggles do. However, it's pretty good looking down.
Straps
There is a little silicone and it's just a normal strap. It works.
Lens Tech
The lenses have good clarity and do a great job picking up the terrain in front of you. When switching back to my Smith 4D Mag's, other than the different tints, I didn't feel like there was much of a difference clarity wise.
Quick Release Tech
The Spy Marauder Elite's quick release is very well designed. It does a very good job at keeping the lens connected to the frame and doesn't allow any snow to get through. With some goggles the seal can break and sometimes let in snow inside the lenses which is often the kiss of death for that days riding.
Anti-Fogging
So the antifogging isn't bad but my steamy head could still fog it up. I haven't met a goggle, other than Smith high end goggles, that I couldn't fog up. On a pretty wet day where I usually fog up most average goggles the Spy Marauder Elite didn't give up easy.
If this review helped, we'd appreciate if you:
Spy Marauder Elite Images
Spy Marauder Elite User Reviews
Where To Buy
80% of outdoor sports products are not listed or sold online.
Our team has relationships with hundreds of local snowboarding and outdoor sports shops.
We'll call the shops and email you a list of stores along with pricing and availability.
---
Not sure what to buy?
Get custom advice from Good Ride editors James and Steph.

Get Advice
If you can't buy through the links above, you can support the site with: