Sea To Summit Reactor Extreme Liner Review
Sea To Summit Reactor Extreme Liner 2023 - 2022 Review by The Good Ride
This is a look at the Sea To Summit Reactor Extreme Liner. This is the warmest liner that Sea To Summit offers, and would be a good option for winter sleep systems, upgrading the warmth of a warmer weather bag, or simply a light layer to sleep in.
Ethics Statement: We don't get paid by the manufacturer to write these reviews.  No one is perfect and we do make money from the "Where To Buy" links below, but this is our best attempt at an honest and objective review from an average camper's perspective.
Sea To Summit Reactor Extreme Liner Review Time Codes
00:00 – Intro 00:21 – Weight 00:28 – Sleeping Bags Tested With 00:49 – Sizing 01:05 – Fabric 02:26 – Sleeping Experience 04:10 – Packability 04:45 – Overall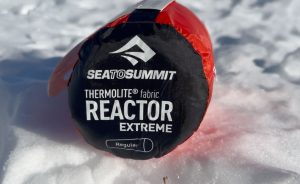 Testers: Steph
Sleeping Conditions: I tested in low 20F nights. The mornings were quite humid, with a freezing fog that came in around 3am.
Steph's Specs
Height – 5'3″
Weight – 108lbs
Shoulder Width – 16"
Hip Width – 17.5″
Size: Unisex Regular
Can Add Up To 25F Degrees To Existing Sleep System.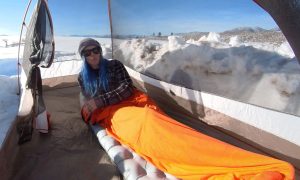 Liner Dimensions 
Regular
Length 82″
Shoulder Width 35″
Foot Width 24″
Long
Length 92.5″
Shoulder Width 35″
Foot Width 24″
Weight 14oz
Tested With
Sea To Summit Spark SpIII Sleeping Bag
Sea To Summit Flame FmIV Sleeping Bag
Fabric
This liner comes with a stretchy Thermolite fabric. It has a lot of stretch and movement to it.
It reminds me of stretchy jersey knit sheets that's I've had before.
The Reactor Extreme Liner has a soft feel to it and is pretty lightweight for the amount of warmth it adds.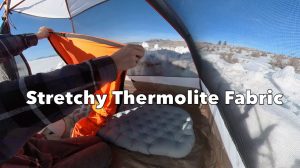 Comfort
The think I liked most about using the Reactor Extreme Liner with my sleeping bag, was it felt more like sleeping in a bed. It also filled all the pockets of air that might exist inside the sleeping bag, helping to keep me warm when it was cold. I used it with the Spark SPIII bag, which is a unisex bag. So it was a bit big for me. When I slept with just that sleeping bag in cold weather it got a bit drafty sometimes in the cold. And this liner helped to fill those gaps and keep the cold air from coming in.
When it is cold out, I also tend to tuck my head inside the sleeping bag. (I can't sleep with the cold air on my face) This isn't good because it causes condensation inside the bag. So with this liner, I was able to just pull it up over my face instead of tucking inside the bag.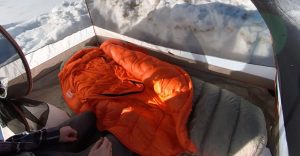 Because is a fabric and not a slippery material like a sleeping bag, it is a little challenging to get into the actual liner. Especially if your night time layers are fabric also. But once I got situated inside the liner, inside the bag it was ver comfortable and stayed put most of the night.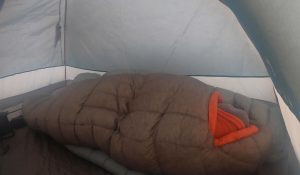 Packability
The Reactor Extreme liner comes with its own stuff sack. And is fairly easy to get back into the stuff sack. I didn't try to roll it up all nice, I just packed it away and it took minimal effort. It isn't the most compact liner, since it is the warmest liner Sea To Summit offers. But if you run cold at night, it could be worth the extra space in the pack.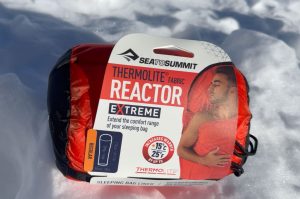 Overall
The Sea To Summit Reactor Extreme Liner would be a good addition for cold camping nights, or using solo as a light nighttime layer when you don't need too much insulation. I use liners like this when I go traveling in the summer time as a "just in case" sleeping bag. It also would be nice to use if you have an older bag that has lost a bit of warmth and need to upgrade the temp rating without buying a new bag. It is a very roomy liner, would be nice if a slightly smaller version was available, as I had way more room than I needed, and could potentially cut down on packing size and weight if there was a slightly smaller sizing option.
Sea To Summit Reactor Extreme Liner Images
Sea To Summit Reactor Extreme Liner User Reviews
Where To Buy
No obligation, but these links & ads support the site.
If you can't buy through the links above, you can support the site with: