Sea To Summit Spark SpIII Ultralight Bag Review
Sea To Summit Spark SpIII Ultralight Bag 2023 - 2022 Review by The Good Ride
This is a look at the Sea To Summit Spark SpIII Ultralight Down Sleeping Bag. This is a men's/unisex size bag. This bag comes in a variety of different temp ratings, it comes with a compression sack and a nice storage bag. I tested the 28F bag in the size regular.
Ethics Statement: We don't get paid by the manufacturer to write these reviews.  No one is perfect and we do make money from the "Where To Buy" links below, but this is our best attempt at an honest and objective review from an average camper's perspective.
Sea To Summit Spark SpIII Sleeping Bag Review Time Codes
00:00 – Intro 00:24 – Insulation 00:59 – Sleeping Conditions 01:36 – Comfort 01:55 – Bag Features 02:56 – Loops For Quilt Attachment 03:03 – Sizing 03:40 – Weight 03:46 – Packability 04:34 – Compression Sack 05:09 – Storage Bag 06:38 – Sleeping Experience 07:22 – Overall 07:40 – Spark And Flame Bags Zip Together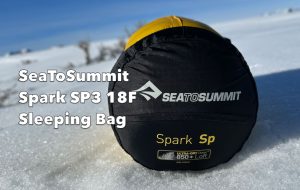 Testers: Steph
Sleeping Conditions: I tested in low 20F nights. The mornings were quite humid, with a freezing fog that came in around 3am. I also tested it while van camping.
Steph's Specs
Height – 5'3″
Weight – 108lbs
Shoulder Width – 16"
Hip Width – 17.5″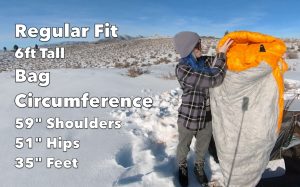 Size: Unisex Regular
Bag Dimensions 
Height 6′
Circumferences
Shoulders 59″
Hips 51″
Feet 35″
Temp Ratings Available
40F, 28F, 18F, 5F, Liner
Prices Range From $289 to $609
Fabric
Outer Shell – 10D UL Nylon with a DWR coating
Inner Liner – 7D Nylon
Insulation
"ULTRA-DRY Down 850+ Loft 90% Down Cluster Premium Goose Down certified Responsible Down Standard (RDS)"
The bag has a very impressive amount of loft to it. It puffs up quickly after coming out of the compression bag. The loft helps adds to the overall comfort and warmth of the bag.

Features
The Spark SpIII comes with nice hood that fits well around the head. It has a draw string to close the hood around your head. It also comes with 4 loops along the sides of the bag (2 on each side) to attach a quilt to for added heat if needed. The zipper is reversible so you can vent the feet if needed. The Spark SpIII bag comes with nice features, but nothing that isn't needed. Keeps it simple and to the point.
Zip Compatibility with other Sea To Summit Bags
The Flame FmIV is compatible to zip to another Flame bag or Spark bag to create a double sleeping bag. This is great, I love the ability to combine two different temp ratings as well. So you don't need an extra bag when you camp with someone else. You can have the bags separate or together.
Comfort and Fit
The fit of the Spark SpIII was noticeably larger in the shoulders than the Flame FmIV I tested. So based on my specs, the women's fit works better for me. When compared to the women's specific bags, the Spark SpIII has wider shoulders and narrower hips than the women's bags. The women's bags have a slightly different insulation mapping as well. But the quality between the two seemed the same. The mummy shape of the bag is slightly contoured. It is snug enough to save weight and also keep the warmth in, but roomy enough for some freedom of movement.

Warmth
I tested this bag with the Sea To Summit Ether Light XT Insulated Sleeping Pad. 
I also tested it with the Reactor Extreme Liner from Sea To Summit. This helped add warmth to the bag, and helped stop any draft I got from the bag being a little bigger.
I normally run very cold during the night and just have learned to deal with it while camping. So I always sleep in a down jacket, and put a hot water bottle at my feet for added warmth. I did neither of these when testing these sleep systems. And I was quite nervous to sleep without my backup warmth but committed to sleeping in normal layers to see if everything kept me warm. It was amazing to actually be comfortable most of the night. The only time I got cool feet, was at 3am when the fog rolled in and temps dropped for a couple hours. But I still stayed warm enough to continue sleeping.
I feel the temp rating of this bag was accurate to 28F. And the added heat from the Reactor Extreme Liner helped bring the sleep system warmth up to meet the 20F to 18F temps I was sleeping in. Mix in the insulated sleeping pad with an R 3.5 rating and it was a pretty cozy night.
Packability
The bag comes with a compression sack and also a nice storage bag that helps keep the insulation lofted when it is being stored. It takes medium effort to pack the Spark SpIII back into the compression sack, but it's doable. And packs down nicely for how lofty the bag is.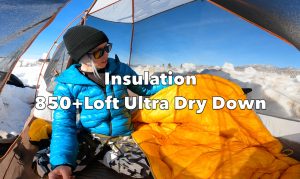 Overall
The Sea To Summit SpIII sleeping bag is a nice option if you are looking for a lightweight down bag. Would be good for backpacking, camping, or any type of outdoor sleeping. It comes in a variety of different temp levels as well. Depending on your specs, you could go with the mens/unisex sizing or the women's Flame FmIV bag. But overall I feel it is a very comfortable bag and gets the job done well.
Sea To Summit Spark SpIII Ultralight Bag Images
Sea To Summit Spark SpIII Ultralight Bag User Reviews
Where To Buy
No obligation, but these links & ads support the site.
If you can't buy through the links above, you can support the site with: