OCLU Action Camera 2020 Review
OCLU Action Camera 2020 Review by The Good Ride
This Action Camera from OCLU comes with a compact and sleek design as well as a lot of cool features to help you get the perfect shot! It can film in 4k, slow motion, time-lapse, and many other modes. As well as LiveCut®, which is unique to OCLU cameras only.
It is simple to operate, and has a top facing screen so you can see what is in the frame when recording, and a front facing info screen as well.
I tested the OCLU Action Camera out with the Snow Bundle. You can check out that full review here
The Snow Bundle includes the OCView (selfie stick), OCYou (chest mount), and 3 OCBonds (adhesive mounts).
Ethics Statement: We don't get paid by the manufacturer to write these reviews.  We do make money from the "Where To Buy" links, but this is our best attempt at an honest and objective review from an average rider's perspective.
How This Review Happened: We were sent this camera for an extended demo.
Testers: Steph
Dimensions: 62.5mm x 61.5mm x 28mm
Weight: 101g (with battery & metal door)
Out Of The Box
I'm not one for reading directions when I get a new gadget. I usually try to figure out how to work something first. And then go to the instructions if I run into problems. The OCLU Action Camera was fairly easy to figure out right out of the box. It really doesn't come with many detailed instructions either, but thankfully the camera is fairly simple to work out.
After the first use, I realized there were a lot of customization options that I didn't realize where originally there. Like being able to use a spot meter, set the iso, change the mics, and many others.
I like the simplicity of having only 3 buttons to run it. I also found them easy to use while wearing mittens up on the slopes.
The OCLU Action Camera comes with a molded travel case, a microfiber bag, a battery, OcSnap charging cable, and an OcLink (tripod attachment).
OCLU Action Camera Features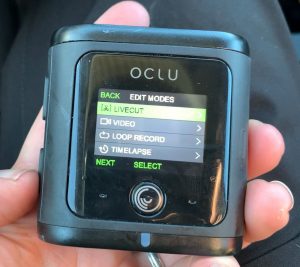 4 K 16:9 Video: When filming in 4k, you have the most limit to customize your video. 4K allows you to shoot in 30 frames per second and use the LiveCut® feature. To use any other feature while filming video, you have to step down the resolution to 2.7k or below.
2.7K 16:9 Video: Here you can film also in 30fps, as well as change the lens width to superview. I ended up shooting in this a lot. I couldn't get my full head to toe in the shot while snowboarding with the normal wide angle field of view. Image quality was still very good with the 2.7k.
2.5K 16:9 and 1440P 4:3 Video: If you go down to these filming resolutions, you can film in 60 FPS, or 30 FPS. I didn't use either of these really, as I needed the superview or the slow motion most of the time. But would be beneficial if you still want good quality video, but want to save a little space on the memory card.
FHD 1080P 16:9 Video: Here you are able to choose between filming at 120, 60, or 30 FPS in the normal wide angle field of view, or you can choose 60, 30 FPS with the superview. Both the 120 FPS and 60 FPS are slow motion.
960P 4:3 Video: You have the option to film in either 120 FPS, 60 FPS, or 30 FPS. Both the 120 FPS and 60 FPS are slow motion.
720P Video : With this resolution option you can film in 240, 120, 60, or 30 FPS. As well as choose a wide angle field of view, or a superview field of view.
Lens Correction: This is available from 2.7K resolution and down. You can lens correct with the normal wide angle or with superview.
Slow Motion: You get two choices of speed with the slow motion feature. You can choose 60 FPS which gives you 2x slow motion from the normal shooting mode, or 120 FPS which is 4x slow motion.  The 2x slow motion is available at 2.5K 16:9 resolution and down. And the 4x slow motion filming is available at 1080p 16:9 resolution and down. I still found the quality of the image at 1080p to be quite nice when slowed down to 4x the speed.
I wasn't able to get the slow motion videos to directly transfer from the camera to my computer. They came across as normal speed videos. But the quality was there so I could slow it down with my editing software and it still looked clear.
You can also adjust the slow motion part in the video using the OCLU app on your phone. You can toggle the slow motion part to where you want it, and then export it from the app directly to your phone.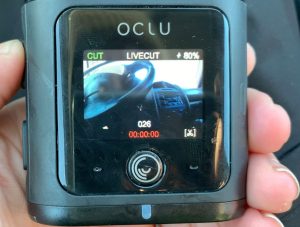 LiveCut®: This feature is unique to only OCLU Action Cameras. And it is available at any video resolution level. You hit record, and try a trick or whatever, and if you didn't land the trick or made a mistake you just push the top toggle button and the recording starts over. This saves memory card space, and keeps you from having to sort through unwanted video in the editing process.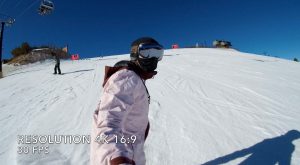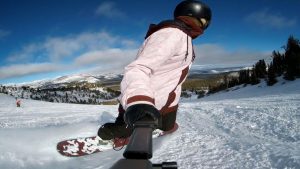 Normal Wide Angle Point Of View                                 Superview Point Of View
Superview: I shot mostly in Superview when I was snowboarding, because with the OCView selfie stick, I wasn't able to get my whole body (head to snowboard) in the frame in the normal wide angle field of view. The Superview option is available only at the 2.7k, FHD 1080P, and 720p resolution options. I found it the most useful for selfie snowboarding shots. I switched back to the normal wide angle field of view when filming someone else.
Electronic Image Stabilization: In the video above I have put a split screen of almost the exact same shots, one with image stabilization and one without. It absolutely made a difference in the smoothness of the video, especially when filming while moving. Again, because this feature isn't available in the 4k resolution, I tended to film in a lower resolution so I could utilize the image stabilization. So when filming someone else, if I wanted the video to come out smooth, I switched to 1080p resolution because that's the only video that the stabilization is available in. However, it is not available in the 1080p superview filming option, only the normal wide angle field of view.
Photos: The OCLU Action Camera comes with a 12mp camera for photos. I found the image quality of the photos to be nice and sharp. Although if you get too close to a subject the focus is always a little further away. So not ideal for close up or macro shots, but great for a selfie shot, scenic shots, or shots that are at least a couple feet away from the lens,
You can adjust the shutter speed to capture faster action up to 1/1000 of a second and down to a full 60 second exposure.
The Photo mode also comes with self timer options, lens correction, spot metering, Iso 100 up to 1600, exposure options, and white balancing. You can also choose between 12MP, 8MP, and 5MP images. As well as burst options ranging from 10 photos/second, 5 photos/second, or 3 photos/second.
There is also a multi-photo option where you can shoot images at different time intervals for a set amount of time. This way you can just set the camera and leave and it will do all the work for you.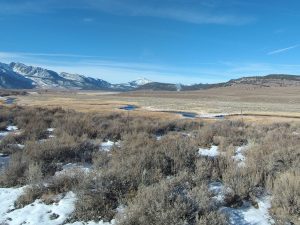 A cropped in image from the OCLU camera. The photo stayed sharp even when I zoomed in on it.
Timelapse: This filming choice comes with resolution choices from 4k 16:9 down to 720 HD. You can set the time interval here as well, and the duration, lens correction, and have the option to customize the exposure, iso, spot metering and white balance as well. Then you just press record, and the OCLU Action Camera does the rest.
Audio: There are 3 different mic options on the camera. You can choose from stereo, to front, to top mics depending on where your sound is coming from, or if you want better sound from wind.
Water Resistant: The OCLU Action Camera is water resistant without a case up to 1M, and up to 30 minutes. So you can take it out in the rain, on a rafting trip, or in a crazy snow storm, and it will stay protected for you. They also offer a fully waterproof case if you are planning on doing water sports or diving with the camera.
OCLU App: The app has a lot of customizable options similar to what's on the camera. But a little more simplistic. You can start and stop recordings, change the 4 modes up, and do some light editing as well. There are also a lot of other features. And it also makes viewing your videos much more simple than trying to view it directly on the camera itself.
Magnetic Charger: I really like the magnetic OcSnap charging cable. I like that I don't have to take the memory card out to download the videos. I also like that I can charge the battery without opening the camera up. This makes charging while recording video much more simple. As well as connecting and charging on the go way more easy. I did knock off the cable a few times while it was connected to my computer. So you just need to be aware of where the camera is, so you don't accidentally disconnect it while downloading files or something.
Overall: The OCLU Action Camera is fairly simple to operate. And has a lot of great features and options for recording video, and capturing images. It has a nice image quality in both photo and video modes. You can fully customize your exposure, iso, and white balance if needed as well. It is a good action camera option that is filled with a lot of awesome features. It would be nice if some of the choices like slow motion and superview were available in more resolutions I think. But overall it seems like a great quality camera at a nice price for the amount of technology you are getting.
OCLU Action Camera Images
OCLU Action Camera User Reviews
Where To Buy
No obligation, but these links & ads support the site.
If you can't buy through the links above, you can support the site with: