The Good Ride's Favorite Powder Boards
These are 4 of my Favorite Powder boards I've tried over the last several years. All of these boards are not changing for 2024 and haven't changed much or at all the last few years. There are many reviews of all kinds of great boards in powder on The Good Ride but if you want a cheat sheet to some of my personal favorite pure pow boards these are it.
What Is A Powder Snowboard To The Good Ride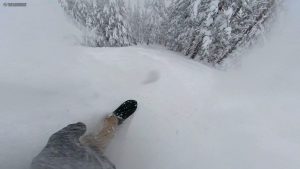 These are boards that do better in powder than anywhere else. Sure, some can ride on groomers but they really shine in powder. If you want a board that can turn really well to check out our Alternative Freeride Favorites.
Who Am I and Why Should You Trust Me.
I'm James Biesty, the Editor and founder of The Good Ride. I've ridden almost 600 different snowboards and a lot more if you count the variious versions of the same model I've ridden over the years. I'm far from a ripper but I have a pretty solid memory for snowboard gear. I spent the last 17 years of my life (13 full time) reviewing and helping people find the right snowboard for them. I am constantly comparing boards with the same boots, same bindings and taking them out on the same runs. That's the only real way to know how boards truly compare.
Capita Spring Break Powder Twin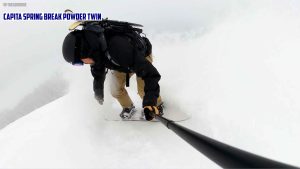 Full Review: https://thegoodride.com/snowboard-reviews/capita-spring-break-powder-twin-2021-2023-review/
The Capita Spring Break Powder Twin is my favorite boarder board if you want to ride centered and switch a lot.  Even in thigh high powder this Spring Break Powder Twin had no problem and it helped me ride switch in powder. The YES 2020 came pretty close but this was the one I wanted in my quiver. The 2021 Spring Break Powder Twin I own has barely changed over the years so this review still stands.
Burton 3D Fish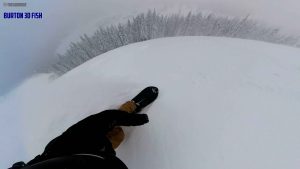 The Burton 3D fish is an evolved version of a long time classic pow board. This is my favorite powder board for riding in the trees and making quick slashy turns. It is also fun with those borderline pow days where you might bottom out some times or have to get through a lot of tracked up messy pow to get to a few good turns. The 3D nose really has an easy turn to it, and a good bit of rocker after the flat between the feet. You have allot of taper in the tail and some 3d tech there that seems to help as well. The 2023 seems to have a better base and I think they fixed the chalky base issue I experienced with the 2021 model.
Soul Blower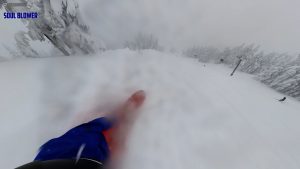 The Soul Blower is favorite powder board but it's almost not a pure pow board just because it has a pretty unique turn on groomers. It still shines more in pow than groomers. You buy this board if you want to emulate surfing in pow. It has a massive set back almost to the swallow tail, camber in the tail, rocker after the front inserts going to a very pronounced spoon nose.
Capita Spring Break Powder Glider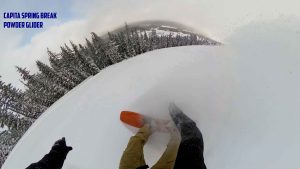 Capita makes a lot of other Spring Break shapes and models. All could be favorites but for 2024 the SB Powder Displacement Snowcraft is changing up their line. For 2024 it will just be the Powder Glider in a 154,158 and 162. It will be like what the Powder Racers and Powder Twin did. I am hoping to get my hands on the new 162 Powder Glider. It seems like my perfect board for the deep deep.
All Spring Break Pow boards sit on top of the snow unlike any board I have tried. It's like there is helium inside. The base glide has come a long way and the 2022 plus models have a very fast base. So has the flex and this thick board can bend a lot without breaking where this used to be a problem.
The Base is almost up there with the fastest out there. The setback on board is not quite that set back but it doesn't seem to matter. Unlike the Burton Fish and Soul Blower, the Capita Spring Break Powder Glider isn't ideal on those days where you might bottom out or see a lot of uneven snow. You get this for those special super deep days.
Conclusion
So all of these pow boards have something special going on. Go SB Pow Twin if you ride switch a lot, Burton Fish if you want a super fast turner, Soul Blower if you want to surf powder, and the Spring Break Powder Glider if you want something that uniquely sits on top of the snow on super deep days.