Weston Hatchet 2021-2023 Snowboard Review
| | |
| --- | --- |
| Riding Style | Alternative Freeride |
| Riding Level | Advanced - Expert |
| Fits Boot size (US) | 10-12, > 12 |
| Manufactured in | China |
| Shape | Tapered Directional |
| Camber Profile | Hybrid Camber |
| Stance | Centered |
| Approx. Weight | Feels Normal |
| Split | |
| | |
| --- | --- |
| On Snow Feel | |
| Turn Initiation | |
| Skidded Turns | |
Where To Buy
No obligation, but these links & ads support the site.
Weston Hatchet 2023 - 2021 Review by The Good Ride
Update 2023: The Weston Hatchet hasn't changed over the years so this 2021 review is still relevant today. 
Turn Ons/Swipe Right: Fast. Really Wide. Powerful Carver. Great for bigger guys looking for a short wide powder to mountain freestyle ride.
Turn Offs/Swipe Left: Too much board for average sized boots and normal weights. Only one size (152)
Summary
The Weston Hatchet is a short, mean wide ride for bigger guys that want a tapered mountain freestyle ride or normal guys that want a short super speeder.
Ethics Statement: We don't get paid by the manufacturer to write these reviews and this is our unfiltered opinion. We do make money from the "Where To Buy" links, but this is our best attempt at an honest and objective review from an average riders' perspective.
Weston Hatchet 2021-2023 Snowboard Review- How it rides and who it is for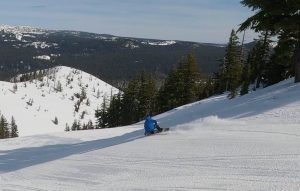 How This Review Happened: We borrowed this for an extended demo and sent it back.
Size: 152
Days: 5
Conditions: Hard to near perfect groomers and then some wet thick powder with Drift Boards.
Riders: James (Size 9, 5'10" 185-190lbs), Peter (Size 8, 5'11" 185lbs), Clint (Size 10, 6′, 170lbs
Boots: Adidas Tactical ADV,
Bindings: Union Atlas
Similar Boards (but not the same):
Lib Tech Lost Quiver Killer, Yes Hybrid, Yes 420 Pro, Ride Warpig, Ride Superpig
Set-Up: 21.5" Wide. 15 front -15 back. Close to Reference and Set all the way back.
Approximate Weight:
The Weston Hatchet feels really heavy for a 152 but that is only because of all that surface area. It is normal though for how much surface area there is .
(We don't put in the exact weight because with wood cores there is no consistency in a boards weight)
Sizing
Here are some ideal US boot sizes for these boards. You can of course go bigger or smaller but these work best for not turning the board slower than it should be and not having the dreaded Toe & Heel Drag.
152: 10-13
The Weston Hatchet also likes a heavier build and we felt like we barely had enough weight to handle this on groomers. In powder it was a little easier but I still felt a bit light for it.
Shape/Camber/On Snow Feel/Ability Level

The Weston Hatchet has a shape of a true twin except for one major thing. The tail has a little taper. You don't feel it that much on groomers though and it acts pretty similar to a double ender. It has a decent amount of camber underfoot transitioning into a mellow early rise that is about the same in the tip/tail. All that width underfoot makes it hard for guys like Peter and I to skid turns and it feels more locked in than you would think for the camber profile. It has that same big wide feel in anything from hard snow to powder.
Flex/Pop/Buttering
The Weston Hatchet isn't super butter friendly for our weight but it is for sure doable with some effort. Weston has this pretty energetic pop to it without feeling too chattery/light/ultra poppy. You feel like you have a very well constructed damp board but it is more work than we thought to get it to ollie for our specs.
Speed
Sooooo fast for a 152. Now if you are a big guy this will still be fast but for Peter and I this was too fast. We would often have to check our speed after a few turns because it just doesn't stop accelerating. Peter loves to bomb and the Weston Hatchet was so fast it left him feeling weak, shaky and vunerable after a sustained straight line. After he changed his pants we went back out and kept it mellow after that. The base has amazing glide too and its up there with the best of the best when it comes to base glide.
Uneven Terrain
Absolutely the last board that I would like to ride through a bump line on but the Weston Hatchet is one of the best semi-short boards for powering over chunder and hard microbumpy groomers.
Edge Hold
Really strong grip in hard snow but not grabby in soft snow.
Turn Initiation
Slow…just slow. It takes a lot of work to get this edge to edge. Once it is on edge the sidecut can handle all kinds of turns but for guys with 8-10 boots this will be slow. In powder it turned a little faster but it was still more like medium/slow and it isn't the kind of board Peter and I wanted to be on in tight tree lines or steep tight spots.  As your boots get bigger than ours the Weston Hatchet becomes more manageable.
Turning Experience/Carving
We all had some big powerful carves with the Weston Hatchet and it carves harder than you would think for the camber profile. It is not for chill turners.
Powder
In about 1 to 1.5 feet of powder the Weston Hatchet didn't even feel like it was trying. It is exceptional for a centered stance ride that is almost a twin.
Switch/Park
For a bigger guy this could be really fun to hit some kickers and take a few park laps. For us riding switch felt great and it had a better feel than the Warpig or Superpig or most tapered one board quivers like this. You barely felt the taper when throwing it around the other way. That being said it was just too much board for us to ride pipe or park.
Conclusion
So if you are our specs and looking for a wide tapered twin like rocket this could work. Or, even better, if you are a bigger guy that wants shorter wider fun to turn ride the Weston Hatchet could be for you.
Weston Hatchet User Reviews
If you can't buy through the links above, you can support the site with: