Telos Sharkalanche 2022 Snowboard Review
| | |
| --- | --- |
| Riding Style | Snowsurf |
| Riding Level | Intermediate - Expert |
| Fits Boot size (US) | Women's, < 8, 8-10, 10-12, > 12 |
| Manufactured in | |
| Shape | Tapered Directional |
| Camber Profile | Hybrid Camber |
| Stance | Centered |
| Approx. Weight | Feels Normal |
| Split | No |
| | |
| --- | --- |
| On Snow Feel | |
| Turn Initiation | |
| Skidded Turns | |
Where To Buy
No obligation, but these links & ads support the site.
Telos Sharkalanche 2022 - 2021 Review by The Good Ride
The Sharkalanche from Telos is a fun slashy alternative freeride board that loves powder, riding fast, and surfing the snow. It comes with a centered positive camber profile, a long drawn out nose, and a slight fish tail. The Sharkalanche will be changed to the Caldera for the 2022 season.
Ethics Statement: We don't get paid by the manufacturer to write these reviews and this is our unfiltered opinion. We do make money from the "Where To Buy" links, but this is our best attempt at an honest and objective review from an average rider's perspective.
Fast Forward Codes: 00:11 Intro 00:24 Sizes 00:38 Waist Width 00:52 Camber Profile 01:14 Board Personality 01:33 Powder 01:51 Furthest Set Back On Board 02:11 Off Piste / Trees 02:29 Turning Experience / Carving 03:11 Flex 03:18 Steeps 03:34 Edge Hold / Ice 03:56 Speed 04:25 Groomers 04:36 Who Is This For?/ Overall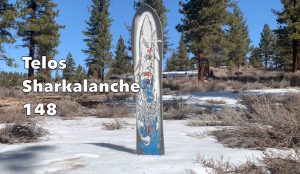 Sizes: 148, 152, 156, 160, 164 
It has a wide waist width, (250mm in the 150) but I felt like the 148 wasn't too bit for my specs. I feel like I could size down if I wanted to, and if a smaller size was available, but the 148 felt pretty responsive to me.
Camber Profile: The Sharkalanche comes with a centered positive camber (no setback on sidecut) and a drawn out rocketed nose. It also has 4.1mm of taper.
Flex/Butters/Pop: Telos has it rated with a 8/10 flex. When riding it, the Sharkalanche doesn't feel super stiff, but it is very stable. There's not much tail to butter on, but I could do some nose butters with a medium amount of effort.
The pop was good as well. I got more pop out of the board when I was riding at higher speeds.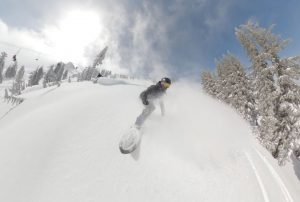 Powder: The Sharkalanche was the most fun in powder. The name fits it. It literally "eats everything in its path". This board floated without even thinking about it. It also kept its speed while riding through powder, which is difficult to do sometimes. The taper and fish tail allow the tail to sink into the snow. The giant nose does its job and stays afloat no matter what. And if it does dip down, the pointed nose breaks the surface of the snow and pops back up again.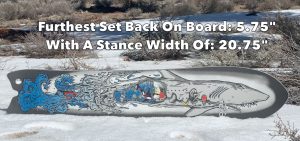 Off Piste / Trees: I loved this board off piste, as long as the snow was soft. It turned great in tight spots and kept its speed up the whole time. When the snow was more firm, it took more effort to get it to turn quickly due to the wider waist width and my small boot size.
It stayed nice and stable though choppy off piste snow as well.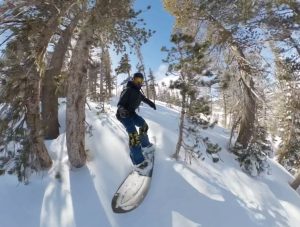 Speed: The Sharkalanche loves to ride fast. I found it preformed better at higher speeds, and had more personality when riding fast. I didn't really enjoy it at slower speeds.
Turning Experience / Carving: Loved turning this board through a variety of different snow conditions. If the snow was a bit softer it was quick to turn, but if the snow was hardback the Sharkalanche was medium fast to turn for me. It likes slashy side wall turning, and skidded turns alike.
The Telos Sharkalanche does great in a carve as well. I felt like I could get nice energy out of the turn and it laid over and held an edge really well web carving.
Steeps: This board handled well in the steeps. It was fast to turn, and stable. I could make small radius skidded turns or let it rip a little faster if I wanted.
Edge Hold / Ice: The Sharkalanche did great in the hard to icy conditions I saw at Mammoth. There is no sidecut disruption, but it can hold a nice edge in most hard or icy snow.
Who Is This For?/ Overall
The Telos Sharkalanche could be good for the rider who wants a fast alternative freeride board. A board that loves to float in powder and likes to charge fast no matter the terrain or snow conditions. A board that can rip a carve, make slashy turns, ride through trees and float for days. I feel like the Sharkalanche could be fun for an intermediate to expert rider, as long as the intermediate rider is ok with some speed.
Telos Sharkalanche Images
Telos Company Information
Telos Sharkalanche User Reviews
If you can't buy through the links above, you can support the site with: