Telos Chillum Snowboard Review – From A Woman's Perspective
| | |
| --- | --- |
| Riding Style | Freestyle |
| Riding Level | Advanced - Expert |
| Fits Boot size (US) | Women's, 8-10, 10-12, > 12 |
| Manufactured in | |
| Shape | True Twin |
| Camber Profile | Mostly Camber |
| Stance | Centered |
| Approx. Weight | Feels Normal |
| Split | No |
| | |
| --- | --- |
| On Snow Feel | |
| Turn Initiation | |
| Skidded Turns | |
Where To Buy
80% of outdoor sports products are not listed or sold online.
Our team has relationships with hundreds of local snowboarding and outdoor sports shops.
We'll call the shops and email you a list of stores along with pricing and availability.
---
Not sure what to buy?
Get custom advice from Good Ride editors James and Steph.

Get Advice
Telos Chillum 2021 - 2020 Review by The Good Ride
Telos Chillum Snowboard Video And Written Review
The Telos Chillum is a true twin board that has a mostly positive camber profile. It comes with a stiffer flex and carbon springs that keep it snappy and energetic.
Ethics Statement: We don't get paid by the manufacturer to write these reviews and this is our unfiltered opinion. We do make money from the "Where To Buy" links, but this is our best attempt at an honest and objective review from an average rider's perspective.
How This Review Happened: We borrowed this for an extended demo.
Size: 149
Days: 3
Conditions: Normal groomers, hard pack groomers, choppy off piste snow, slightly icy
Riders: Steph (Weight 108lbs, 5'4″, 7.5 Women's Boot Size)
Boots: Vans Ferra Pro (7.5 Women's)
Bindings: Union Legacy (Med)
Set-Up: 20″ Wide Stance, 15, -15 degree binding angles
Sizing: 146, 149, 152, 155, 158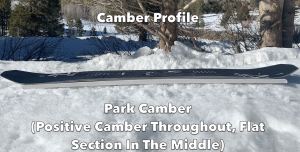 Camber Profile: At first glance on the table, the Telos Chillum resembles a mellow hybrid rocker. But instead of rocker between the feet it has a flat section. Then it goes to positive camber under the feet. The contact points are pretty far out towards the tip and tail so you get a nice connected feel to the snow.
Flex/Pop/Buttering: Telos lists the Chillum as having a 7/10 flex. I felt like it was stiffer then that. It felt more like an 8 or 8.5/10 flex for me. This could be because of the wider waist width and my smaller size boot, or that I'm a particularly light rider. Because of these factors, it took a lot of energy for me to get the Chillum to ollie on flat ground. It was also challenging for me to butter it. But once I got it on a jump, it had a really nice snappy feel.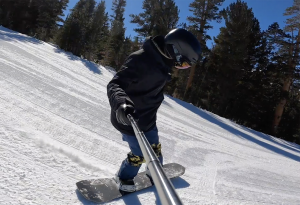 If you are a heavier rider than I am, and have bigger feet and a bit more leverage than I do, it will probably feel more poppy and playful. But either way I still feel like it will take a firm hand to get it to preform.
Speed: The Chillum felt great at higher speeds for me. It has a nice stable feel while riding fast. And it is pretty connected to the snow, so you don't get a lot of chatter or anything.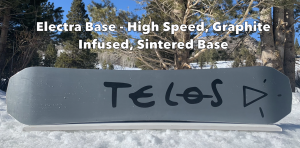 Off Piste: I preferred the Chillum on groomers. It did pretty good, but because it was only medium fast to turn for me, I didn't trust it too much to turn through bumps and trees.
Edge Hold: This board has a nice edge hold on ice and hard snow. It has that reliable positive camber feel when riding through icy conditions.
Turning Experience/Carving: For me, the Chillum was medium fast to turn. It took extra effort to get it on edge and to change from one edge to the other. It was a bit too big for me however, and I think that if I was able to ride it in a smaller size, the turning experience would be different.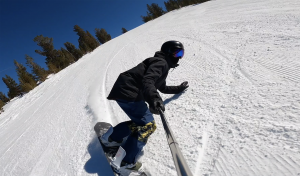 Once I got the Chillum on edge enough to carve, I enjoyed it. It had good edge hold through the carve, and nice energy out of the carve when I was able to bend it enough.
When making skidded turns it was a bit slow for me. But I think that if you are a bigger rider and have a larger boot size it will preform different.
Powder: The Chillum is a true twin, and has a traditional positive camber feel to it. So it is not ideal for powder runs.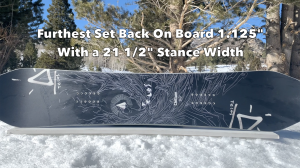 Park/Freestyle/Switch: I liked the feel of this board on jumps. (I still wish it was smaller for my specs) But the Chillum felt at home in the park. I think it would be ideal for a more advanced park rider. It isn't the type of board you want to learn freestyle riding on. It has a nice stable feel off of jumps. Nice snap off the lip. And is stable in landings. I think it would be fine for small, medium, and large jump sizes.
For a heavier rider, the Chillum would probably feel great on jibs. But it was too stiff for me to enjoy on boxes and rails. If I had it in a 138, or 142, I'm sure it would feel great when jibbing. So it depends on your size and specs. But either way, it is not ideal for just learning to jib. The Chillum is more for the established rider looking for a snappy more dynamic jib board.
I feel like the Chillum could be a lot of fun in the pipe. I didn't have one to test it out in. But it has nice edge hold, has good carving abilities, and stability. If I had it in a smaller size, I would definitely take the Chillum through the halfpipe.
The Chillum is a true twin, so it feels great when riding switch.
Overall / Who Is This For? 
From a women rider's perspective, I think the Telos Chillum could be good for a rider that is looking for a mid-wide to wide snowboard. A heavier weight rider who wants a more stable and dynamic park board. Someone who likes the snappy energy of carbon in a snowboard. And who wants a stable and semi-playful ride to take through the park and carve on some groomers.
If this review helped, we'd appreciate if you:
Telos Chillum User Reviews
If you can't buy through the links above, you can support the site with: