Nidecker Ultralight 2011-2023 Snowboard Review
| | |
| --- | --- |
| Riding Style | Freeride |
| Riding Level | Advanced - Expert |
| Fits Boot size (US) | 8-10, 10-12, > 12 |
| Manufactured in | |
| Shape | Tapered Directional |
| Camber Profile | Hybrid Camber |
| Stance | Setback over 20mm |
| Approx. Weight | Feels Light |
| Split | No |
| | |
| --- | --- |
| On Snow Feel | |
| Turn Initiation | |
| Skidded Turns | |
Where To Buy
80% of outdoor sports products are not listed or sold online.
Our team has relationships with hundreds of local snowboarding and outdoor sports shops.
We'll call the shops and email you a list of stores along with pricing and availability.
---
Not sure what to buy?
Get custom advice from Good Ride editors James and Steph.

Get Advice
Nidecker Ultralight 2023 - 2011 Review by The Good Ride
Nidecker Ultralight Snowboard Video and Written Review
You have arrived at the Nidecker Ultralight Snowboard Review from an average rider with an exceptionally objective perspective.
Turn Ons/Swipe Right: Fast base. Damp for an Ultralight board. Great directional float. Forgiving.
Turn Offs/Swipe Left: Not that much camber and doesn't pop/spring vs. many competitors. Sometimes turning felt off in pow/trees.
Summary
The Nidecker Ultralight doesn't have as much camber vs. many big mountain rides these days but it has a fast base, great set back on board for pow and a damp ride for an ultralight.
Ethics Statement: We don't get paid by the manufacturer to write these reviews and this is our unfiltered opinion. We do make money from the "Where To Buy" links, but this is our best attempt at an honest and objective review from an average riders' perspective.
A Breakdown Of How It Rides And Who Its For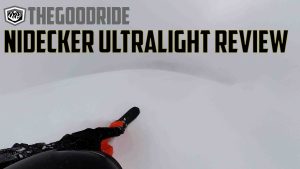 How The Nidecker Ultralight Review Happened:
Borrowed this for an extended demo and sent it back.
Size: 161
Days: 15+
Conditions: Everything from summer slush to mid-winter groomers to good pow to deep pow slackountry time with Drift Boards.
Rider: James (Size 9, 5'10" 185-190lbs)
Boots: Burton Kendo, Nidecker Rift APX, Nidecker Rift Lace
Insoles: F.I.T. Gamechangers
Bindings: Union Atlas
Jacket: Burton AK Gore-Tex Pro 3L Tusk Jacket, Volcom Guide Jacket, Burton Gore-Tex 3L Treeline Jacket, Jones Peak Bagger Jacket. Burton AK Helitak Gore-Tex Jacket
Pant: Burton AK Gore-Tex Pro 3L Hover Pant, Burton AK Gore-Tex 2L Swash Pant, Burton Gore-Tex Ballast Pant
Helmet: Smith Maze
Goggle: Smith 4D Mag
Gloves: Burton AK Clutch Mitt, Burton AK Clutch Glove, Burton AK Tech Leather Glove, CG Habitats Work Glove, Drop Tahoma Mitt,

Similar Boards (but not the same): Yes Pick Your Line, YES PYL Uninc, Burton Flight Attendant, Jones Flagship, Rossignol XV, Lib Tech BRD, Weston Backwoods, Season Nexus, Cardiff Bonsai, Prior Spearhead, Burton Cartographer, Burton Instigator, Cardiff Powgoda, Jones Mind Expander,
James's Set Up: 21.5" Wide. Sance Angles +18/-3, +18/+3, +24/+6, Close to Reference on groomers and Set as far back as possible for my stance width in pow.
How It Was Tested
I rode this a lot of days. Sometimes I just rode the Nidecker Ultralight but often I compared it to many different freeride boards. I had it for over a season so there were many.
Approximate Weight
The Nidecker Ultralight felt light but not like a feather weight. (I don't put in the exact weight because with wood cores there is no consistency in a boards weight)
Sizing

The Nidecker Ultralight felt like exactly the right size for my weight and boot size. It was easy to control and I wouldn't go 158. You want to size up a bit with this board as it sit's in the more true freeride sizing of old and it doesn't ride shorter or wider.
Here are some ideal US boot sizes for the Nidecker Ultralight boards. You can of course go bigger or smaller depending on your riding style and boot's footprint, but these work best for not turning the board slower than it should be and not having the dreaded Toe & Heel Drag.
158: 8-9
161: 9-10
164w: 11-12
168w: 12-13
For weight Nidecker is pretty conservative on the upper end. If it comes down to boot size or weight, I would make sure it fits your boot first and then your weight a close second.
Shape/Camber/On Snow Feel/Ability Level

The Nidecker Ultralight is pretty tapered at 18mm and very directional but it doesn't feel super tapered/washy in the tail. I still felt most comfortable leaning back into the tail a bit to keep it from washing out but it needs a lot less back foot weight than the more tapered old Ultralight.
There is a very mellow short camber between the bindings that transitions into a short flat area and then a good bit of early rise before the nose and tail. The pop isn't there compared to some boards but it is very forgiving and easy to skid a turn.The Nidecker Ultralight also tracks very well and doesn't feel auto spinny.
Flex Personality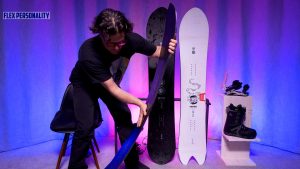 The Nidecker Ultralight is very stiff between the feet but not much softer in the tail and especially the nose. It is stiff but somehow much easier to butter than I thought it would be.
When it comes to ollie power there is more pop than you would think for this little camber but it was still a bit far behind many of the more camber dominant rides in Nideckers line like the Beta, Alpha, Alpha APX, Smoke and many others.
Uneven Terrain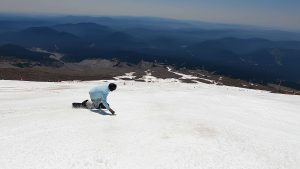 So the Nidecker Ultralight is light and uses a lot of carbon but it isn't a chattery mess like most of it's light and poppy peers. They made this with big mountain speed in mind and it lived up to that. It  was great to ride in all but super hard and micro bumpy conditions. Even then it wasn't terrible like some ultralight boards can be.
Edge Hold
Pretty solid grip for having no visible disruption in the sidecut.
Speed
There is a lot of early rise before the nose but you can point it and it won't chatter much.

The base glide is exceptional. I really love how well the Nidecker Ultralight kept its speed. You want to go first on traverses and you will find yourself passing most on long flat cat tracks. It's the kind of glide you would expect for this price point.
Turning Experience/Carving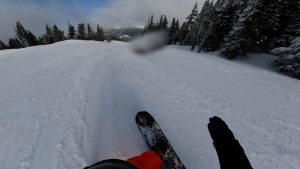 The Nidecker Ultralight isn't an exceptional carver but it's better than you would think for having so little camber. The sidecut is definitely less turny than it was in the past so while it's on the balanced side it does seem like it wants to favor a straight line or narrow down the line carve a little better than a circle or across the groomer carve.
There is a lot of cool flex tech happening with the Nidecker Ultralight that makes this flex more reactive and flexible underfoot compared to many other boards but I'd love to see what this could do with more camber. I think it would be unreal.
Powder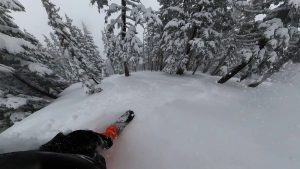 You have a -4.625" set back on board but with a -23" stance width if you use the set back inserts. I couldn't set it all the way back with this 23″ wide stance width but I tried my best with my Union Atlas. So I put the front foot on the set back inserts and slid the discs as far back as I could. I couldn't use the set back inserts on the back foot but slid it back as far as I could so I was probably more like -3.75" to -4" back on board.
It's great to have set back inserts but I wish the set back inserts were set for 22" like the reference stance on this board like YES does. That would make it much better but all this being said it floated very well. You could feel the taper, bigger nose, all that set back on board and that fast base make the Nidecker Ultralight float well in powder.
The float was great but sometimes the turning experience wasn't ideal in tighter spots and I often felt like it fought me on some quick turns in moderately tight spots. I didn't like that feeling and I never felt that with the older Ultralight.
Conclusion
So overall I personally liked the older more turny personality of the Nidecker Ultralight better but if you like a more straight-line friendly ride you might like the new Ultralight better. I still found it to be a pretty forgiving and versatile big mountain board. I'd like to see the set back inserts match the reference stance and a little more camber but this is still a pretty special ride.
If this review helped, we'd appreciate if you:
Nidecker Ultralight Past Reviews

The Nidecker Ultralight is just like the Nidecker Megalight except a little softer, lighter and more expensive. It's hard to even do a review of this board because the performance, specs, and design is pretty much the same so read the mega light review.  We don't know how Nidecker maintains the same feel as the mega light with a softer flex and lighter ride but somehow they do.  


Ethics Statement: We don't get paid by the manufacturer to write these reviews.  We do make money from the "Where To Buy" links, but this is our best attempt at an honest and objective review from an average riders' perspective.

The Megalight is their flagship board. Is it worth it to get the Ultralight over the Megalight?  For $300 extra we don't think so but it's up to you to judge for yourself.  If you have to have the lightest, softest and possibly best all conditions tapered freeride board out there then you have no choice.

The Ultralight has been camrock (hybrid camber) for the last few years and this is the call over the old camber model because of the easier turn initiation and better float in powder.  If you want more pop from an ollie or carve then the old Camber (if you can find it) is the better call.

Both the Megalight and Ultralight are some of the best powder/freeride boards we have ever experienced and they defy the way a board with these specs should ride.

I use to be pretty amped on Camrock and still like it but I'd like to see the camber evolve into a longer/higher camber on the Megalight and Ultralight.  I'd say don't change the rocker in the nose but extend the camber a bit towards the tail so there is more pop there and more spring in a carve. Still, it's a great board but that's my 2 cents for the year 2014.

The 2012 -2014 are very similar and we still feel that with the Megalight around the Ultralight is redundant.  We'd rather see a different shape and ride instead of a lighter Megalight.
Nidecker Ultralight Specs
Nidecker Ultralight Images

We try to get as many images of the Nidecker Ultralight, but forgive us if they're not all there.
2023
2020
2014
2013
2012
2011
Nidecker Ultralight User Reviews
Nidecker Ultralight 2011-2023 Snowboard Review
SKU
UPC
Model
Nidecker ripoff
Nov 26, 2015
by
Jim W
Ability Level: Expert •
Riding Style: Freeride •
Days You Ride A Year: 40
Fantastic ride, unfortunately for a VERY short period of time. Board crack when had a slight impact. Cracked at corner junction where two metal edges meet (maybe one piece metal edge would have resolved?). Just got a sorry and offer for slight discount on a new board from the manufacturer. Was a HUGE disappointment. I have owned many boards and never had anything remote to this happen. Save ur money

---
Favorite board
May 06, 2015
by
Stephen
Ability Level: Advanced •
Riding Style: All mt, carving, bumps, trees •
Days You Ride A Year: Only 8 this season •
Height, Weight And Boot Size (for Boards, Boots & Bindings): 6' 1.5" 215 lbs, 12 boots
Second season on the board and have ridden in every condition. Fantastic all mountain go everwhere do everthing really-really-well board. 2013 161 camrock, no magnetraction. Holds an edge on hardpack almost as well as a full camber, can even load the tail for a bit of snap edge to edge. Turn initiation is much easier though which inspires confidence in bumps and trees. Floates great in powder, setback is perfect. Base is super fast. Very light but zero durability issues, I am not small or gentile. Have ridden many metal edged boards since 1990 and this is my favorite "one board" solution. Rode a Palmer Crown for the prior 6 seasons which is an amazing directional full camber, stiff, fast base all mt. ripper. The Ultralight gives up a little bit in edge hold but turn initiation is much much easier. Great cheat when ones legs loose response time. Hope that helps if you are considering camrock. I bought without demoing (they are hard to find) and have zero regrets.

---
FAST!!!
Jan 21, 2014
by
KP
Ability Level: Advanced •
Riding Style: Freeride/Powder when I can get it •
Days You Ride A Year: 5-15
Used to ride an old ride prophet that would beat up my legs in a good day of riding. Had my first few days on it and i was blown away on how soft it was. I could ride this board every day and not take a beating.

Insane confidence boost on ice and hardpack. I does not seem to lose an edge. On the groomers its crazy. I've never had this kind of speed. It's crazy on how it takes wax. It took 2 passes to fully wax it from factory.

10 out of 10.

---
If you can't buy through the links above, you can support the site with: