Never Summer Womens Proto Slinger 2023 Snowboard Review
| | |
| --- | --- |
| Riding Style | Freestyle |
| Riding Level | Intermediate - Expert |
| Fits Boot size (US) | Women's, < 8, 8-10 |
| Manufactured in | Colorado, USA |
| Shape | Asymmetrical Twin |
| Camber Profile | Hybrid Rocker |
| Stance | Centered |
| Approx. Weight | Feels Normal |
| Split | No |
| | |
| --- | --- |
| On Snow Feel | |
| Turn Initiation | |
| Skidded Turns | |
Where To Buy
No obligation, but these links & ads support the site.
Never Summer Womens Proto Slinger 2023 - 2022 Review by The Good Ride
New for the 2023 winter season is the Never Summer Women's Proto Slinger. This a mix of the Fun Slinger and Proto Synthesis mashed together. More stable and technical than the Fun Slinger, and more forgiving and playful than the Proto Synthesis. It is an asymmetrical twin, comes with a medium/soft flex and a hybrid rocker profile.
Ethics Statement: We don't get paid by the manufacturer to write these reviews.  We do make money from the "Where To Buy" links, but this is our best attempt at an honest and objective review from an average rider's perspective.
Timecodes
0:00 – Intro 0:24 – Camber Profile 0:46 – Flex 1:11 – Base 1:30 – Asymmetrical Twin 2:14 – Snow Conditions 2:28 – Steeps 3:04 – Edge Hold 3:24 – Off Piste 4:27 – Groomers 5:29 – Speed / Stability 5:48 – Switch 6:18 – Freestyle Personality 7:21 – Powder 8:17 – Overall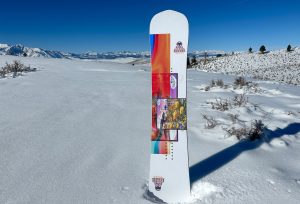 Size: 148
Days:  10
Conditions:  Spring conditions in 2022, and mid winter average snow conditions in 2023.
Riders: Steph
Boots: K2 Cosmo and Vans Luna
Bindings:  Union Legacy
Set Up: Centered 15 front -15 back 20.5″ wide
Sizes: 145, 148, 150

Camber Profile
This board comes with NS's shockwave rocker camber. It has a pretty aggressive rocker section between the feet, and positive camber zones under the feet. Giving this board the ability to butter, twist, and maneuver quickly. All while still having a technical side that can carve, hit jumps, and ride all mountain.

Flex
The Proto Slinger comes with a 4/10 flex on the Never Summer scale. I felt it was more like a 5.5 out of 10. But that could have been because it was a 148 and not my normal freestyle size board (142). However, it is a softer flexing board but has really good stability for being a 4/10 flex. It was medium easy for me to butter. The rocker in the middle of the board helps with this a lot. I could twist it fairly easy as well to make smaller turns on steeps or in off piste terrain.

Base
Comes with a Durasurf XT Sintered 5501 Base. This is a high quality and durable sintered base that give nice glide through the snow.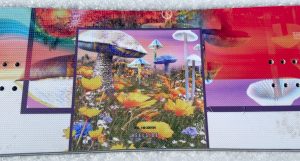 Asymmetrical Twin
The Proto Slinger is an asymmetrical twin. So the sidecut on the heel edge is different from the toe edge. They get extra points for this one. There aren't many women's specific asymmetrical twins out there right now. So pretty excited that they added another option to the market. This asymmetrical shape helps compensate for the way our bodies move on the heel edge, and makes heel side carves really fun, as well as switch.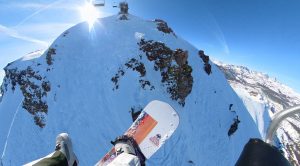 Steeps
I liked this board in the steeps. I felt it was quick to turn and rather stable for being a twin and a freestyle specific board. It liked small to medium radius turns up there and held a nice edge in harder snow as well. It isn't a hard charging, big mtn board that is going to straight line down. The Proto Slinger prefers to turn down the steeps and a medium to medium/high speed. But it handles great either way. Better than a lot of freestyle boards out there, and similar to some all mountain boards.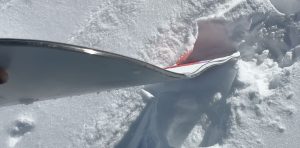 Edge Hold
I felt this board held a nice edge in all the snow conditions I saw. It is a little loose when riding it flat base. The rocker section in the middle takes over from time to time and wants to spin the board around, so on flatter terrain that has icy conditions it might not be too fun. But in hard pack and icier snow on the mountain I felt it did pretty well. It won't have as much hold as something with sidecut disruption, or a board that has more positive camber in the profile. But it will handle well in most average snow conditions.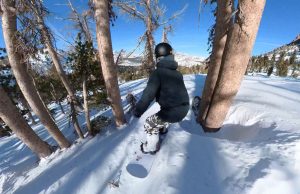 Off Piste
Again, this is a freestyle board. So it did really well in off piste terrain for being freestyle specific and a true twin. It is quick to turn, and you can ride switch, so it is easy to change directions if you make the wrong choice. It is pretty stable, so you can ride through at a nice medium speed and it absorbs a lot of the little bumps in the snow. It is medium damp, so when riding through chunder and choppy snow, this board prefers to turn more than straight line.
Groomers
I enjoyed the Proto Slinger on groomers. It has those two positive camber zones that add nice connection to the snow and give good spring into and out of the turns. This board prefers small to medium skidded turns. But when the entire sidecut is engaged in a carve, the turns go to more large radius carves. This board isn't a carve specialist, but it can rip up some groomers and lay some trenches down. Would be good for the riders that like to dabble in carving from time to time. Or for those that like a true twin to carve so you can carve switch too.
Carving is where the asymmetrical shape helps out a lot. It improves the heel side carve and gets better connection along the heel side sidecut. Super fun. It takes a bit to learn how far the heel side can be pushed, because it is a bit more than the average snowboard.
Switch
Switch on an asymmetrical twin is as good as it gets. Slightly better than a true twin board.
Freestyle
The Proto Slinger is a freestyle specific board that does well all over the park. It isn't exactly a beginner freestyle board, more for intermediate and up riders. It has a really nice spring out of ollies and off jumps. And is friendly enough for jibs, boxes, and rails. But stable enough for deeper landings and a bit of speed. I also found it fun and reliable in the halfpipe.

Powder
This is a true twin, but because of the hybrid rocker profile it should handle pretty well in deeper snow for being a twin. The rocker will allow the nose to float a bit more than a board that has positive camber in it. You can set it back a bit to get a little more directional float. It should be fine in most average storm or powder conditions. But if you are seeing deeper days, it might be best to have a powder specific board as back up just in case.
The 148 can get up to 1.25″ of set back on board, with a stance width of 20.5″.
Overall
The Never Summer Proto Slinger would be good for an intermediate to advanced rider that likes to ride park, but also all over the mountain. Someone who likes riding switch everywhere, and enjoyed the personality of a hybrid rocker snowboard. It only comes in 3 sizes, would be nice to see a bit more options for sizing so more people could get on the board.
Never Summer Womens Proto Slinger Specs
Never Summer Womens Proto Slinger Images
Never Summer Company Information
Never Summer Womens Proto Slinger User Reviews
The Good Ride
Average rating:
0 reviews
If you can't buy through the links above, you can support the site with: