Never Summer Womens Harpoon 2022 Snowboard Review
| | |
| --- | --- |
| Riding Style | Alternative Freeride |
| Riding Level | Beginner - Expert |
| Fits Boot size (US) | Women's, < 8, 8-10, 10-12, > 12 |
| Manufactured in | USA by Never Summer |
| Shape | Tapered Directional |
| Camber Profile | Hybrid Rocker |
| Stance | Setback over 20mm |
| Approx. Weight | Feels Normal |
| Split | No |
| | |
| --- | --- |
| On Snow Feel | |
| Turn Initiation | |
| Skidded Turns | |
Never Summer Womens Harpoon 2022 Review by The Good Ride
The Never Summer Womens Harpoon, new for the 2022 winter season! It is a playful, alternative free-ride board that loves floating in powder as much as it loves shredding around the whole mountain. The harpoon comes with a wider waist width, some setback, taper, and a fun loving attitude.
Ethics Statement: We don't get paid by the manufacturer to write these reviews and this is our unfiltered opinion. We do make money from the "Where To Buy" links, but this is our best attempt at an honest and objective review from an average rider's perspective.
Fast Forward Codes:  00:00 Intro 00:15 Summary 00:30 Sizing 01:06 Waist Width / Taper 01:16 Camber Profile 01:44 Base 02:11 Powder 02:47 Steeps 03:30 Flex 04:01 Butters / Pop 05:00 Edge Hold 05:22 Turn Experience / Groomers 06:10 Switch 06:25 Freestyle Feel / Features 07:13 Overall 07:43 Med's Review
How This Review Happened: We borrowed this for an extended demo.
Size: 144
Days: 10+
Conditions: Powder, off piste choppy snow, ice, spring slush
Riders: Steph, Med (medtabar.com)
Boots: Vans Ferra Pro (7.5 Women's)
Bindings: Union Milan(Med)
Set-Up: 20″ Wide Stance, 15, -15 degree binding angles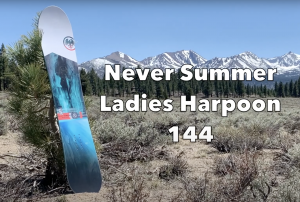 Sizing: 144, 148
I really wish there were a few more options in the sizes available, both on the smaller side and the bigger side.
I rode the 144, which is about 2cm longer than I normally ride, but is a good length for a freeride board based on my specs.
You are able to size down with the Harpoon if you want. It is a volume shifted board. It comes with over 20mm of setback and 13mm of taper and a wide waist width as well (246mm). I would love this board in a 138, but the 144 didn't feel too big for me either. I just think the personality would become more playful if I sized down.
Camber Profile: The Never Summer Womens Harpoon comes with Fusion Rocker Camber. This is a hybrid rocker profile that has a prominent rocker zone in the middle, and positive camber zones under the bindings. The Harpoon has a reverse camber feel when riding on snow. It is loose and playful and easy to turn. But the positive camber zones give you added performance, better edge hold and decent pop. It also comes with longer, drawn out nose that keeps you floating in powder.

Flex/Pop/Buttering: The Harpoon has a 5/10 flex. It is stable enough to ride at higher speeds, but soft enough to stay nimble when turning quickly or playing around.  Overall it has a nice, forgiving all mountain flex. Buttering is fairly easy on the nose and a little more difficult on the tail. The pop is pretty decent, I didn't find it as snappy as a board with a traditional camber profile. But it has good pop for jumps and ollies. Because of the rocker in the middle of the board, the Harpoon is easy to twist. Making it responsive and easy to turn in just about any situation.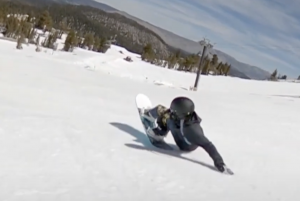 Speed: The Harpoon comes with a high quality sintered base, so it gets nice glide in a lot of different snow conditions. It has good stability for riding at higher speeds. It isn't a super hard charging, speed hungry board. But the Womens Harpoon is capable of riding fast, it just will be a little less stable then some other Alternative Free-ride boards out there.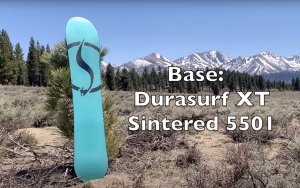 Uneven Terrain: I mainly rode the Harpoon off piste the entire first day I tested this board. It was a nice Colorado powder day at Breckenridge and we sought out the steepest terrain we could find. The Harpoon handled great through large mogul fields and super tight trees. Fresh snow and icy crappy snow alike. I'm a lighter rider and didn't have issues with the Harpoon being too soft in these types of situations. I found it damp and stable but very responsive. If you are a heavier rider it might feel a bit soft from time to time when riding through super uneven snow.
Edge Hold: In the video review I mentioned there is no sidecut disruption. However there is a slight disruption along the sidecut in the way of different radius sections.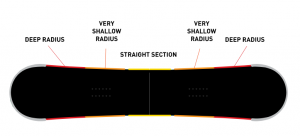 It does better than a board with an "average" sidecut. The Harpoon did pretty well in most icy conditions I rode it in. It isn't as good as something with more disruption, or more positive camber; but can hold a nice edge in most average hard snow to icy conditions.
Turn Initiation: The Harpoon is fast to turn. It does have a wider waist width than a normal board. But even with my 7.5 size boot I didn't feel it was too wide to turn quickly. I noticed the waist width more on hardback snow than I did in soft snow or spring conditions. The reverse camber section between the feet also allows the Harpoon to twist easily when initiating a turn. And the contact free feel of the board, allows the board to pivot quite quickly on groomers, off piste, and in powder.
Turning Experience/Carving: The Harpoon was super fun to carve around on groomers. The wide waist width allows the board to tip over easily and carve a nice stable line. The positive camber zones allow energy to build in the board as you are bending it through the carve, and it pops out of one turn and into the next nicely. I liked how it stayed nice and stable throughout the carve and I was able to trust the edge to engage with the snow in more intense carving situations.
Turning around the mountain was also a lot of fun. The Harpoon has a playful personality, but it also has performance too. You can make skidded turns easily but if you want to get more technical it won't let you down income more high edge angle turning.
Powder: The Womens Harpoon makes floating in powder pretty effortless. With the wide waist width, the 13mm of taper, the directional shape and the ability to fully set it back up to 3.5″ on board, you get a lot of elements happening to help float on some deep days. The nose is elongated and raises up out of the snow, the tail sinks down for added float and gives you nice stability as well. It still keeps its playful attitude when riding powder and is fun to play around on while charging through some freshies.
Park/Switch: It isn't a park specific ride, but it is forgiving enough to play around on and take some laps through the park without thinking twice. I had fun hitting natural features on this board. It is stable in landings when hitting drops, and is forgiving enough to throw some spins and butters in around the mountain. It isn't ideal for jibbing, but you can for sure dabble on some boxes or rails if you want. I think it would be pretty fun to take through the pipe from time to time. You can also ride the Harpoon switch if you want. It feels a bit weird but it isn't too bad.
Overall / Who Is This For? 
The Never Summer Womens Harpoon is a creative, alternative free-ride board. It is mellow enough for an intermediate rider, or could be good for an advanced/expert rider who likes the alt free-ride feel but also wants to butter and play around the mountain. The Harpoon likes to float in powder, lay down some carves, and has decent dampness and edge hold. It would be good for someone that likes a directional ride but doesn't want the super serious hard charging feel. The Harpoon is a surfy turning board that likes to float in deep snow and ride all over the mountain as well.
Never Summer Womens Harpoon Specs
Never Summer Womens Harpoon Images
Never Summer Company Information
Never Summer Womens Harpoon User Reviews
If you can't buy through the links above, you can support the site with: