Never Summer Lady FR 2023 Snowboard Review
| | |
| --- | --- |
| Riding Style | Freeride |
| Riding Level | Advanced - Expert |
| Fits Boot size (US) | Women's, < 8, 8-10 |
| Manufactured in | Colorado |
| Shape | Tapered Directional |
| Camber Profile | Hybrid Rocker |
| Stance | Setback -20mm |
| Approx. Weight | Feels Normal |
| Split | Comes in split |
| | |
| --- | --- |
| On Snow Feel | |
| Turn Initiation | |
| Skidded Turns | |
Where To Buy
No obligation, but these links & ads support the site.
Never Summer Lady FR 2023 - 2022 Review by The Good Ride
New for winter 2023 is the Never Summer Lady FR. An aggressive free-ride women's board that comes with Never Summer's triple camber fusion.
Ethics Statement: We don't get paid by the manufacturer to write these reviews.  We do make money from the "Where To Buy" links, but this is our best attempt at an honest and objective review from an average rider's perspective.
Timecodes
0:00 – Intro 0:27 – Camber Profile 1:16 – Flex 1:28 – Base 1:39 – Snow Conditions 1:53 – Steeps 2:28 – Edge Hold 3:06 – Off Piste 4:29 – Powder 5:51 – Set Back On Board 6:04 – Groomers 7:11 – Freestyle Personality 8:09 – Switch 8:26 – Overall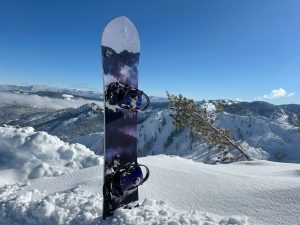 Size: 147
Days:  10
Conditions: Tested it in spring conditions in 2022, and mid winter conditions with some powder in Winter 2023.
Riders: Steph
Boots: K2 Cosmo, Vans Luna
Bindings:  Union Legacy
Set Up: Centered 15 front -15 back 20.5″ wide

Camber Profile
The Lady FR comes with NS's triple camber. It has 3 separate positive camber zones. One in the middle and one under each foot. Then there are little rocker zones in between those. This results in a very powerful board with lots of energy and stability.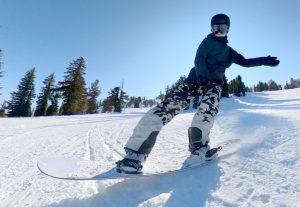 Flex
It comes with an 8/10 flex. It is a stiff and aggressive board, and yes you have to be on your game to ride it. But for being so stiff, it still allows maneuvering to happen quickly. It isn't very easy to butter or pop for lighter riders like me. But if you have a bit more power behind you maybe it would feel a bit more bendable.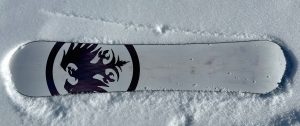 Base
Durasurf XT Sintered 5501 Base. This is a fast, high quality, durable sintered base. I found it to have nice glide in the snow conditions I tested in.
Steeps
I enjoyed the Lady FR in steeper terrain, I actually preferred it in steeps over more mellow terrain. I felt the Lady FR performed best at slightly higher speeds. So it felt right at home in the steeps. The edge hold and stability of this board are great. I never felt unsure of slipping out or getting unstable. It still took a firm hand to make it move the way I wanted it too. But maneuvered really well through steep terrain that had both soft and hard pack/icy snow conditions.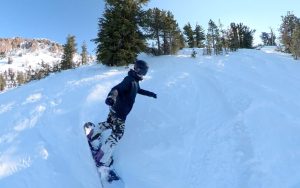 Edge Hold
I feel this board has great edge hold in harder conditions and even icy snow. You get 3 separate positive camber zones that help a lot with edge hold. The stiffer flex and the contact points near the nose and tail helped feel connected in scraped off, icy conditions as well.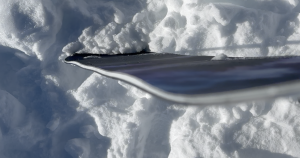 Off Piste
As long as the snow wasn't too deep, I enjoyed this board off piste. In average snow conditions it handled great. It prefers a faster speed or at least a medium speed while riding, so going through trees, chunder, or moguls in a more aggressive way, helped me get this board to respond the way I wanted it to. If the snow gets too deep or too soft, from time to time the board becomes a big grabby, mostly off the tail. And if it is too soft, it was easy to push too hard with this board and create more pressure than I anticipated. This resulted in diffing the nose into the snow, or the edge being a bit grabby. So again, a board that wants the rider to be on point most of the time.

Powder
The Never Summer Lady FR comes with 20mm of setback and 5mm of taper. It is directional and has a bit of a directional shaped nose too. But I preferred this board in average snow conditions over a powder day. It rides well in powder if the terrain is steep, or speed is maintained. As soon as I got on shallow terrain, or a small, single track situation, the board became harder to manage and took me out a handful of times. The stiffer flex makes it more difficult to correct movements quickly, so once the board catches, that's it.
I feel like the Lady FR would do well in lighter powder. I was riding in heavier, west coast powder. Or if there is under a foot on the ground it will probably be just fine. But there are better board options out there for deeper days.

On the 147, the furthest set back on board is 2.25″, with a stance width of 20.5″.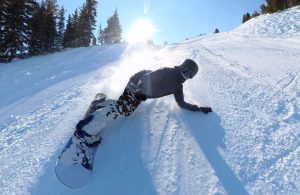 Groomers / Turning Experience
The Lady FR excels on groomers. It likes to charge fast, make long arcing carves, and tear up any corduroy in sight. It is very stable and fun to ride down some groomers. It absorbs the little vibrations from the snow, so it provides a pretty smooth ride. Skidded turns can be made, but it does prefer a faster speed all around while riding. So wouldn't be good for riders that like to take their time down the hill. When making skidded turns, I felt the Lady FR preferred medium radius turns. But when the entire sidecut is engaged in a carve, it make large radius turns. There is a ton of energy in this board, and if it is pressured enough through a turn it releases a lot of spring from one turn to the next.
Freestyle Personalty
There's not much freestyle personality to this board. It could handle some natural features like rock drops, or side hits. But it isn't friendly at all for freestyle maneuvers. However, it has a massive amount of pop if you can bend it. Taking it off natural jumps, or normal park jumps is fun. I had a difficult time popping ollies on this board. But if you are a heavier rider, I bet it will be easier to bend the board for ollies. So not really a freestyle oriented board, but super stable and fun for natural drop and jumps around the mountain.
Switch
This board can be ridden switch. It feels a bit backwards, and because it is stiff and the contact points are so far out, there is no room for errors. But it can be done.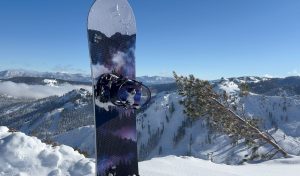 Overall
The Never Summer Lady FR would be good for an aggressive all mountain rider who wants to rip everywhere at higher speeds. It is a stable and damp board that can handle steep terrain, icy conditions, and can rip some carves. Would fit best for advanced to expert riders.
Never Summer Lady FR Specs
Never Summer Lady FR Images
Never Summer Company Information
Never Summer Lady FR User Reviews
The Good Ride
Average rating:
0 reviews
If you can't buy through the links above, you can support the site with: