Lib Tech Rasman 2022-2024 Snowboard Review
| | |
| --- | --- |
| Riding Style | All Mountain |
| Riding Level | Intermediate - Expert |
| Fits Boot size (US) | 10-12 |
| Manufactured in | |
| Shape | Tapered Directional |
| Camber Profile | Hybrid Rocker |
| Stance | Setback over 20mm |
| Approx. Weight | Feels Normal |
| Split | No |
| | |
| --- | --- |
| On Snow Feel | |
| Turn Initiation | |
| Skidded Turns | |
Where To Buy
No obligation, but these links & ads support the site.
Lib Tech Rasman 2024 - 2022 Review by The Good Ride
Lib Tech Rasman Snowboard Video and Written Review
Welcome to the Lib Tech Rasman Snowboard Review for mid-wide snowboarders by Davey.
Lib Tech Rasman Positives and Negatives
Turn Ons/Swipe Right: Playful, dynamic and springy out of the turn. Good for beginner/intermediate riders. Great at riding switch
Turn Offs/Swipe Left: Not the best float. Magne-traction can be grabby in softer snow. Wants to auto-spin when one footing off the lift.
Summary: The Lib Tech Rasman Snowboard is a good middle ground between the T. Rice Pro and the Golden Orca. It's more playful, floaty and tapered than the Lib Tech T.Rice Pro, but is more freestyle focused than the Golden Orca so it'll ride switch and hit jumps better.
Ethics Statement: We don't get paid by the manufacturer to write these reviews and this is our unfiltered opinion. We do make money from the "Where To Buy" links, but this is our best attempt at an honest and objective review from an average riders' perspective.
Lib Tech Rasman Snowboard Review – How it rides and who it is for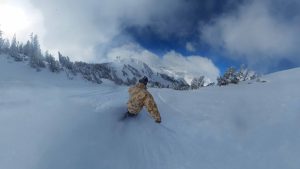 How This Review Happened:
Precious Good Ride dollars were spent to review the Lib Tech Rasman
Size: 161
Days: 2
Conditions: Soft Springtime Groomers
Riders: James (Size 9, 5'10" 185-190lbs), Davey (Size 12, 240lbs, 6'4")
Boots: Burton Kendo
Insoles: F.I.T. Gamechangers
Bindings: Union Atlas, , Union Force
Jacket: Jones Peak Bagger Jacket. Burton AK Gore-Tex 2L Swash Pant,
Goggle: Smith 4D Mag
Gloves:  Burton AK Tech Leather Glove
Size: 161
Days: 10-15
Conditions: Firm Icey Groomers, Knee – Nipple Deep Powder, Spring Slush
Riders: Davey (size 12, 6'4" 235-245lbs)
Boots: Burton Ions
Insoles: Gamechangers
Bindings: Union Force
Jacket: Burton 3L Hover Jacket
Pant: Burton 3L Hover Pant, Volcom Rain-Gore Bibs
Helmet: Burn
Goggle: Smith 3D I/O Mag
Gloves: Burton Work Horse Leather Mitten
Similar Boards (but not the same) to the Lib Tech Rasman: Lib Tech Terrain Wrecker, Lib Tech T.Rice Pro, Lib Tech Golden Orca
James's Set Up: 21.5" Wide. Stance Angles +18/-3, +18/-9. Close to Reference and Set all the way back.
Davey's Set Up: 23" Wide. Stance Angles are +18/0. Rode it set all the way back.
How It Was Tested:
For Davey: Firm, icey groomers in Washington. Knee – nipple deep, blower powder in Utah and springtime slush in Oregon.
For James: Soft spring time groomers on Mt. Bachelor
Approximate Weight
The Rasman has an average weight for a snowboard. It is not noticeably heavy, however, we would not classify it as a light or superlight snowboard. (We don't put in the exact weight because with wood cores and varying resin absorption per board, there is no consistency in a boards weight)
Sizing
Front Inserts: 27.2 (top), 26.7 (reference), 26.5 (bottom) Back Inserts: 26.5 (top), 27 (reference), 27.5 (bottom)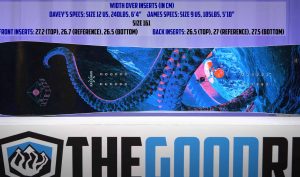 Here are some ideal US boot sizes for the Lib Tech Rasman. You can of course go bigger or smaller depending on your riding style and boot's footprint, but these work best for not turning the board slower than it should be and not having the dreaded Toe & Heel Drag.
157cm: 10-11
159cm: 10.5-11.5
161cm: 10.5-12.5
Shape/Camber/On Snow Feel/Ability Level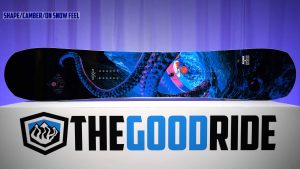 The shape of the Lib Tech Rasman Snowboard is a slightly tapered and slighty directional with about 3-4MM of taper and -2.625″ to set back your stance. It feels more like a directional twin though than a tapered directional ride. You don't need a lot of extra weight on your back foot to keep this from washing out like with some tapered boards.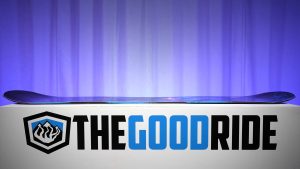 The camber profile of the Lib Tech Rasman is a classic c2x hybrid rocker. It has rocker underfoot that moves into a shorter camber in the tail, with a slightly longer camber in the nose. The hybrid rocker can be auto spiny when one footing off the chair. On snow this can feel a wee bit washy if you don't engage the camber profile by weighting your turns back foot to centered. You don't want to flat base. You always want to be slightly on edge.  Not as much of a front foot driver as you would expect from an all mountain board.
Edge Hold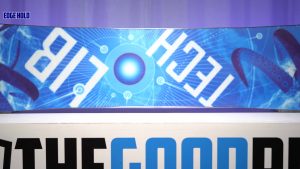 Aggressive Magne-Traction allows the Lib Tech Rasman to have excellent edge hold. On par with the Lib Tech Gold Member, Orca or T. Rice Pro. However, the magne-traction can feel grabby on softer snow.
Flex Personality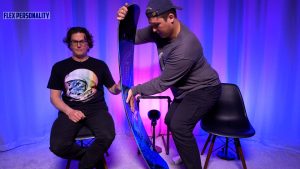 Medium stiff flex that is pretty springy and generates a lot of pop when activated. The Lib Tech Rasman is easy to butter on the tail or nose.
Uneven Terrain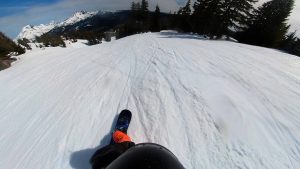 Pretty damp ride for how poppy and playful the Lib Tech Rasman board is.  The nose can get chattery when fully set back but it wasn't a big draw back. Feels comfortable charging through softer chunder and uneven snow. You get most of the nose chatter on firm days.
Speed/Base Glide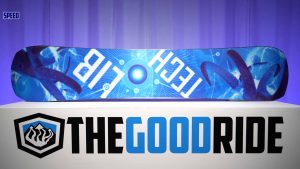 The base of the Lib Tech Rasman, like all Mervin bases, requires consistent waxing to keep away the texture on the base. When freshly waxed this board is fast enough, however, once the wax is gone, the texture on this base wants to really grip snow and does not allow for you to accelerate easily.
Turning Experience/Carving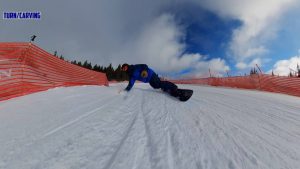 The Lib Tech Rasman easily initiates a turn and is quick edge to edge. This board prefers a back foot weighted turn. When you do, the softer flex and camber in the tail really digs in deep, bows and springs you out of the turn into an extra gear. The playful personality of this board shines through when carving, it doesn't fight you on turns and is easy to maneuver any way you want around the mountain.
Powder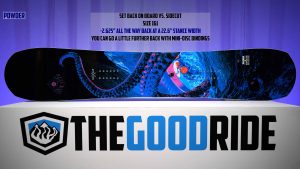 When the stance is set all the way back at a width of 22.6" you can get -2.625" back from center of board. The -2.625" set back is more than you'd get with most all mountain boards, but not as much as most freeride boards. This allows you to still feel slightly centered on the Lib Tech Rasman even though your stance is fully set back.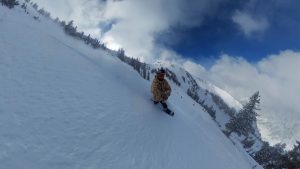 This could be a major perk for someone looking to hit jumps in powder. However, if you're looking for a more backfoot heavy and surfy type of ride, the Lib Tech Rasman could be a draw back. Overall, this board has good float, but not great float. Davey pushed the size limit for the 161 and he only had trouble with the float on flatter terrain. (see review video for Davey riding powder)
Switch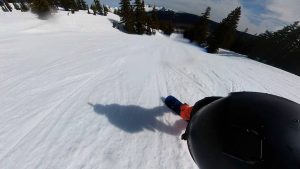 The Lib Tech Rasman rides reallyn good for a slightly tapered, slightly directional shape. It's a little behind the Terrain Wrecker and far from competing with true twins or asym twins, but very doable. James had a lot of fun riding switch on this.
Conclusion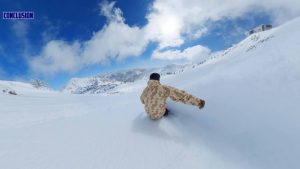 The Lib Tech Rasman is a fantastic option for a mid-wide rider with 10-12 size boots, that wants a less directional and less aggressive ride than the boards you will find in the Orca line. It sits perfectly between Lib Tech Terrain Wrecker and the Golden Orca. One of Davey's favorite all mountain boards. What you lose in powder float, you gain in freestyle riding ability. Perfect for somebody that wants to do some spins and hit big jumps in powder.
If this review helped, we'd appreciate if you:
Lib Tech Rasman User Reviews
If you can't buy through the links above, you can support the site with: