Lib Tech Apex Orca 2022-2023 Snowboard Review
| | |
| --- | --- |
| Riding Style | Alternative Freeride |
| Riding Level | Beginner - Expert |
| Fits Boot size (US) | 8-10, 10-12 |
| Manufactured in | USA by Mervin |
| Shape | Tapered Directional |
| Camber Profile | Hybrid Rocker |
| Stance | Setback over 20mm |
| Approx. Weight | Feels Normal |
| Split | No |
| | |
| --- | --- |
| On Snow Feel | |
| Turn Initiation | |
| Skidded Turns | |
Lib Tech Apex Orca 2023 - 2022 Review by The Good Ride
Turn Ons/Swipe Right: Excellent Grip, More Pop than the regular Orca & Damper
Turn Offs/Swipe Left: You pay a lot more for that extra pop. Base seems to be the same as regular Orca.
Summary
With the Lib Tech Apex Orca, you don't seem to trade off dampness for pop but it comes at a very high price and doesn't have a faster base.
Ethics Statement: We don't get paid by the manufacturer to write these reviews and this is our unfiltered opinion. We do make money from the "Where To Buy" links, but this is our best attempt at an honest and objective review from an average riders' perspective.
Lib Tech Apex Orca Review- How it rides and who it is for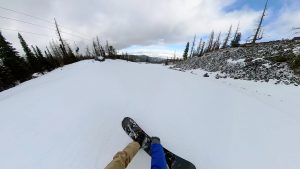 How This Review Happened:
Precious Good Ride dollars were spent to buy this and review it.
Size: 153
Days:  3
Conditions: Late Summer hard to almost slushy Mt Hood snow and firm to pretty hard mid-winter snow at Mission Ridge.
Riders: James (Size 9, 5'10" 185-190lbs), Nick (Size 10, 160lbs, 5'8")
Boots: Burton Kendo
Insoles: F.I.T. Gamechangers
Bindings: Union Atlas
Helmet: Smith Maze
Goggle: Smith 4D Mag
Gloves:, Burton AK Clutch Mitt, Burton AK Tech Leather Glove, Burton AK Tech Glove
Similar Boards (but not the same): Yes Hybrid, Endeavor Scout, Prior Legacy, Jones Hovercraft, Lib Tech Orca, Never Summer Harpoon, Niche Pyre, Yes Hybrid, Yes Y, Gnu Gremlin
Set-Up: 21.5" Wide. Sance Angles +18/-3, +18/+3. Close to Reference and Set all the way back.
How It Was Tested
I rode the Apex Orca on the same day as I rode the 153 Telos BackSlash mid-winter. Then over a few days at Mt Hood. Nick and I switched back and fourth all day between the Apex Orca, Orca and Golden Orca. I rode it more centered on sidecut at Mt. Hood and then set all the way back at Mission Ridge.
Approximate Weight
So the Lib Tech Apex Orca doesn't seem any lighter than the regular Orca. Weight varies from board to board so your Apex Orca could be lighter than the regular Orca but in my case the weight was almost the same.
Sizing
The 153 Lib Tech Apex Orca works really well for my weight but not as much for my boot size. If I was a size 10 I think this would be the perfect size. I prefer the 150 regular orca better in all conditions but powder vs. the 153.
Here are some ideal US boot sizes for these boards. You can of course go bigger or smaller but these work best for not turning the board slower than it should be and not having the dreaded Toe & Heel Drag.
153: 10-11
156- 10.5-11
159- 11-12
Shape/Camber/On Snow Feel/Ability Level

The Lib Tech Apex Orca has a good bit of taper and it sits pretty far back on board. Then it has a pretty intricate camber profile with a lot of bends throughout the board. It starts in the middle with a short rocker bend in the middle that keeps the shorter prounced camber in the tail off the ground as well as the longer mellower camber running towards the nose. Then there is a little early rise right before the nose to counteract the camber. It makes for a very forgiving ride. In harder conditions it is auto spinny and loose but very forgiving. In softer conditions it is mostly stable.
Flex Personality
You definitely get a stiffer and more dynamic flex with the Lib Tech Apex Orca. I could still butter this pretty easy too. What I found is this just snaps back harder than the regular orca when flexed. It doesn't feel more chattery or bucky either which is great to see in a high end version of the reguar.
Speed
I was a little disappointed that I didn't feel any additional base glide with the Lib Tech Apex Orca's base vs. the regular Orca. For this price it should have something really fast but instead it seems to be the same sintered base from the Orca. It is however damper at speed and I noticed less chatter than the regular orca.
Uneven Terrain
So the nose/tail clown shoe around in uneven snow but it doesn't reverberate into my joints and hurt. It also doesn't throw me off my game or buck me out of a more committed turn. So overall it is very manageable in all conditions.
Edge Hold
The Lib Tech Apex Orca grips like a champ. It doesn't track as well as boards like the Gremlin but it sure is a lot more forgiving.
Turning Experience/Carving
So it was a touch slow for me transitioning from edge to edge but I felt like my boot size was a little small for the 153. Once on edge the Lib Tech Apex Orca on edge that deep sidecut loved to turn and I felt it accelerate. When I set the stance as far back as I could I felt like I could access that camber on the tail and really lean into it on a turn. I like this set up the best for turning which is cool as I wouldn't have to change the stance for powder. I got way more out of a turn with the Gremlin but this is far from being a slouch when it comes to creating a very fun turning experience. It prefers across the groomer carves and circle carves but also adapts well for longer drawn out down the line kind of turns as well. It does way better than you would think for such a deep side cut.
Powder
So with a 21.75" stance width set all the way back you can get 4.125" back from center of board. You add 10mm of taper, the rocker between the feet, the rocker before the nose and the extra surface area for the size you have a really good floater. I didn't ride the Lib Tech Apex Orca in powder but got the regular Orca in powder which is pretty much the same thing. Same shape, setback on board etc. and that is really slashy and fun.
Conclusion
So we all liked the more dynamic flex of the Apex Orca but it is hard to recommend this over the Regular orca. Especially when you don't get a faster base. If money is no object this might be the better call.
Lib Tech Apex Orca Images
Lib Tech Company Information
Lib Tech Apex Orca User Reviews
If you can't buy through the links above, you can support the site with: