Burton AK Cyclic Gore-Tex 2L Pant 2011-2023 Review
List Price US $389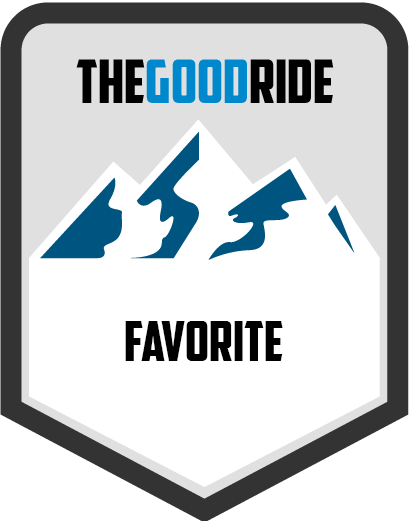 Where To Buy
80% of outdoor sports products are not listed or sold online.
Our team has relationships with hundreds of local snowboarding and outdoor sports shops.
We'll call the shops and email you a list of stores along with pricing and availability.
---
Not sure what to buy?
Get custom advice from Good Ride editors James and Steph.

Get Advice
Burton AK Cyclic Gore-Tex 2L Pant 2023 - 2011 Review by The Good Ride
The Burton AK Gore-Tex Cyclic Pant is a very well built, average fitting, articulated super waterproof shell for those that see a lot of weather in the backcountry or at the resort. These pants used to be tighter in the thigh/crotch area, but now they have a looser fit. We really like the new fit on these pants. Very little restriction in your range of motion while hiking.
Ethics Statement: We don't get paid by the manufacturer to write these reviews.  No one is perfect and we do make money from the "Where To Buy" links below, but this is our best attempt at an honest and objective review from an average riders' perspective.
A big thanks to Gravity Sports at Mt Bachelor for giving us access to this.  
James' Pants Specs
Size: Medium
James' Specs
Height: 5'10"
Weight 190 lbs
Waist 32-33
Hips 40.5"
Inseam 30"
Upper Thigh 24"
Middle Thigh 22"
Calves 16.5"
Davey's Pants Specs
Size: XL
Davey's Specs
Height: 6'4"
Weight 230 lbs
Waist 36
Hips 45"
Inseam 33"
Upper Thigh 28.5"
Middle Thigh 23.5"
Calves 17"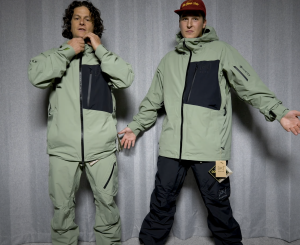 Burton AK Cyclic Gore-Tex 2L Pant Past Reviews

2019

The Burton AK Gore-Tex Cyclic Pant is a very well built semi-tight/well articulated super waterproof shell for those that see a lot of weather in the backcountry or at the resort. Compared to other pants, like the Swash in Burton's line it's a little tight in the crotch for my taste but what doesn't work for me could for sure work for you.

The Burton AK 2L Cyclic Pant is a well built minimalist pant made for those who want a technical shell for active riding and hiking.  It's somewhat affordable when comparing it to the higher end AK pants but it's still pretty pricey. These pants use to always be in my quiver but these days they have gone too tight to fit around my thighs. Still they are a great pant.
2016 Burton AK 2L Cyclic Pant Review
Size Tried: Large
James' Specs:
Height: 5'10",
Weight: 195 lbs,
Waist 33"
Hips 42"
Inseam 30"
Upper Thigh 24.5"
Middle Thigh 22"
Calves 17"
Turn On's: Size M pants that fit well around my thighs, Riding with Friends, Open Roads, new gear and especially my wife.
Turn Off's: M Pants that I can't get up over my thighs, traffic and people who can't park inside the lines.
So the Burton AK 2L Cyclic pant is very similar in design to the AK 3L Hover Pant but there are a few minor differences.
Fit: The thin and light layer makes it a borderline excellent back country hiking pant and a perfect pant for those that like to ride and hike the mountain. It's very easy to pack. The Cyclic Pant keeps getting tigher and tighter every year.  Each year it get's tighter and tighter to the point where the 2013, 2014 and 2015 barely fit me.  They aren't easy as they use to be to wear.
Construction: Thin but well made and ones I've owned in the past last a long time. If they aren't tight on you they should last a long time but the last pair I owned in 2013 got the dreaded key marks near the pocket after a few weeks of riding.  They also are the kind of pants that could get cut if they accidentally come in contact with the edge of your board and they aren't pants you want to jib with as you could burn right through them.  So the bottom line is you need to be careful with these.  They are very tough for how thin they are but they are still thin.
Insulation/Warmth:  It's a very thin Shell that is made to be layered and protect you from the outer elements like wind and moisture and it doesn't provide any warmth.
Waterproofing: It's hard to believe that something this thin and light is so bombproof when it comes to blocking rain to wet snow. It's pretty close to 3 Layer AK pants.
Breathability: Not sure why but the Burton AK Cyclic Pant feels like it's more breathable than many of the other non AK Gore-Tex Pants.  It mus be the thin layer or the fact that they don't provide any warmth but they seem to run cool for me.

Overall: These pants are a little tight for me these days but for most people with normal legs they could work and work well. I use to love these pants for days when I know I'll be hiking or for when there is warmish but wet weather. I think it's a well made shell.  I'd just like to see Burton make more than one type of pant since everything is tight these days.  Instead I'd like to see what they would call a baggy or thick thigh option.
Burton AK Cyclic Gore-Tex 2L Pant Images

We try to get as many images of the Burton AK Cyclic Gore-Tex 2L Pant, but forgive us if they're not all there.
Burton AK Cyclic Gore-Tex 2L Pant User Reviews
---
---
Burton AK Cyclic Gore-Tex 2L Pant 2011-2023 Review
SKU
UPC
Model
Great Insulation - Poor Warmth
Mar 08, 2016
by
Dave
Ability Level: Intermediate •
Riding Style: Freeride •
Days You Ride A Year: 20
I've tested this pants in deep powder in a very windy day. The insulation from wind and water is awesome. Be prepared to use a warm layer under it since the warmth, as stated int the description, is poor.
For 150$ is a steal.

---
awesome pants
Mar 02, 2015
by
Shahar
Ability Level: Begginer •
Riding Style: I wish i had one •
Days You Ride A Year: 6
I\'ll remind you that i am a very weak beginner. I spend 20% of the time on the mountain on my a#*. so my test is the best one :-) because no one else put so much pressure and snow on their pants more than i do.
Because i bought them online, i first did a waterproof test: I put a bunch of tissues and a thermometer in them and dipped the knee part in a bowl of ice water (while the rest is hanging from the sides of the bowl, and put a 1 Kg weight on them to keep them sunk in the bowel. It preformed AMAZINGLY. The tissues stayed dried for 30 minutes (maybe a little more, but i only checked every 10 minutes, and in the 40th, they were just a little wet- not soaked), and the temperature only dropped 8.6 degrees (Celsius) from the outside temperature.
I took them to my snowboarding trip, and they did not fail. after much time on my behind: no rips, no water got through and stayed pretty warm (-14 degrees).
I recommend these pants very much.
P.S. sorry for my English. I\'m from Israel.

---
If you can't buy through the links above, you can support the site with: