Where To Buy
80% of outdoor sports products are not listed or sold online.
Our team has relationships with hundreds of local snowboarding and outdoor sports shops.
We'll call the shops and email you a list of stores along with pricing and availability.
---
Not sure what to buy?
Get custom advice from Good Ride editors James and Steph.

Get Advice
Venustas Heated Vest 2022 Review by The Good Ride
Venus's Heated Vest Video And Written Review
Here's a look at the Venustas Heated Vest 5v. This vest comes with battery powered heat in the neck and throughout the torso sections of the vest. If you see a lot of cold weather and are looking for some extra warmth, this could be the vest for the job.
Ethics Statement
We don't get paid by the manufacturer to write these reviews.  No one is perfect and we do make money from the "Where To Buy" links below, but this is our best attempt at an honest and objective review from an average rider's perspective.
Size Tried: Extra Small
Steph's Specs:
Height: 5'3"
Weight: 108 lbs
Chest: 29"
Upper Chest: 32"
Arm Length (pit to wrist) 20"
Neck: 12.5″
Torso Length (collarbone to pant line) 18"
Shoulder Width 16" wide
Sizing:
Based on their sizing chart, I chose the XS. This size works great for me for a casual use. If I were to use is to walk around town, while driving, or just hanging out. If I were to use it while snowboarding, I would prefer a size larger for more freedom of movement. I personally tend to wear layers under my insulation layer, so sizing up would leave more room for that as well.
When zipped all the way up, the neck area was a bit restricting in the size I chose. So for this I think I would size up as well.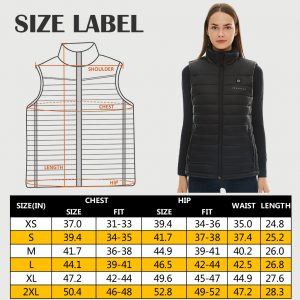 Warmth: This vest is simple to use, and the battery lasted a lot longer than I was expecting it to. I love that the neck area heats up in the vest. I feel like this adds a lot of instant warmth as the vest was heating up. Then the torso warmth I felt a little later, as the heat had to travel through a couple layers of clothes.
This vest would be a great addition to a cold camping trip to add warmth while sleeping, or as another layer to keep warm during some cold weather.
Listed below are how long each setting lasted for me.
Low (White) : 9 1/2 hrs
Med (Blue) : 5 hrs
High (Red) : 3 1/2 hrs
Charge time from zero to 100 took 6 hrs
Inner Liner: The inside of the vest is lined with a myler thermal fabric, which seems to reflect the heat back towards you.
Outer Shell: The outside of the vest says it is 100% nylon, seems to be somewhat water resistant, and has a little bit of a shiny sheen to it.
Battery Placement: The pocket that holds the battery is located in the lower left side of the vest. It hit me right at the top of my hip, so when I zipped the vest closed I could feel it. I think moving the battery placement to midway up the vest (where a phone pocket is normally located) would improve this a lot. If I were to size up it would add a little extra room, or if you are a more curvy person, I would suggest sizing up too.
Overall
The Venustas Heated Vest absolutely kept me warm on some cold storm riding days. The battery pack lasted a lot longer than expected, and even doubles as a phone charger. And I would suggest sizing up one size to get a more comfortable fit while snowboarding. But overall it seems like a great product to add warmth on cold winter days. The vest comes with a 1 year warranty, as well as a waterproof carrying case.
If this Venustas Heated Vest review helped, we'd appreciate if you:
Want to snowboard with Steph?
Sign up for one of her camps or ride days!
Check out her company below
Instagram: @altitude_snow
Venustas Heated Vest Images
Venustas Heated Vest User Reviews
If you can't buy through the links above, you can support the site with: