Jack Wolfskin Women's Prelight Windbreaker Jacket Review
Where To Buy
80% of outdoor sports products are not listed or sold online.
Our team has relationships with hundreds of local snowboarding and outdoor sports shops.
We'll call the shops and email you a list of stores along with pricing and availability.
---
Not sure what to buy?
Get custom advice from Good Ride editors James and Steph.

Get Advice
Jack Wolfskin Women's Prelight Windbreaker 2024 - 2023 Review by The Good Ride
This is a look at the Jack Wolfskin Women's Prelight Windbreaker. A very breathable and lightweight shell. Great for hiking, backpacking, or travel.
Ethics Statement: We don't get paid by the manufacturer to write these reviews.  No one is perfect and we do make money from the "Where To Buy" links below, but this is our best attempt at an honest and objective review from an average hikers's perspective.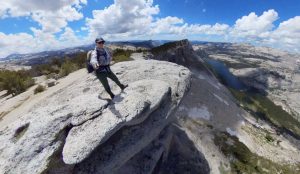 Time Codes
00:00 – Intro 00:23 – Fabric 00:31 – Windproof, Water Repellent, And Very Breathable 01:30 – Water Resistant Testing 02:19 – Sizing 02:32 – Sleeve Length 02:49 – Pockets 03:28 – Bottom Cinch 03:44 – Weight 03:56 – Packable 04:27 – Hood 05:06 – Seams 05:30 – Fit With Insulation Layer 06:01 – Testing Conditions 06:36 – Overall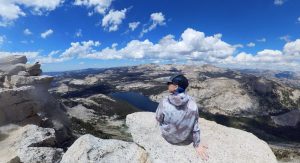 Size Tried: Med
Weight: The size S weighs 120g
Packability: The jacket packs down to almost nothing. I can fit the entire jacket inside my fist.
Testing Conditions: I tested this jacket on multiple hikes & outdoor adventures. We had wind, rain, and sunshine alike.
Steph's Specs:
Height: 5'3"
Weight: 108 lbs
Chest: 29"
Upper Chest: 32"
Arm Length (pit to wrist) 20"
Neck: 12.5″
Torso Length (collarbone to pant line) 18"
Shoulder Width 16" wide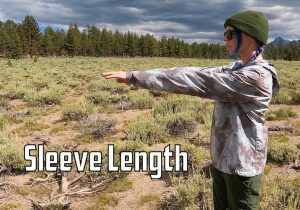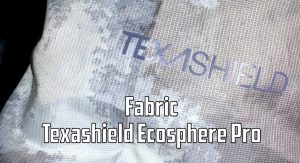 Fabric
The Prelight Windbreaker is made with Texashield Ecosphere Pro fabric. It is a very lightweight, soft feeling fabric that is surprisingly made of 100% recycled material. I liked that it was quiet when I was hiking. And extremely breathable.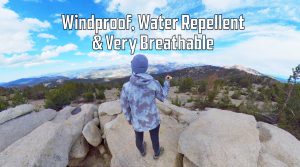 Windproof Qualities
This jacket is ideal for fair weather conditions. It offers protection from the sun and wind. Because it is so breathable, I could feel the wind pass through the jacket. So it was great for warmer weather. If the wind was more cold I would probably use a less breathable layer for added protection.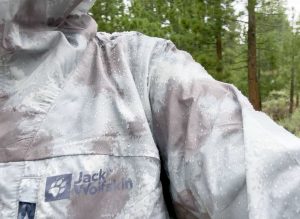 Water Repellent Qualities
I had the opportunity to test the Prelight Windbreaker in some rain. It holds up for about 10 min and then starts to soak through a bit. It would be great for light sprinkles or short rain storms, and is water repellent but not waterproof.
The water started passing through the fastest around friction areas.
On the plus side, it dries very quickly after getting wet.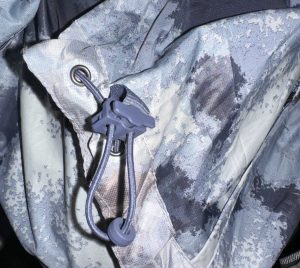 Bottom Cinch
There's a lightweight cinch in the bottom hem of the jacket. Nice for helping to keep warm air in the jacket if needed.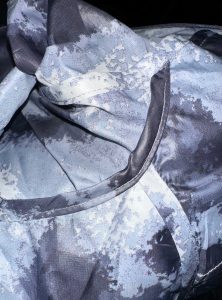 Stitching
The inside of the jacked has folded over stitching that is something unique to how Jack Wolfskin constructed the jacket. Seems very well put together and quality made.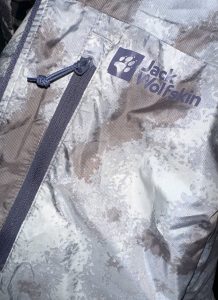 Pockets
There is only one pocket in the jacket. It is a front chest pocket. Large enough to hold a phone, but because of how lightweight the jacket is, if I put my phone in there, it pulled the jacket to the side. So I preferred to use this pocket for lightweight items like a map, or snacks or something.
There are no inner pockets or hip pockets.
Hood
The hood is quite comfortable and has a great fit. It has a bit of elastic on the back to help with shaping of the hood. This helps it stay up in windy conditions. There is no cinch or drawstring for the hood, but I didn't feel like I needed one either. It has a slight bill on the top to help keep moisture out of your face. And the peripherals are great too.
Fit With Insulation
I tried the size M. Which could be considered a size up for my measurements. But I like added room in my jackets, especially if I am planning to layer insulation under them. I tried the Prelight Windbreaker with my Medium down jacket from Roxy. This jacket has a medium fill, so it is somewhat bulky but not the most bulky insulation I own. It fit great under the shell. I still had plenty of movement in the shoulders, and could even put both hoods up without feeling too restricted.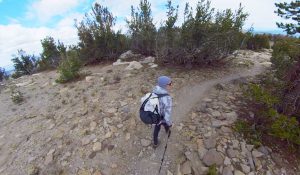 Overall
The Jack Wolfskin Women's Prelight Windbreaker is a great choice if you are looking for lightweight and compact. I weighs almost nothing, and takes up no space in my pack. It worked great for me as a shield from the sun. Since it is so breathable, I could still hike in warmer weather with it and not worry about getting too exposed to high altitude UV. This will probably be my go to fair weather shell for hiking and backpacking when I'm not anticipating rainy weather.
Jack Wolfskin Women's Prelight Windbreaker Images
Jack Wolfskin Women's Prelight Windbreaker User Reviews
If you can't buy through the links above, you can support the site with: