Airblaster Trenchover Jacket 2018-2023 Review
Where To Buy
80% of outdoor sports products are not listed or sold online.
Our team has relationships with hundreds of local snowboarding and outdoor sports shops.
We'll call the shops and email you a list of stores along with pricing and availability.
---
Not sure what to buy?
Get custom advice from Good Ride editors James and Steph.

Get Advice
Airblaster Trenchover Jacket 2023 - 2018 Review by The Good Ride
The Airblaster Trenchover Jacket is a jacket a baggy fitting anorak jacket. It's been around for several years now and has always come in great color ways. Not many changes are made to this coat season to season.  Overall, I've always liked this jacket and is one of my low cost favorites.
Ethics Statement: We don't get paid by the manufacturer to write these reviews.  No one is perfect and we do make money from the "Where To Buy" links below, but this is our best attempt at an honest and objective review from an average riders' perspective.
A big thanks to Gravity Sports at Mt Bachelor for giving us access to this.  
James' Jacket Specs
Size: Large
5'10" 190 lbs
Chest: 44"
Arm Length (pit to wrist) 19.5"
Neck: 16″
Torso Length (collarbone to pant line) 23"
Shoulder Width 19" wide
Inseam 30"
Gloves: Burton AK Guide Glove
Helmet: smith maze
Goggles: Smith 4D Mag
Davey's Jacket Specs
Size: XXL
6'4" 230 lbs
Chest: 43.5"
Arm Length (pit to wrist) 20.5"
Neck: 16″
Torso Length (collarbone to pant line) 23"
Shoulder Width 19" wide
Inseam 33"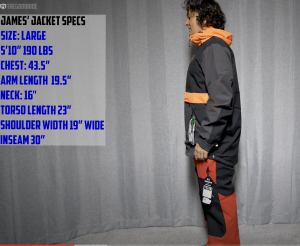 Airblaster Trenchover Jacket Past Reviews

2019

The Airblaster Trenchover Jacket is a jacket I owned all of last season and rode a lot in varied weather.  The 2019 Trenchover is the same as the 2018 model and only has different colors.  It's a very recommendable pull over for those that want a thicker very durable shell with above average waterproofing/breathability at a reasonable price.

The Airblaster Trenchover Jacket is a pretty thick well built pullover shell jacket with a good amount of pockets.  The fit borders on the tight side of normal but it still is flattering for people like me with somewhat thicker builds.  It seems like the kind of jacket that can hang for 100 days without breaking a sweat and I'm going to find out.

Size Tried: Large
James' Specs:
Height: 5'10"
Weight: 185 lbs
Chest: 44.5"
Upper Chest by lats: 46"
Neck: 16″
Torso Length (collarbone to pant line) 23"
Widest Width Upper Body (Just below shoulders) 21" (52" Circumference)
Shoulder Width 19" wide (48" Circumference)
Arm Length (pit to wrist) 19.5"

Helmet: Smith Vantage

Goggles:  Smith IO7
Airblaster Trenchover Jacket Images
Airblaster Trenchover Jacket User Reviews
If you can't buy through the links above, you can support the site with: