ThirtyTwo TM-2 XLT Diggers Snowboard Boot Review
Where To Buy
No obligation, but these links & ads support the site.
ThirtyTwo TM-2 XLT Diggers 2022 Review by The Good Ride
Swipe Right: Excellent Adjustability, Great Shock Absorption, Medium-Stiff Response
Swipe Left: Slow on and off. Laces get tangled and caught in the power strap.
Summary
The ThirtyTwo TM-2 XLT Diggers isn't easy on and off but it provides a comfortable, responsive adjustable boot that keeps its flex for a long time.
Ethics Statement: We don't get paid by the manufacturer to write these reviews.  We do make money from the "Where To Buy" links, but this is our best attempt at an honest and objective review from an average riders' perspective.
ThirtyTwo TM-2 XLT Diggers Snowboard Boot Review: How It Rides And Who It Is For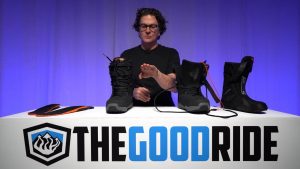 How This Review Happened:  Precious Good Ride dollars were spent to buy this and review it.
Size: 8.5 (wish I got a 9)
Days: 1
Conditions: Hard to decent mid winter snow.
Riders: James (Size 9, 5'10" 185-190lbs)
Insoles: Footprint Insole Technology Gamechangers
Bindings: Union Atlas
Boards: Gnu Banked Country
Jacket: Burton AK Gore-Tex Pro 3L Tusk Jacket
Pant: Burton AK Gore-Tex Pro 3L Hover Pant
Helmet: Smith Maze
Goggle: Smith 4D Mag
Gloves: Burton AK Clutch Mitt
Similar (but not the same) Boots: Burton Kendo, Burton Ion, Burton SLX, DC Judge, Vans Implant, Vans Aura, , Ride Lasso Pro
James' Foot Specs
Foot Size: 9 US
Foot Width: E
Arch Length: Right 9.5 and Left 9
Calf Circumference: Top of boot 17" & Bottom of boot 12"
Fit
I got an 8.5 ThirtyTwo TM-2 XLT Diggers and regrated it after my first run. The 9's fit pretty well for my true size 9 boots but felt like they might pack out a bit too much. So I went 8.5 and it was too short and a little too tight. My toes were killing me after a day of riding. I spent hours in them around the house before going out. The 8.5's were also too narrow for my size E width feet. The 9's just barely fit and if I had size 9's I would heat mold them and blow out the sides.
Flex/ Response/Flex Retention/Construction
They say the ThirtyTwo TM-2 XLT Diggers is a 9 out of 10. It felt more like a 7 to me but I really appreciated that. It felt responsive but not twitchy and overpowering as a new boot. After 10-15 days I think they will feel great. You can tell by the construction that these will last a long time.
Adjustability/Heel Hold
I felt these held my heels really well but I have thicker heels that don't need much. If you do you have 2 different thickness doughnut like inserts you can put in to tighten it up there.
Shock Absorption
There is really good shock absorption with the ThirtyTwo TM-2 XLT Diggers. I felt the TM-3XD's had less thickness in the sole but more resilience and spring.
On & Off
There was a lot of lacing happening with the ThirtyTwo TM-2 XLT Diggers. I got the laces caught in the power straps a lot and they just stuck there like a fly on a fly trap. When you pulled them off they frayed a little bit.
Traction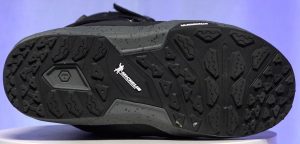 All rubber at the bottom of the ThirtyTwo TM-2 XLT Diggers and no un-necessary disco splits happened in the hard snow I rode in.
Reduced Footprint
I wish I could have compared the size 9 ThirtyTwo TM-2 XLT Diggers to the Size 9 Burton Kendo's I normally ride. The 8.5 TM-2 XLT Digger (too small for me) was a little bigger than my Size 9 Burton Kendo's (fit really well) so I think a 9 to 9 comparison wouldn't go so well for the Diggers.
Conclusion
So overall, I think the ThirtyTwo TM-2 XLT Diggers might have some lacing issues and aren't ideal for wider footed riders but they sure are a well made long lasting boot.
ThirtyTwo TM-2 XLT Diggers Images
ThirtyTwo TM-2 XLT Diggers User Reviews
If you can't buy through the links above, you can support the site with: