Salomon Synapse Review And Buying Advice
Where To Buy
No obligation, but these links & ads support the site.
Salomon Synapse 2017 - 2010 Review by The Good Ride
The Salomon Synapse has been around for a while and has a great reputation for a reliable borderline stiff flexing boot.
Ethics Statement: We don't get paid by the manufacturer to write these reviews.  No one is perfect and we do make money from the "Where To Buy" links below, but this is our best attempt at an honest and objective review from an average riders' perspective.
The 2015 Salomon Synapse is the same boot that Mary has loved for many a year but it's got a bit of reduction in footprint size.  It uses to be full size or larger than the F-Series Boots in Salomon's line but now it's more like 1/2 size larger.  The BOA Synapse seems to be sexier these days but the Traditional lace Synapse has a lot of good qualities to consider as well before stampeding off to the cart with the BOA.
Flex:  It has a good flex that is pretty stiff and responsive but also isn't super stiff so it makes easier boards turn jerky edge to edge.
Turn Initiation:  If you prefer a stiffer boot but also have a quiver of moderate to challenging turning boards this is a good choice.
Comfort:   These boots are pretty comfortable but might require a little break in time to make sure you don't get any blisters or pressure points.  It's always a good idea to bring your old boots with you on your first few days with new boots so you can slowly and easily break them in.
Heel Hold: Just a little bit less than the BOA version.  Salomon makes a more narrow fitting boot that grips well along the heel and ankle.
Adjustability:  You have complete separation between upper and lower.  It's slow going but still gets the same thing done.  It does lock a little higher above the ankle than some lacing systems but it's still pretty good.  Much better than the BOA here.
Flex Retention:  A little better flex retention than the Synapse BOA.  It breaks down over time but it slowly breaks down so it's a worthy choice for those that ride lot's of days a year.
Shock Absorption:  There is a lot of shock absorbent material but it's a little on the firm side compared to the F-Series boots.  It's not as slow speed cushy but higher speed damp.
Traction:  Nothing bad here but nothing great either.  It's not very diverse tread.
Footprint: As said at the top the length has been reduced on the outside without changing the fit inside. This has been long overdue.  It's still not the first choice for those with an in-between size that want to fit smaller bindings or boards but it's much better.
On & Off Ease: Not too quick on or off.  It's like a traditional lace boot with thin laces and a handle.  The handle makes it a little tough lacing up the top but it helps you pull it much tighter than laces without a handle.  The BOA is faster on and much faster off here.
Salomon Synapse Past Reviews

2014 and Below Salomon Synapse Review

It's very warm and used all over the mountain.  A lot of boots have been reducing their overall footprint but unlike the F-Series they haven't taken any steps to do so.  Depending on what you are looking for, this boot will be good or bad.  If you want a smaller boot then try the F-22 or F-24.  Salomon makes some of the best boots on the market and……..yeah……just try it out.  Most people we know who have this boot never buy another.  For 2012, Salomon added a little bit of articulation in the ankle as well as a few lesser refinements to make this boot the call over the 2011 model.  Still both years are great and the Salomon Synapse is one of our favorite do-anything boot that fits a wide range of riding styles.The 2013 and 2014 are pretty much the same ride as the 2012.

We have a few of our riders, especially Mary, who love this boot.  The Salomon Synapse is mid flexing, doesn't pack out that much and is a perfect boot for a 100 day a year all mountain rider or some one who likes a medium flexing boot.  The only issue with the Salomon Speed Lace is that it's not that speedy and not easy to make micro adjustments after they are laced up.  They are pretty much traditional lace boots for people who know exactly how to lace up their boots once and keep em that way all day.  If you constantly fiddle with your lacing you should go with Speed Lace or BOA.

The Salomon Synapse boot really helps your turn initiation and makes for a great all mountain ride.  The sole cushioning is not the best but provides impact resistance for medium to large jumps.  The rumor is true about Salomon boots that they are made a little more for skinnier feet than others.  If you have wide feet or big calves they can bite in a bit.

My biggest issue with the Synapse and all non F-Series boots from Salomon is the bulky large size on the outside. Salomon has ignored the whole reduced footprint thing with the Synapse and now it runs larger on the outside than almost any boot out there. For example my size 9 Imperial is at least a full size smaller than Mary's Synapse. This increases your chance of toe/heel drag when if you are riding a more narrow board.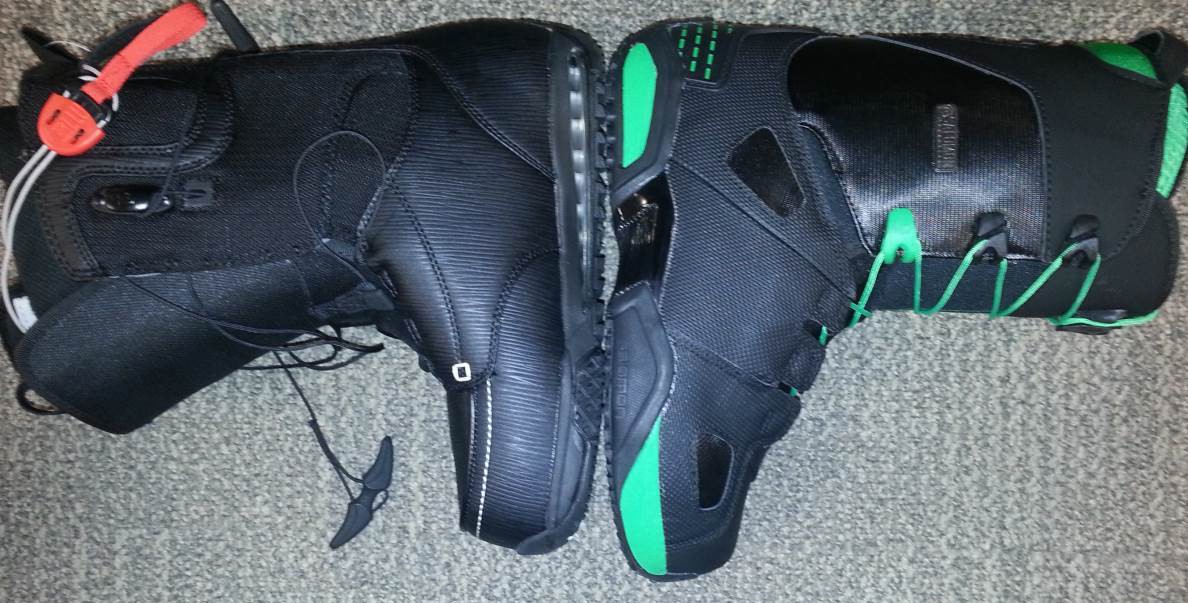 Salomon Speed Lace– Salomon is a combo of traditional lace and speed lace.  They have thinner lace than traditional but thicker than speed lace.  They also have one big handle that attaches to both laces so you can yank this thing tight if you need to.  It also has a good upper and lower adjustment setting.  The boot has a lock at the ankle so you can adjust the upper and lower separately.  This is not as easy to adjust as a speed lace but it's more reliable.
Salomon Synapse Images

We try to get as many images of the Salomon Synapse, but forgive us if they're not all there.
2018
2017
2016
2014
2013
2012
2011
2010
Salomon Company Information
Salomon Synapse User Reviews
If you can't buy through the links above, you can support the site with: